ESG International Weekly News 7/2-7/8
ESG International Weekly News 7/2-7/8
July 11,2023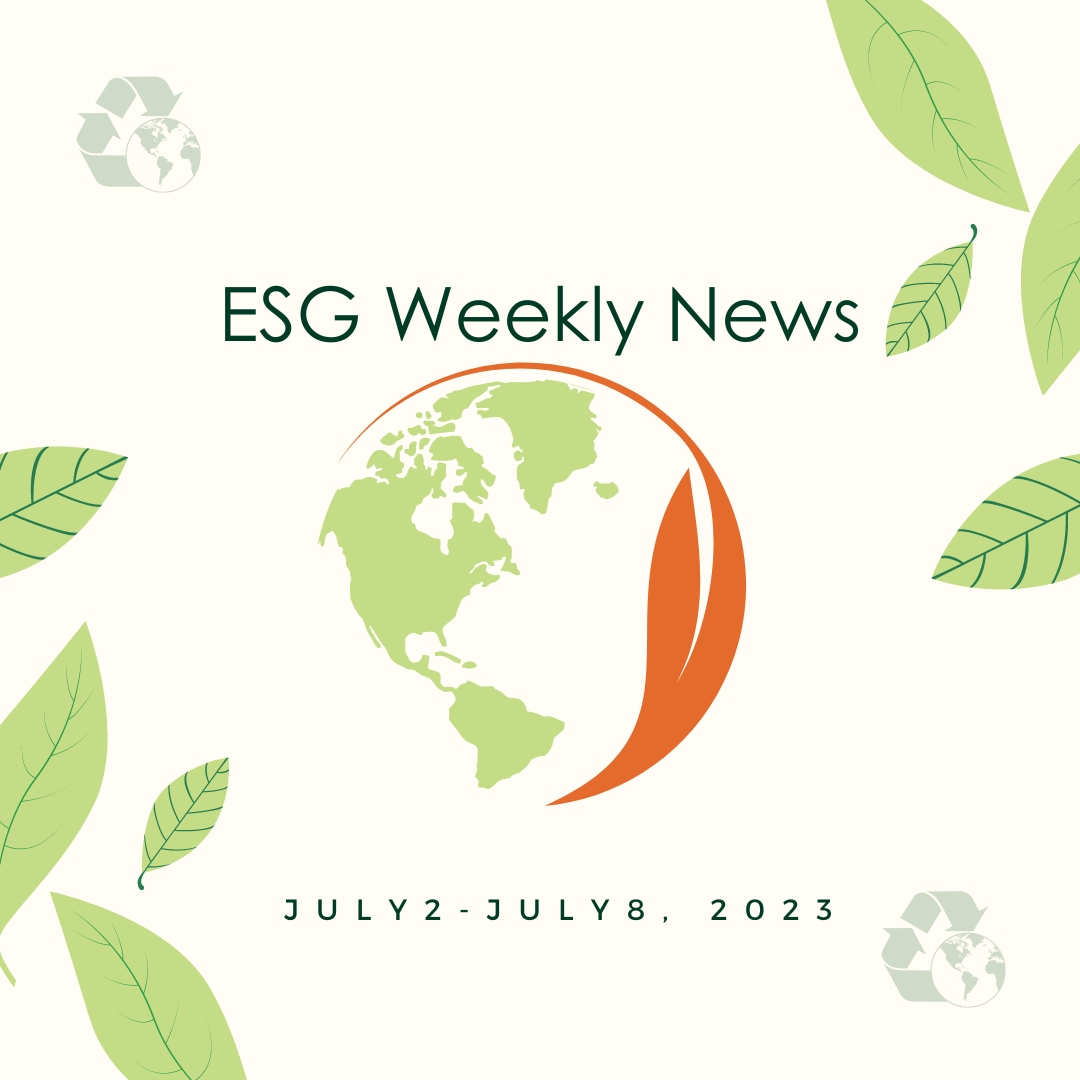 Resource:
ESG TODAY
1.EU Sets Sites on Fast Fashion with New Rules Making Producers Pay for Textile Waste
歐盟針對快時尚設定新規定,讓製造商為紡織廢棄物負責
The European Commission has proposed new guidelines for more sustainable textile waste management, assigning producers with the responsibility for the entire lifecycle of their products. The proposal is in response to the significant environmental impact of textile consumption, which is the fourth largest contributor to climate change after food, housing, and transportation. With the EU generating 12.6 million tonnes of textile waste annually, with only 22% being reused or recycled, the new rules include mandatory Extended Producer Responsibility (EPR) schemes. Under these schemes, producers will cover waste management costs based on their products' environmental performance, thereby promoting less wasteful and more circular production processes. The rules also tackle the illegal export of textile waste, ensuring that it will be managed in an environmentally responsible way.
歐洲委員會今天提出新的規定,旨在支持紡織廢棄物的可持續管理,並將紡織品產品全生命週期的責任交給製造商。根據歐盟委員會的說法,紡織品消費在氣候變化和環境影響方面排名第四,僅次於食物,住房和交通。歐盟每年產生1260萬噸的紡織廢棄物,其中僅有22%的廢物被單獨收集用於重複使用或回收,其餘的經常被填埋或焚燒。新規定包括引入強制性的擴展生產者責任(EPR)計劃,要求生產者根據紡織品的環保性能承擔紡織廢棄物的管理費用。規定還包括處理非法出口紡織廢棄物的規則,確保其將以環保的方式進行管理。
2.Estée Lauder Launches Responsible Store Design Framework
雅詩蘭黛推出負責任商店設計規劃
Estée Lauder Companies (ELC) has launched a new initiative named Responsible Store Design program, aimed at making their new and existing stores more sustainable. The program focuses on waste reduction, water and energy conservation, and responsible material sourcing. ELC has set numerous environmental goals, such as reducing greenhouse gas emissions, transitioning to electric vehicles, and decreasing the use of virgin petroleum plastic in packaging. The program has certain prerequisites that brands must meet based on their retail space and store type. The program also includes specific standards for visual merchandising to increase sustainability. The initiative is part of ELC's strategy to promote their commitment to sustainability to employees and consumers.
雅詩蘭黛公司(ELC)啟動了一項名為「負責任的商店設計計劃」的新倡議,旨在提升其新建及現有店鋪的可持續性。該計劃專注於減少浪費、節約水源與能源,以及負責任地採購材料。ELC設定了多項環境目標,例如減少溫室氣體排放、轉換為電動車輛,以及減少包裝中使用的塑膠新料。該計劃根據品牌的零售空間和商店類型設定了一些必須符合的前提條件。該計劃還包括視覺商業陳列的特定標準,以提高可持續性。這項倡議是ELC展現其對可持續性承諾的策略的一部分,旨在向員工和消費者推廣其對環保的承諾。

3.Mizuho Raises Sustainable Finance Goal to $700 Billion by 2030
瑞穗銀行將2030年可持續性金融目標提高至7000億美元
Mizuho, a Tokyo-based banking and financial services company and a subsidiary of the Mizuho Financial Group, has significantly increased its sustainable finance goal from JPY 25 trillion to JPY 100 trillion ($700 billion) for the period 2019 to 2030. Half of this will go towards environmental and climate change-related finance. This forms part of Mizuho's new medium-term business plan, which centers on personal well-being and achieving a sustainable society and economy. Additionally, Mizuho plans to issue a $1.4 billion green bond, its largest to date.
位於東京的瑞穗銀行,是日本最大的金融集團之一 - 瑞穗金融集團的子公司,已經公布了其在可持續性金融目標方面的重大增加。該銀行現在計劃在2019年至2030年間促成100兆日元(7000億美元)的可持續金融,這比其2020年設定的目標25兆日元有了顯著增加。在總額中,將有50兆日元將投入到與環境和氣候變化相關的金融中。這個目標是瑞穗的新中期商業計劃的一部分,該計劃強調個人福祉和建立可持續的社會和經濟。該銀行還計劃發行14億美元的綠色債券,這是迄今為止其最大的一筆。
4.Biden Announces $1 Billion Investment in Clean Hydrogen "Demand-Side" Initiative
拜登宣布投資10億美元於清潔氫能「需求端」倡議
The U.S. Department of Energy (DOE) plans to invest $1 billion in a clean hydrogen initiative to support the development of Regional Clean Hydrogen Hubs (H2Hubs) and mitigate investment risks for clean hydrogen projects. This follows the Biden Administration's recent U.S. National Clean Hydrogen Strategy and Roadmap, which aims to increase the production, use, and distribution of low carbon hydrogen in energy-intensive industries. The Biden administration sees clean hydrogen, particularly green hydrogen, as a crucial element of its climate strategy. The DOE's newly announced program will provide revenue certainty through mechanisms like pay-for-delivery contracts and feasibility funding, helping to foster private investment in the sector.
美國能源部(DOE)計劃投資10億美元,推進清潔氫能需求方倡議,以支持發展區域性清潔氫能樞紐(H2Hubs),並降低清潔氫能發展項目的投資風險。這是繼拜登政府上月公布美國國家清潔氫能策略和路線圖後的另一步行動,該策略旨在大幅提高碳排放密集行業中低碳氫能的生產、使用和分銷。拜登政府認為清潔氫,尤其是綠色氫,是其氣候策略的重要組成部分。美國能源部新宣布的計劃將通過包括付費交付合同和可行性資金在內的機制,提供收益的確定性,從而吸引私人投資。
5.International Agreement Reached to Cut Shipping Emissions to Net Zero "Around" 2050
國際海事組織(IMO)國際協議達成,約定2050年前將航運排放削減至淨零
The International Maritime Organization (IMO), a UN agency comprising 175 member states responsible for developing global shipping standards, has adopted the "2023 IMO Strategy on Reduction of GHG Emissions from Ships". The strategy sets new targets for achieving net-zero emissions from international shipping around 2050 and promoting the use of low GHG emission fuels by 2030. The maritime shipping sector accounts for approximately 3% of global greenhouse gas emissions and poses significant challenges for emissions reduction. The new strategy represents a significant increase from the IMO's previous goal of a 50% reduction in emissions by 2050. Despite this, environmental groups have criticized the strategy as inadequate to meet global climate goals.
負責制定全球航運標準的聯合國機構—國際海事組織(IMO),該組織擁有175個會員國,今天宣布採用"2023年IMO船舶減排策略"。該策略設定了新的目標,目標是在2050年左右實現國際航運的淨零排放,並在2030年前推廣使用低溫室氣體排放的燃料。海上航運業佔全球溫室氣體排放的約3%,並對減排構成重大挑戰。新的策略相較於IMO之前在2050年減少50%排放的目標來說,有了顯著的提升。儘管如此,環保團體仍批評該策略不足以達到全球氣候目標。