ESG International Weekly News 7/9-7/15
ESG International Weekly News 7/9-7/15
July 17,2023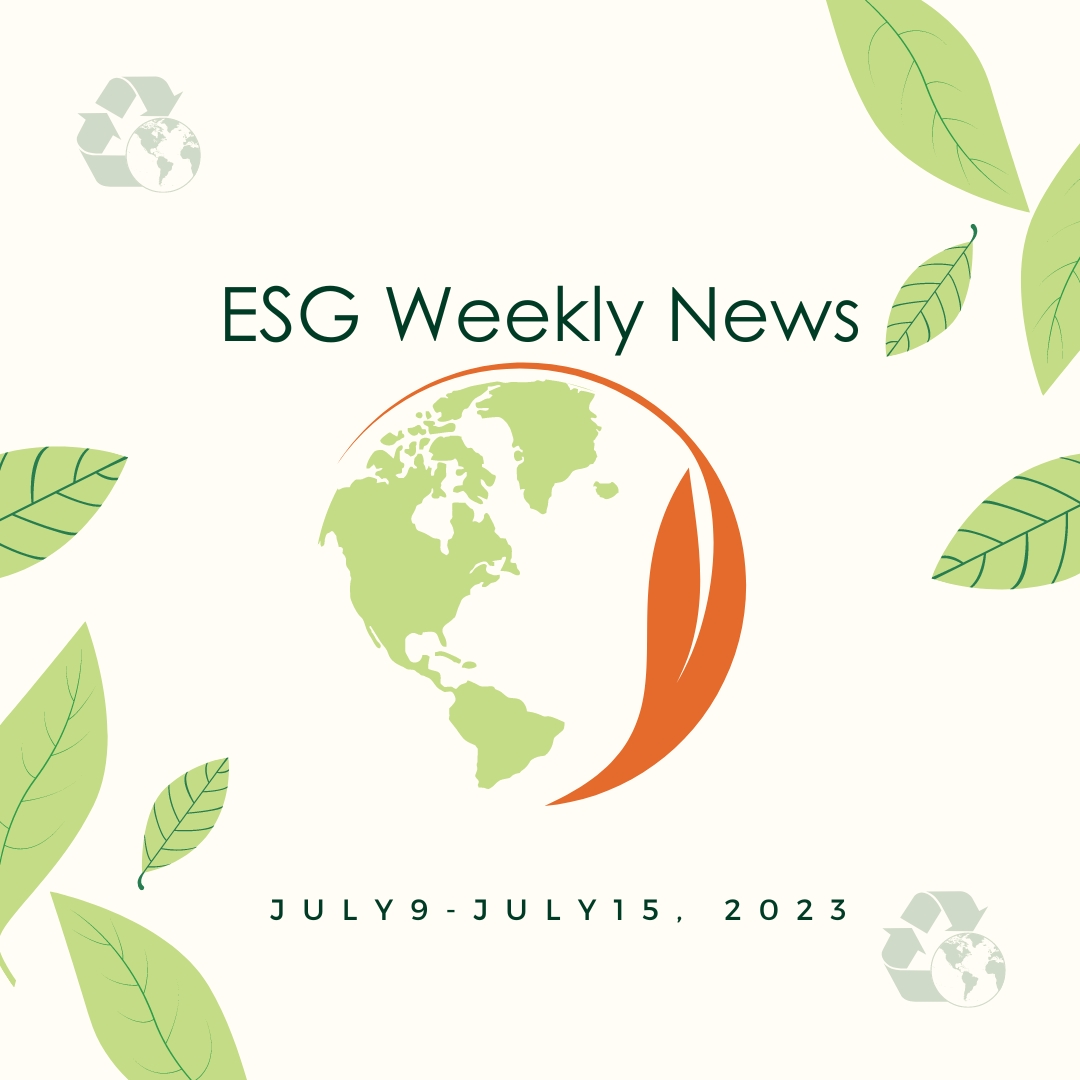 1.Exxon Acquires Denbury, Including World's Largest CO2 Pipeline Network, for $5 Billion
埃克森美孚以50億美元收購Denbury,包括全球最大的CO2管道網絡
ExxonMobil, the energy corporation, has announced its plan to acquire Denbury, a company that focuses on carbon capture and CO2 utilization, for $4.9 billion. This acquisition aims to speed up ExxonMobil's low-carbon initiatives and offer carbon capture services to hard-to-decarbonize industries. Denbury, primarily an oil production company, has the largest owned and operated CO2 pipeline network in the world and is working towards achieving net-zero emissions across all scopes by 2030. The transaction aligns with Exxon's strategy to reduce greenhouse gas emissions and follows their plan to invest over $15 billion in the next six years in low-emission business opportunities.
能源公司ExxonMobil宣布計劃以49億美元的價格收購Denbury,一家專注於碳捕獲和CO2利用的公司。此次收購旨在加速ExxonMobil的低碳舉措,並為難以去碳化的行業提供碳捕獲服務。 Denbury主要是一家石油生產公司,擁有全球最大的自有和運營的CO2管道網路,並正在努力實現到2030年在所有範疇內實現淨零排放。該交易符合Exxon減少溫室氣體排放的戰略,並且跟隨其計劃在未來六年中投資超過150億美元在低排放業務機會。


2.Coca-Cola Launches Decarbonization Solutions-Focused Venture Capital Fund
可口可樂啟動專注於去碳化解決方案的風險投資基金:包括包裝、供暖和冷卻、設施去碳化、分發和供應鏈


The Coca‑Cola Company has announced the launch of a new sustainability-focused venture capital fund aimed at startups with solutions that could potentially reduce the carbon footprint of the Coca-Cola System, which includes the company and its bottling partners. The fund is launching with $138 million in capital, including a series of $15 million from investments from the company and eight of its bottling partners. The fund will invest in companies at the point of commercialization, focusing on solutions in key areas such as packaging, heating and cooling, facility decarbonization, distribution and supply chain. The fund will be managed by Greycroft, a seed-to-growth venture capital firm.
可口可樂公司今日宣布,將啟動一個新的以可持續性為重點的風險投資基金,該基金將針對能夠潛在減少可口可樂系統(包括該公司及其裝瓶合作夥伴)碳足跡的新創公司。新基金將帶來1.38億美元的資本,其中包括該公司及其八個裝瓶合作夥伴投資的1500萬美元系列投資,這些投資代表了全球近半數的可口可樂系統體積。該基金將在公司商業化的點上進行投資,並專注於在被確定為最有可能解決系統碳足跡問題的關鍵領域的解決方案,這些領域包括包裝、供暖和冷卻、設施去碳化、分發和供應鏈。該基金將由專注於生命週期和行業的企業和消費者解決方案投資的種子到成長期的風險投資公司Greycroft管理。


3.IFRS to Take Over Responsibilities of the TCFD
IFRS基金會的國際可持續性標準委員會(ISSB)將接管TCFD的職責

The International Sustainability Standards Board (ISSB) of the IFRS Foundation will take over the monitoring of companies' climate-related disclosures from the Task Force on Climate-related Financial Disclosures (TCFD) of the Financial Stability Board (FSB) starting next year. This follows the FSB's request and marks a significant consolidation in sustainability reporting standards. The TCFD was established in 2015 with a focus on creating consistent disclosure standards for companies to allow investors and stakeholders to evaluate climate-related financial risks. Its recommendations have largely become the industry standard and were incorporated into the ISSB's requirements. The ISSB was launched at the COP26 climate conference in November 2021 with the goal of developing sustainability disclosure standards.
IFRS基金會的國際可持續性標準委員會(ISSB)將從明年開始,接替金融穩定委員會(FSB)的氣候相關財務披露專責小組(TCFD)的職責,監控公司的氣候相關披露情況。此舉遵循了FSB的請求,並在可持續性報告標準整合的過程中標誌著一個重大步驟。TCFD於2015年由FSB設立,目標是為公司制定一致的披露標準,以便投資者和其他利益相關者評估公司的氣候相關財務風險。其建議已經大致成為行業的氣候相關披露標準,並被納入ISSB的要求。ISSB於2021年11月在COP26氣候會議上推出,目標是制定IFRS可持續性披露標準。



4.Investors, Banks Push Back on EU Plan to Ease Sustainability Reporting Rules
投資者、銀行反對歐盟計劃放寬可持續性報告規則


A coalition of investment and sustainable investing groups, as well as over 90 asset managers, have asked the European Commission to reconsider its proposed changes to the European Sustainability Reporting Standards (ESRS). The proposed changes are set to relax aspects of the upcoming Corporate Sustainable Reporting Directive (CSRD), which the coalition argues would impact their ability to access sustainability-related information required for investment decisions and to meet their own reporting obligations. The CSRD, planned to be applied from 2024, is an update to the 2014 Non-Financial Reporting Directive (NFRD) and will expand the number of companies required to provide sustainability disclosures and introduce more detailed reporting requirements. The coalition is concerned that the new changes would allow companies to focus their sustainability reporting on factors that they consider material to their businesses, leading to inconsistencies and optional disclosures.
一個由投資和可持續投資組織,以及超過90家資產管理公司組成的聯盟,呼籲歐洲委員會重新考慮其對歐洲可持續性報告標準(ESRS)的建議變更。該聯盟認為,提議的變更將影響他們獲取投資決策所需的可持續性相關信息,並降低他們滿足自身報告要求的能力,包括歐盟的可持續金融披露條例(SFDR)的要求。計劃於2024年開始實施的企業可持續報告指令(CSRD)是對2014年非金融報告指令(NFRD)的重大更新,將大幅擴大需要提供可持續性披露的公司數量,並對公司對環境,人權和社會標準以及與可持續性相關的風險的影響引入更詳細的報告要求。該聯盟擔心,新的變更將允許公司將其可持續性報告聚焦於他們認為對其業務具有重大影響的因素,導致披露的不一致性和選擇性。


5.Singapore Proposes Mandatory Climate Reporting for both Public and Private Companies
新加坡建議公共和私人公司都必須進行氣候報告

Singapore's business reporting, accounting and corporate services, and markets regulators - Accounting and Corporate Regulatory Authority (ACRA) and Singapore Exchange Regulation (SGX RegCo) - have proposed that public and large private companies must provide climate-related disclosures aligned with the IFRS' ISSB disclosure standards. This follows recommendations by the Sustainability Reporting Advisory Committee (SRAC) for mandatory climate-related reporting. The proposal aims to maintain Singapore as a global business hub while contributing to the Singapore Green Plan 2030. Under the new proposal, all listed issuers, business trusts and REITs must report climate-related disclosures from the fiscal year 2025. Non-listed companies with at least $1 billion in revenues will start reporting in FY2027. The regulators have also launched a consultation into the new mandatory climate-related reporting rules, open until September 30.


新加坡的企業報告、會計和企業服務以及市場監管機構——會計和企業監管局(ACRA)和新加坡交易所監管局(SGX RegCo)建議,公共和大型私人公司必須提供與IFRS的ISSB披露標準一致的氣候相關披露。這是根據可持續報告顧問委員會(SRAC)的建議,要求強制進行氣候相關報告。該提議旨在維護新加坡作為全球業務中心的地位,同時也為新加坡綠色計劃2030做出貢獻。根據新的建議,所有上市發行人、商業信託和REIT從2025財年開始都必須報告氣候相關披露。非上市公司如果年收入至少為10億美元,將從2027財年開始報告。監管機構還對新的強制性氣候相關報告規則啟動了諮詢,諮詢將持續到9月30日。


6.EU Markets Regulator Announces Expectations for Sustainability Disclosure in Prospectuses
歐盟市場監管機構宣布招股說明書中可持續性披露的期望


The European Securities and Markets Authority (ESMA), the EU markets regulator, has published its expectations for sustainability-related disclosures in equity and non-equity prospectuses. The aim is to support informed investment decisions, provide issuers with clarity about expected disclosures, and ensure a coordinated approach towards reviewing sustainability-related disclosures by national competent authorities. ESMA expects issuers to provide the basis for any sustainability-related statements, including references to underlying data, market standards, or third-party research. For equity prospectuses, the regulator expects reporting in line with the Non-Financial Reporting Directive (NFRD) or the upcoming Corporate Sustainable Reporting Directive (CSRD), provided that the disclosures are material. ESMA also provided guidelines for prospectuses for bonds such as green, social and sustainability bonds and sustainability-linked bonds.


歐洲證券市場管理局(ESMA)今天公布了其對股權和非股權招股說明書中可持續性相關披露的期望。該管理局表示,該指導意旨是支持投資者做出知情的投資決定,為發行者提供監管機構期望其提供何種披露的理解,並確保國家主管機關(國家級監管機構或NCA)對可持續性相關披露的審查採取協調的方法。ESMA的聲明中包括的指導方針之一是,期望發行者提供任何關於其可持續性概況的聲明的依據,例如參考基礎數據或假設,詳述特定市場標準或標籤,或引用第三方研究或分析。對於股權招股說明書,該聲明期望依據非財務報告指令(NFRD)或其即將更新的企業可持續報告指令(CSRD)進行報告,只要披露是重要的。該聲明還包括了對"使用收益"債券和可持續性掛鈎債券的招股說明書的指導。對於綠色、社會和可持續債券等債券,ESMA表示,招股說明書應包括有關收益使用的披露,以及使投資者評估評估和選擇項目目標的信息。