ESG International Weekly News 6/26-7/1
ESG International Weekly News 6/26-7/1
July 04,2023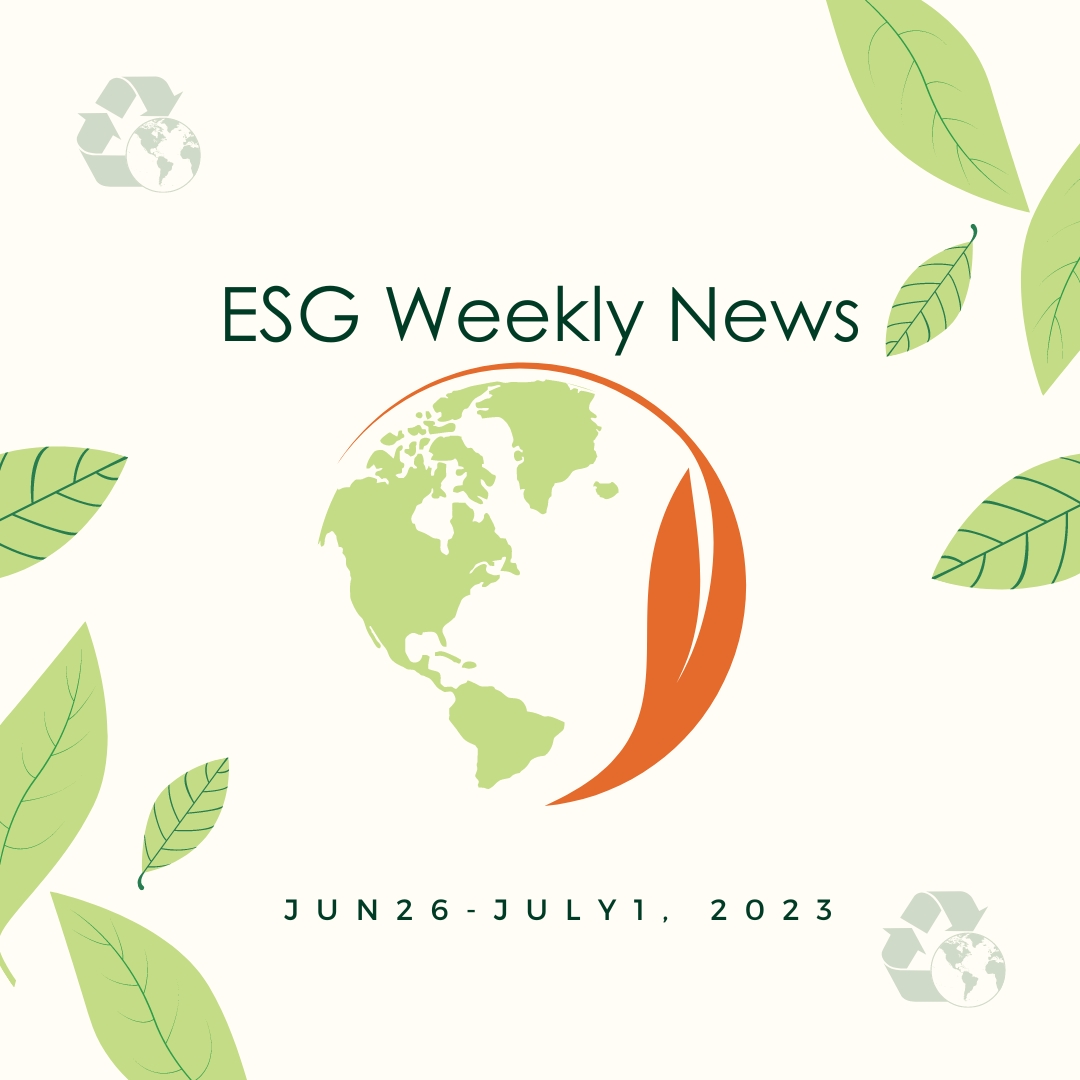 Resource:
ESG TODAY
1.IFRS Releases Global Sustainability and Climate Reporting Standards
國際財務報導準則(IFRS)發布全球永續和氣候報告標準

The International Sustainability Standards Board (ISSB) of the IFRS Foundation has officially launched new global sustainability and climate disclosure standards. These standards are expected to serve as the foundation for emerging sustainability reporting requirements by regulators worldwide, aiming to integrate sustainability reporting into the broader financial reporting process. Starting from January 2024, the new standards will be applicable for annual reporting periods, with companies issuing disclosures against them from 2025. Erkki Liikanen, Chair of the IFRS Foundation Trustees, highlights the importance of globally comparable sustainability-related disclosures that have the potential to impact market prices while avoiding the burden of additional jurisdiction-specific requirements.The ISSB was established in November 2021 at the COP26 climate conference to develop IFRS Sustainability Disclosure Standards. The goal is to meet the demand from investors, companies, governments, and regulators for a global baseline of disclosure requirements, enabling a consistent understanding of the impact of sustainability risks and opportunities on companies' prospects.The two new standards are "IFRS S1 General Requirements for Disclosure of Sustainability-related Financial Information" and "IFRS S2 Climate-related Disclosures." They cover disclosures related to general sustainability, climate-specific risks and opportunities, governance, strategy, risk management, metrics and targets. These standards aim to provide decision-useful information to primary users of general purpose financial reports.Regulators in major jurisdictions, including Europe, the UK, and the US, are introducing or preparing mandatory sustainability reporting requirements influenced by the ISSB standards. The ISSB will work with jurisdictions and companies to support the adoption of these standards, including the creation of a Transition Implementation Group. ISSB Chair Emmanuel Faber also mentioned the possibility of adding requirements to the climate reporting standard, covering areas such as natural ecosystems, deforestation, biodiversity, and the just transition. The publication of these new standards marks the beginning of a consultation process on future priorities beyond climate, emphasizing the importance of better information leading to better economic decisions.

國際財務報導準則基金會(IFRS Foundation)的國際永續發展準則委員會(ISSB)正式推出新的全球永續和氣候披露標準。這些標準預計將成為全球監管機構新興永續報告要求的基礎,旨在將永續報告融入更廣泛的財務報告流程中。新標準將從2024年1月開始適用於年度報告期,企業將於2025年開始依據這些標準進行披露。IFRS Foundation董事會主席Erkki Liikanen強調了具有全球可比性的永續性相關披露的重要性,這些披露有潛力影響市場價格,同時避免了額外的司法管轄區要求的負擔。ISSB於2021年11月在COP26氣候大會上成立,旨在制定國際財務報導準則的永續發展披露標準。目標是滿足投資者、企業、政府和監管機構對全球披露要求的需求,實現對永續性風險和機會對企業前景影響的一致理解。兩項新標準分別是「IFRS S1可持續發展相關財務信息披露的一般要求」和「IFRS S2氣候相關披露」。它們涵蓋了與一般永續性、氣候特定風險和機會、監管、策略、風險管理、指標和目標相關的披露。這些標準旨在為普通財務報告的主要使用者提供有用的信息。包括歐洲、英國和美國在內的主要司法管轄區的監管機構正在引入或準備推出受ISSB標準影響的強制性永續發展報告要求。ISSB將與各司法管轄區和企業合作,支持這些標準的采納,包括建立過渡實施小組來支持。

2.New Rulebook for Company Carbon Markets Claims Launched by VCMI
VCMI發布新的公司碳市場要求手冊

The Voluntary Carbon Market Integrity Initiative (VCMI), a body focused on carbon markets, has announced the launch of its Claims Code of Practice. The code aims to provide a rulebook for companies to navigate carbon markets and make credible climate claims. The VCMI aims to build market confidence in companies' engagement with voluntary carbon markets (VCMs) and accelerate their use as part of net-zero pathways. VCMI Steering Committee Co-Chair Rachel Kyte emphasizes the importance of consistent global guidance to underpin a high-quality market and stimulate corporate use. The Claims Code is designed to instill confidence and trust among users, forming the foundation of a valuable and impactful market. Demand for carbon offset projects and related credits is expected to rise significantly as companies pursue net-zero ambitions and seek to balance unavoidable emissions. However, the unregulated and rapidly growing market faces challenges in differentiating between high and low-quality projects and assessing their effectiveness due to insufficient or inconsistent data. Announced in 2021 by COP26 President Alok Sharma, VCMI collaborates with stakeholders across the private sector, indigenous peoples, local communities, and governments to enable high-integrity voluntary carbon markets that contribute to climate action and support the UN Sustainable Development Goals. The Claims Code, released today, focuses on the demand side, while the VCM Access Strategy Toolkit focuses on the supply side, assisting policymakers in establishing policies and processes for participation in high-integrity VCMs.The Claims Code introduces three tiers of claims (Platinum, Gold, and Silver) for GHG emissions reductions and removals. It outlines the steps required to make a "VCMI Claim," including meeting the VCMI's Foundational Criteria for climate strategy, selecting a claim tier, choosing carbon markets that meet stringent quality thresholds, disclosing information to support the claim, and conducting independent validation and assurance.VCMI Steering Committee Co-Chair Tariye Gbadegesin emphasizes that integrity is crucial for the VCM to be a powerful tool for achieving a net-zero world and mobilizing finance for low- and middle-income countries. The availability of clear and transparent guidance through the Claims Code, paired with the ICVCM's Core Carbon Principles guiding the supply side, ensures "end-to-end" integrity, enabling crucial market development.

志在碳市場的自願性碳市場誠信倡議(VCMI)宣布推出其「索賠實踐規範」。該規範旨在為企業提供一個在碳市場中導航並提出可信賴的氣候索賠的準則。VCMI致力於建立對企業參與自願性碳市場(VCMs)的市場信心,並加速其在實現淨零目標中的應用。VCMI執行委員會聯席主席瑞秋·凱特強調了全球一致指導的重要性,以支撐高品質市場並促進企業使用。該索賠規範旨在培養用戶的信心和信任,為一個有價值且有影響力的市場打下基礎。由於企業追求實現淨零目標並努力平衡無法避免的排放,對碳抵銷項目和相關信用的需求預計將大幅增加。然而,這個未受監管且快速增長的市場面臨著一系列挑戰,包括區分高質量和低質量項目以及評估其效果時缺乏充足或一致的數據。VCMI是由2021年COP26主席阿洛克·夏爾馬宣布的,與私營部門、土著民族、當地社區和政府利害相關者合作,推動具有高誠信性的自願性碳市場,以支持氣候行動並實現聯合國可持續發展目標。今天發布的索賠規範主要關注需求端,而「VCM訪問戰略工具包」則著眼於供應端,協助政策制定者建立參與高誠信性VCM的政策和流程。索賠規範引入了三個索賠層級(白金、金和銀),用於減少和移除溫室氣體排放。該規範詳細說明了提出「VCMI索賠」所需的步驟,包括滿足VCMI氣候戰略的基本準則、選擇索賠層級、選擇符合嚴格品質閾值的碳市場、披露支持索賠的信息以及進行獨立驗證和保證。VCMI執行委員會聯席主席塔里耶·巴德吉辛強調,誠信對於自願性碳市場成為實現淨零世界和動員低收入和中等收入國家的資金的強大工具至關重要。通過索賠規範提供的清晰透明指導以及引導供應端的ICVCM核心碳原則,確保了「端到端」的誠信,實現了關鍵的市場發展。


3.UK Environment Minister Quits Over Government "Apathy" on Climate
英國環境部長因政府對氣候問題的「冷漠」而辭職

UK Foreign Office Minister for Overseas Territories, Commonwealth, Energy, Climate, and Environment, Zac Goldsmith, announced his resignation from his post on Friday, citing Prime Minister Rishi Sunak's "apathy" towards government efforts in addressing climate change and environmental issues as the reason for his departure. In his resignation letter, Goldsmith commended the UK's leadership in environmental and climate initiatives, highlighting the UK-hosted COP26 climate conference in 2021 and its significant influence on the international agreement to protect 30% of global land and oceans by 2030, as well as efforts to establish a global treaty on plastic pollution. However, Goldsmith expressed his dismay at the gradual abandonment of these commitments under Sunak's leadership, noting that the UK has visibly retreated from the world stage and relinquished its leadership on climate and nature. Specific criticisms in his letter included the Prime Minister's decision not to attend a crucial environmental summit in Paris, referring to the Summit for a New Financial Pact, and the government effectively abandoning a pledge to allocate £11.6 billion of aid to climate and environmental causes. Goldsmith highlighted the lack of accountability due to the final year of expenditure falling after the next general election. Goldsmith specifically held the Prime Minister responsible for the "government's apathy," asserting that the lack of interest has permeated through Whitehall and resulted in a state of paralysis. Goldsmith's resignation follows a rebuke from the Privileges Committee, which issued a special report criticizing a group of MPs and peers for interfering in the House of Commons' investigation into the "Partygate" scandal involving Boris Johnson.

英國外交部長兼海外領土、聯邦、能源、氣候和環境事務的薩克·戈茲史密斯宣布於上週五辭去他的職務,他指責首相里希·蘇納克對應對氣候變化和環境問題的政府努力漠不關心,這成為他辭職的原因。在他的辭職信中,戈茲史密斯讚揚了英國在環境和氣候倡議方面的領導地位,特別強調了英國主辦的2021年COP26氣候大會及其對於保護全球30%土地和海洋到2030年的國際協議以及制定全球塑料污染條約的重大影響。然而,戈茲史密斯對蘇納克的領導下逐漸放棄這些承諾感到失望,指出英國明顯退出世界舞台,放棄了在氣候和自然問題上的領導地位。他在辭職信中特別批評了首相不參加巴黎的一個關鍵環境峰會的決定,指的是新金融盟約峰會,以及政府實際上放棄了將116億英鎊的援助撥款用於氣候和環境事業的承諾。戈茲史密斯強調由於最後一年的支出時間在下一次大選之後,缺乏問責制度。他明確將首相視為「政府的冷漠」的負責人,聲稱缺乏興趣已滲透到白廳並導致了一種瘫痪狀態。戈茲史密斯的辭職是對特權委員會的譴責的回應,該委員會發布了一份特別報告,批評一群國會議員和貴族干預下議院對鮑里斯·約翰遜的「派對門」調查。

4.50% of CEOs Have Pay Tied to ESG Goals, up from 15% One Year Ago: IBM Survey
IBM調查:50%的CEO薪酬與ESG目標挂鉤,相較於一年前的15%大幅增加

According to a global CEO survey conducted by IBM, the practice of tying executive incentive pay to environmental, social, and governance (ESG) goals has significantly increased over the past year. Approximately 50% of CEOs now report that their compensation is linked to sustainability objectives, compared to only 15% in the previous year. The survey, conducted by the IBM Institute for Business Value (IBV) in collaboration with Oxford Economics, involved interviews with 3,000 CEOs from over 30 countries and 24 industries. The study also revealed that environmental sustainability was identified as the most frequently cited top challenge for CEOs in the next three years, although it ranked lower in organizational priorities compared to the previous year. The report highlighted the slow progress in sustainability initiatives, with insufficient data cited as a major obstacle. Additionally, CEOs expressed a lack of confidence in their organizations' ability to report on ESG strategy and initiatives. The report also noted that inconsistent standards are delaying major investments in emerging areas such as sustainability and data privacy.


根據IBM進行的全球CEO調查,將高級管理層的激勵薪酬與環境、社會和公司治理(ESG)目標相關聯的做法在過去一年顯著增加。大約有50%的CEO報告稱他們的薪酬與永續發展目標相關聯,而這一比例在前一年僅為15%。該調查由IBM商業價值研究所(IBV)與牛津經濟學院合作進行,涉及超過30個國家和24個行業的3,000名CEO的訪談。研究還顯示,環境可持續發展被認為是未來三年CEO最常提及的頂級挑戰,儘管在組織優先事項中的排名較前一年下降。報告強調永續發展計劃的進展緩慢,不足的數據被認為是一個主要障礙。此外,CEO對其組織能夠報告ESG策略和計劃的能力表達了缺乏信心。報告還指出,不一致的標準延遲了在永續發展和數據隱私等新興領域的重大投資。


5. Maersk Orders New Green Methanol-Powered Ships
馬士基訂購新型綠色甲醇動力船隻

Container logistics company A.P. Moller - Maersk has placed an order for six mid-sized container vessels that can operate on green methanol, expanding its low carbon fleet. The dual-fuel ships, to be built by Yangzijiang Shipbuilding Group, will have a capacity of 9,000 containers and are expected to be delivered in 2026 and 2027. These vessels will replace existing capacity in Maersk's fleet and result in an estimated reduction of 450,000 tons of CO2e emissions per year. Maersk aims to achieve net zero gas emissions by 2040 and is taking steps towards green transformation with its methanol-powered ships.

國際集裝箱物流公司馬士基已下訂六艘可運作於綠色甲醇之中型集裝箱船,擴大其低碳船隊。這些雙燃料船將由揚子江造船集團建造,容量為9,000個集裝箱,預計於2026年和2027年交付。這些船隻將取代Maersk現有船隊的部分容量,預計每年可減少約450,000噸二氧化碳當量的排放。Maersk旨在於2040年實現淨零天然氣排放,並正藉由甲醇動力船隻邁向綠色轉型。