ESG International Weekly News 7/16-7/23
ESG International Weekly News 7/16-7/23
July 25,2023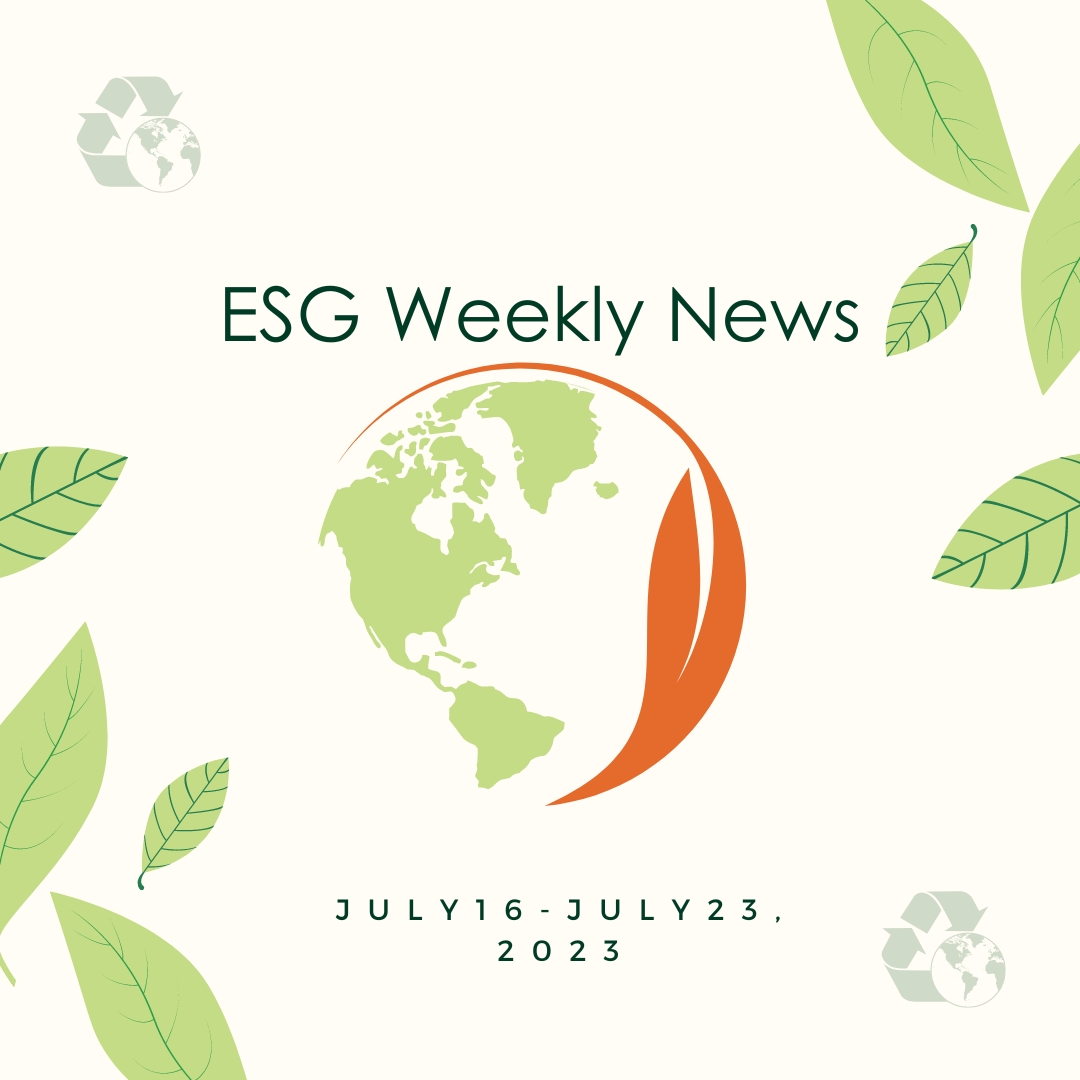 Resources:
ESG Today
1. Amazon to Require Suppliers to Report Emissions, Set Climate Goals
亞馬遜要求供應商申報排放量,設定氣候目標
Amazon plans to update its Supply Chain Standards, requiring suppliers to report their carbon emissions data and set emissions reduction goals, as outlined in the company's 2022 Sustainability Report. This move is part of Amazon's commitment to achieving net zero carbon emissions by 2040. The report highlights that Scope 3 emissions, originating outside the company's direct control, make up a significant portion of Amazon's emissions footprint. The company aims to collaborate with its supply chain partners to reduce their carbon footprint and will offer support and tools for tracking and decreasing emissions. Amazon is also making progress in its energy transition, aiming to power its operations with 100% renewable energy by 2025 and increasing its fleet of electric delivery vehicles to 9,000 in 2022, with a goal of reaching 100,000 by 2030.
亞馬遜計畫於更新2022年的可持續發展報告後,加強其供應鏈標準,要求供應商申報碳排放數據並設定減排目標。此舉是亞馬遜致力於在2040年實現淨零碳排放的承諾的一部分。報告強調,公司的排放足跡中有相當大的部分來自第三範疇排放,即超出亞馬遜直接控制範圍的排放。亞馬遜旨在與供應鏈合作夥伴合作,減少其碳足跡,並提供支援和工具以跟踪和減少排放。同時,亞馬遜在能源轉型方面也取得進展,計畫在2025年實現100%可再生能源供應,並將其電動交付車隊從2022年的9,000輛增加到2030年的100,000輛。
2. Biden Launches $20 Billion Climate and Clean Tech Project Financing Programs
拜登推出200億美元的氣候和清潔科技項目融資計畫
The Biden administration has unveiled two new programs, totaling $20 billion, to finance climate and clean energy projects at the community and small business level. These initiatives, established under the Greenhouse Gas Reduction Fund, aim to mobilize financing and private capital to combat climate change. The $14 billion National Clean Investment Fund will offer grants to non-profit clean financing institutions, partnering with the private sector to fund numerous clean technology projects in homes, businesses, and communities, with a focus on low-income areas. Additionally, the $6 billion Clean Communities Investment Accelerator will provide funding and technical assistance to local community lenders to build their clean financing capacity, exclusively benefiting low-income and disadvantaged communities. These initiatives mark a significant step in the administration's commitment to addressing the climate crisis and fostering a sustainable future.
拜登政府宣布推出兩項總額達200億美元的新計劃,以支持社區和小企業層面的氣候和清潔能源項目。這些計劃是在溫室氣體減排基金的支持下設立的,旨在動員融資和私人資本來應對氣候變化。其中,140億美元的全國清潔投資基金將向非營利清潔融資機構提供資助,與私營部門合作,資助眾多家庭、企業和社區的清潔技術項目,特別關注低收入地區。此外,60億美元的清潔社區投資加速器將為當地社區貸款機構提供資金和技術支援,幫助他們建立清潔融資能力,專門惠及低收入和弱勢社區。這些計劃標誌著政府在應對氣候危機和促進可持續未來方面的重大進展和承諾。
3. ESG the Top Investment Priority for CFOs… and the Most Vulnerable to Near Term Budget Cuts: EY Survey
EY調查報告發現ESG成為CFO們最重要的投資優先項目... 但也是最容易受到近期預算削減影響
A recent survey by EY, the global professional services firm, found that ESG (Environmental, Social, and Governance) topped the list of long-term investment priorities for CFOs. However, paradoxically, it was also identified as the most likely area to face near-term budget cuts as companies focus on short-term results. The study involved 1,000 CFOs and senior finance leaders from companies with revenues over $1 billion in 21 countries and 13 industry segments. While 43% of respondents prioritized ESG as a long-term investment focus, 37% were planning to cut or pause spending in this area. The tension between short and long-term priorities was evident, with disagreements within leadership teams, especially concerning how to balance financial performance and sustainability investments. Transforming the finance function and embracing culture change and digitization were seen as important factors to address these challenges.
根據全球專業服務公司EY最近的調查,ESG(環境、社會和公司治理)在CFO(首席財務官)的長期投資優先項目中名列榜首。然而,矛盾的是,由於公司專注於短期結果,ESG也被認為是最有可能面臨近期預算削減的領域。該研究涵蓋了來自21個國家和13個產業領域的擁有超過10億美元收入的1,000名CFO和高級財務領導者。雖然43%的受訪者將ESG視為長期投資重點,但有37%計劃在這個領域削減或暫停支出。長期和短期優先事項之間的緊張關係是明顯的,領導團隊內部出現了分歧,特別是在如何平衡財務表現和可持續性投資方面。轉變財務功能並擁抱文化變革和數位化被視為應對這些挑戰的重要因素。
4. Virgin Atlantic Plans First-Ever 100% Sustainable Aviation Fuel-Powered Transatlantic Flight this Year
維珍大西洋航空計劃在今年進行史上首次100%可持續航空燃料驅動的跨大西洋飛行
A consortium led by Virgin Atlantic has announced its plans to conduct the first-ever transatlantic flight using 100% sustainable aviation fuel (SAF) on November 28, 2023, pending regulatory approvals and testing. The flight will take place on a Boeing 787 Dreamliner, traveling from London Heathrow to New York JFK. The consortium, which includes Rolls Royce, Boeing, University of Sheffield, Imperial College London, and Rocky Mountain Institute, is funded by the UK Government's Department for Transport. The flight aims to demonstrate the potential of SAF as a viable replacement for conventional fossil-based jet fuels in the aviation industry's efforts to decarbonize. Currently, SAF accounts for less than 0.1% of jet fuel volumes, but it offers significant emissions reduction compared to traditional fuels.
由維珍大西洋航空領導的聯盟宣布計畫於2023年11月28日進行史上首次跨大西洋飛行,全程使用100%可持續航空燃料(SAF),但須待監管批准和測試。該航班將由波音787夢幻客機執行,從倫敦希斯洛機場飛往紐約約翰·甘迺迪機場。聯盟包括勞斯萊斯、波音、謝菲爾德大學、倫敦帝國學院和洛基山研究所,並由英國運輸部資助。此次航班旨在展示SAF作為替代傳統化石燃料的可行性,以協助航空業實現減碳目標。目前,SAF在噴射燃料總量中僅佔不到0.1%,但與傳統燃料相比,具有顯著的減排效果。
5. Deloitte, Salesforce, AT&T Collaborate on IoT-Powered ESG Data Management Solution
德勤、Salesforce 和 AT&T 合作推出物聯網驅動的 ESG 數據管理解決方案
Global professional services firm Deloitte, CRM solutions provider Salesforce, and telecom giant AT&T have announced a new collaboration to assist organizations in collecting and managing ESG (Environmental, Social, and Governance) data using an Internet of Things (IoT)-powered connectivity-based approach. This partnership aims to address the challenges companies face in gathering ESG data across their value chains, driven by increasing regulatory pressure to report sustainability progress. By combining AT&T's asset management solutions, which provide direct connectivity to emission sources, with Deloitte's sustainability management solution, Sustainability 360, powered by Salesforce's emissions and ESG data platform, Net Zero Cloud, organizations can streamline data collection, enhance ESG data integrity, and identify sustainability improvement opportunities. The collaboration aligns with AT&T's Connected Climate Initiative, with the goal of reducing 1 billion metric tons of greenhouse gas emissions by 2035 through innovative climate solutions.
德勤(Deloitte)全球專業服務公司、CRM解決方案提供商Salesforce,以及電信巨頭AT&T宣布新的合作計畫,協助組織使用物聯網(IoT)驅動的連接方案來收集和管理環境、社會和公司治理(ESG)數據。這個合作旨在應對公司在收集ESG數據時面臨的挑戰,因為日益增加的監管壓力要求進行可持續發展進度報告。通過結合AT&T的資產管理解決方案,提供直接連接到排放來源的功能,與德勤的可持續性管理解決方案"Sustainability 360",搭載Salesforce的排放和ESG數據平台"Net Zero Cloud",組織可以優化數據收集,提高ESG數據完整性,並找到可持續改進的機會。此合作與AT&T的"Connected Climate Initiative"相符,目標是通過創新的氣候解決方案,在2035年前減少10億公噸溫室氣體排放。