ESG International Weekly News 6/19-6/25
ESG International Weekly News 6/19-6/25
June 27,2023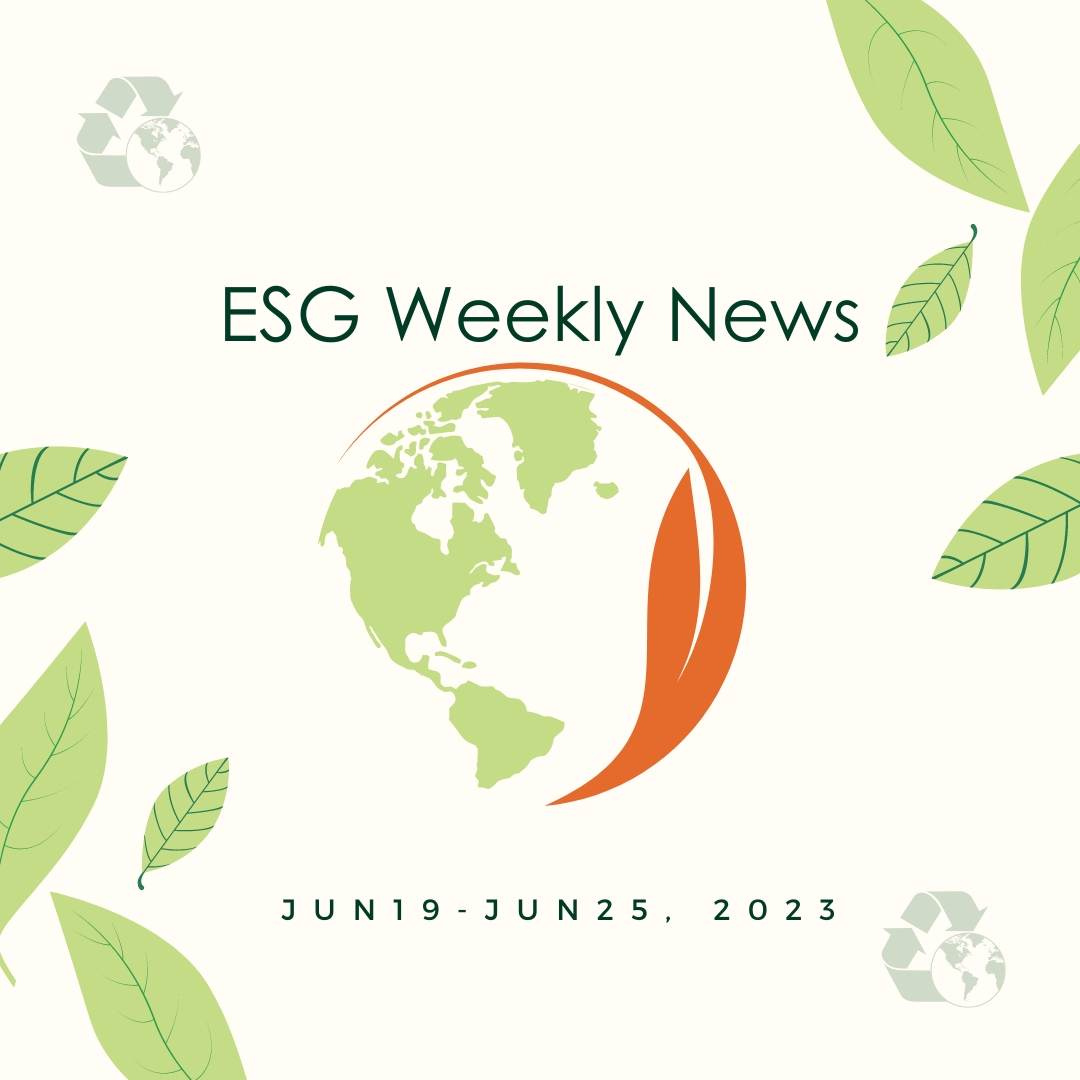 Resource:ESG TODAY

1.Biden Announces $2.9 Billion in Climate Resilience Investments
拜登宣布29億美元氣候韌性投資


President Biden has announced an investment of approximately $2.9 billion to safeguard coastal communities and the electrical grid infrastructure from climate change effects. This is in line with the Biden Administration's focus on addressing climate change since rejoining the Paris Agreement. The announced investments include $2.3 billion over five years dedicated to strengthening and modernizing the U.S. power grids against climate change-induced events like wildfires and extreme weather conditions. Furthermore, a $575 million Climate Resilience Regional Challenge, aimed at supporting coastal resilience and adaptation strategies, is to be launched by the NOAA. A new National Climate Resilience Framework is also planned for release.
美國總統拜登宣布將投資近29億美元,以保護沿海社區和電力網絡基礎設施免受氣候變化的影響。這與拜登政府自重新加入巴黎協議以來,專注於解決氣候變化的立場一致。公布的投資包括在五年內投入23億美元,用於增強並現代化美國的電力網絡,以抵禦因氣候變化加劇的事件,如野火和其他極端天氣條件。此外,美國國家海洋和大氣管理局(NOAA)也計劃啟動一項總值5.75億美元的氣候韌性區域挑戰,以支持沿海和五大湖社區的韌性和適應策略。拜登還宣布計劃發布一個新的國家氣候韌性框架。

2.Republicans Launch New Attack on ESG Investing
共和黨對ESG投資展開新攻勢

Republicans in the U.S. House of Representatives have proposed new legislation, the "Ensuring Sound Guidance (ESG) Act", aimed at limiting the inclusion of ESG factors in retirement funds. The act, introduced by Republican Congressmen Andy Barr and Rick Allen, seeks to reinstate several elements of Trump-era rules aimed at restricting the consideration of ESG factors in ERISA plans by retirement plan fiduciaries. The bill demands that ERISA plan fiduciaries make decisions solely on financial risk and return factors, disregarding non-financial factors like environmental or social considerations, unless with significant documentation. It would also require investment advisors to obtain written consent from the investor to consider non-financial factors like ESG considerations.
美國眾議院的共和黨議員提出了新的立法建議,該建議旨在限制將ESG因素納入退休基金。共和黨議員安迪·巴爾和瑞克·艾倫提出的這項法案名為"確保嚴謹指導(ESG)法案",試圖恢復特朗普時期的一些規則,這些規則旨在限制退休計劃受託人在ERISA計劃中考慮ESG因素。該法案要求ERISA計劃受託人僅根據財務風險和回報因素做出決定,而不考慮環境或社會等非財務因素,除非有充分的文件證明。此外,該法案也要求投資顧問在考慮ESG等非財務因素時,需獲得投資者的書面同意。

3.UK, France, Launch Initiative to Scale Biodiversity Credits Market
英法聯手推動生物多樣性信用市場規模化


The UK and French governments have announced the launch of the UK-French Global Biodiversity Credits Roadmap, an initiative designed to expand the market for companies to buy biodiversity credits and mobilize finance for projects aiding nature recovery. Biodiversity credits, similar to their carbon credit counterparts, fund activities that yield biodiversity-positive gains, allowing companies to invest in projects that contribute to the protection and restoration of various habitats. The roadmap, launched at the Summit for a New Financial Pact in Paris, outlines a plan to enhance global efforts supporting companies buying biodiversity credits, including initiatives like sharing best practices on governance mechanisms for credit funding and monitoring regimes ensuring biodiversity improvements.
英國和法國政府今天宣布啟動英法全球生物多樣性信用路線圖,這項新的倡議旨在擴大公司購買生物多樣性信用的市場,並為有助於自然恢復的項目動員資金。與其以減排為主的碳信用相似,生物多樣性信用用於資助產生生物多樣性正面收益的活動,使公司能夠投資於有助於保護和恢復雨林、海洋或草原等棲息地的項目。在巴黎舉行的新金融契約峰會上推出的這條路線圖,提出了一個計劃,用於擴大全球支持公司購買生物多樣性信用的努力,包括分享有關信用資金治理機制的最佳實踐,以及確保生物多樣性改善和公平分配收入給原住民和當地社區的監督制度。

4.Private Markets ESG Fundraising Surges 3x from 2020 – 2022: Preqin
2020-2022年私募市場ESG基金籌資暴增3倍:Preqin報告


A survey conducted by Preqin, an alternative investment data and insights provider, reveals that almost 75% of private market investors would reject investment opportunities due to ESG-related concerns, with 29% already having done so. The survey forms part of Preqin's annual ESG report, which also shows a rapid increase in capital flowing into ESG strategies by alternative investors, especially in impact funds. Over half of private market investors have or plan to adopt an active ESG policy within the next year. Despite a slowdown in fundraising activity in early 2023, ESG funds' average size has significantly grown. Impact investing has seen rapid growth, with capital raised for impact funds increasing to nearly $34 billion in 2022 from less than $13 billion the previous year.
根據另類投資基金數據和洞察提供商Preqin的一項調查,近四分之三的私募市場投資者會因為與ESG(環境、社會和公司治理)相關的顧慮而拒絕投資機會,其中29%的投資者已經這樣做了。該調查是Preqin年度ESG報告的一部分,該報告也顯示,對替代投資者來說,資金流向ESG策略的速度正在迅速增加,尤其是在影響力基金中的增長特別強勁。調查發現,超過一半的私募市場投資者已經採取了積極的ESG政策,或計劃在明年內這樣做,包括超過60%的資產類別投資者,包括私募股權、私募債務、房地產和基礎設施。在所有的資產類別中,只有對沖基金有50%的投資者沒有計劃整合ESG政策。盡管在2023年初的籌資活動似乎已經顯著減緩,反映了更廣泛的替代趨勢,但報告發現,過去幾年私募市場ESG基金的籌資額有了大幅上升,從2020年的290億美元激增到2022年的920億美元。報告還強調了替代投資者採取ESG的主要驅動因素,其中55%的受訪者認為ESG與財務績效之間存在已經被證實的聯繫是最主要的原因,其次是監管或法律要求,以及客戶的需求。

5.AI Tech Startup Fero Labs Raises $15 Million to Drive Manufacturing Decarbonization
AI科技新創公司Fero Labs籌集1500萬美元以推動製造業脫碳



AI-based manufacturing optimization software company Fero Labs has raised $15 million in a funding round led by Climate Investment, aimed at reducing emissions in the manufacturing industry. Fero Labs develops AI-driven software focused on enhancing industrial efficiency and reducing emissions, particularly in the manufacturing sectors of steel, cement, and chemicals which face challenges in decarbonization. The company claims to have reduced over 100,000 tons of CO2 emissions to date and saved its customers more than $20M. The fresh funds will be used to deploy new sustainability features to Fero Labs' software, with a goal to reduce at least 800,000 tons of emissions by 2025.
以AI驅動的製造優化軟體公司Fero Labs在一輪融資中籌集到1500萬美元。此筆資金由Climate Investment領投,目的是降低製造業的排放。Fero Labs的軟體旨在提高工業過程的效率並降低排放,特別是在難以實現碳中和的行業,如鋼鐵、水泥和化學品。該公司聲稱,迄今為止,它已經減少了超過10萬噸的二氧化碳排放,並為其客戶節省了超過2000萬美元。新的融資將支持在Fero Labs的軟體中部署更多的可持續性功能,目標是到2025年至少減少80萬噸的排放。