ESG International Weekly News
ESG International Weekly News
May 01,2023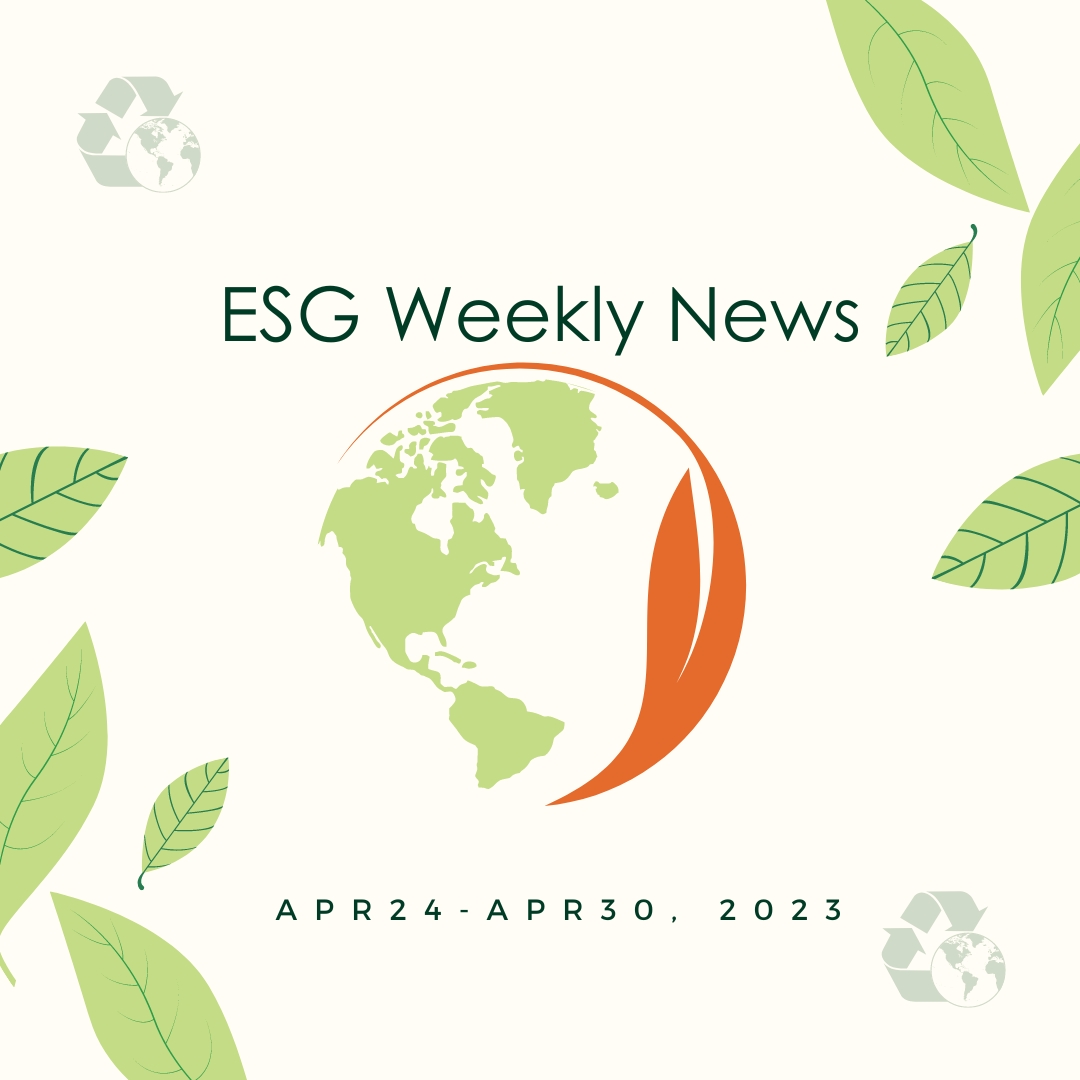 Resource:
ESG TODAY
1.EU Lawmakers Approve New Carbon Tax, Tougher Emissions Trading System
歐盟立法者批准新的碳稅和更嚴格的排放交易制度
The European Council has adopted new laws to help the EU reach its climate targets, including a carbon tax on imported goods and updates to the EU Emissions Trading System (ETS). These laws are part of the "Fit for 55" roadmap, aiming to cut GHG emissions by 55% by 2030 and reach climate neutrality by 2050. The new laws establish the EU Carbon Border Adjustment Mechanism (CBAM) to avoid carbon leakage, revise the EU ETS to increase emissions reduction targets and expand its coverage, and create a Social Climate Fund to support those affected by price impacts
歐洲理事會通過了一系列新法律,以幫助歐盟實現其氣候目標,包括對進口商品徵收碳稅以及對歐盟排放交易制度(ETS)進行更新。這些法律是歐盟「適應55」藍圖的一部分,旨在將溫室氣體排放量在2030年前削減55%,並在2050年前實現氣候中和。新法律設立了歐盟碳邊界調整機制(CBAM),以避免碳外溢;對歐盟ETS進行修訂,以提高減排目標並擴大覆蓋範圍;並創立社會氣候基金,以支持受ETS對幾個行業價格影響的家庭、微型企業和運輸用戶。
2.Sustainable Bond Market Rebounds, Resuming Double Digit Growth: Moody's
可持續債券市場反彈,恢復雙位數增長:穆迪
Green, social, sustainability, and sustainability-linked (GSSS) bond issuances rebounded in Q1 2023, growing by 36% compared to the previous quarter. This growth was driven by a surge in green bonds and European issuers increasing their share of the market. Moody's maintained its forecast for the GSSS bond market to grow 10% in 2023, reaching $950 billion in issuances. Key drivers of growth include corporations aiming for net-zero goals, supportive policies like the Inflation Reduction Act and REPowerEU plan, and increasing public sector issuances in emerging markets.
綠色、社會、可持續和可持續性掛鉤(GSSS)債券在2023年第一季度反彈,與上一季度相比增長了36%。這一增長主要是由綠色債券的激增以及歐洲發行者在市場份額中所佔比例的提高所驅動的。穆迪維持了對2023年GSSS債券市場的預測,預計將增長10%,發行額達到9500億美元。增長的主要驅動因素包括企業致力於實現淨零目標、支持性政策(如美國的通脹削減法案和歐洲的REPowerEU計劃)以及新興市場公共部門發行額的增加。
3.Citi Facilitates More than $120 Billion Sustainable Finance in 2022
花旗在2022年促進了超過1200億美元的可持續金融
Citi facilitated $123.5 billion in sustainable finance in 2022, a 24% decline compared to 2021, but still nearly double the activity level in 2020. Despite this decrease, Citi remains on track to meet its 10-year $1 trillion sustainable finance goal. Environmental-related finance saw the most significant decline, while clean technology showed growth. Sustainable finance activity fell sharply in North America but increased in the Europe, Middle East, and Africa region. Citi's ESG report noted that sustainable debt issuance remained resilient compared to non-ESG debt issuance in 2022.
花旗集團(Citi)在2022年為可持續金融提供了1235億美元的資金,較2021年下降約24%,但仍然是2020年活動水平的近兩倍。儘管出現了這種下滑,花旗仍然有望實現其10年1萬億美元可持續金融目標。環境相關融資在2022年出現了最大幅度的下滑,而清潔技術則呈現增長。花旗在北美的可持續金融活動急劇下降,但在歐洲、中東和非洲地區增加。花旗的ESG報告指出,與非ESG債券發行相比,2022年可持續債券發行在困難的一年中仍保持了韌性。

4.LEGO to Use Low Carbon Materials for Plastic Products
LEGO將使用低碳材料製作塑料產品

The LEGO Group announced plans to use plastic produced from renewable energy and captured biogenic CO2, as well as recycled plastics, in some of their products. The company has entered into an agreement with European Energy A/S, which will supply e-methanol for use in plastic production. LEGO Group's sustainability initiatives include investing in sustainable materials research to reduce the carbon footprint of products and packaging, and developing bricks using recycled plastic. Deliveries of e-methanol are expected to begin in 2024

樂高集團宣布計劃在部分產品中使用由可再生能源和捕獲的生物基CO2生產的塑料,以及回收塑料。該公司與歐洲能源A/S達成協議,後者將提供用於塑料生產的e-甲醇。樂高集團的可持續發展計劃包括投資可持續材料研究,以降低產品和包裝的碳足跡,並利用回收塑料開發積木。預計e-甲醇的交付將於2024年開始。

5.Less Than Half of Professionals Confident in Organizations' ESG Reporting Capabilities: Deloitte
專業人士中不到一半對組織的ESG報告能力感到信心不足:德勤

A recent Deloitte poll reveals that less than half of professionals have confidence in their organizations' finance teams to gather and report on ESG (Environmental, Social, and Governance) financial metrics. The top challenges in ESG reporting are data collection and staffing shortages. Furthermore, the survey indicates that only a few organizations have implemented dedicated ESG reporting professionals, despite the significant perceived benefits.

The findings come at a time when organizations worldwide are expected to meet increasing regulatory requirements for climate and sustainability-related disclosures across jurisdictions, including the U.S., EU, and UK. According to Deloitte, only 45.7% of poll respondents are confident in their organization's finance team's ability to gather and report on ESG metrics for regulatory compliance purposes.
The poll also found that confidence in ESG reporting capabilities increased significantly if organizations had dedicated ESG reporting staff in place or if finance teams were involved in ESG matters. Despite the confidence gap, less than one in five respondents said their organizations have an ESG controller, and only 7.2% reported plans to add such a position in the next year.

Data collection was cited as the greatest challenge by 26.3% of professionals, followed by a shortage of staff appropriately skilled to support ESG controllership issues at 17.6%, and changing organizational processes to enable effective ESG reporting at 17.0%.

德勤近期的一項民意調查顯示,不足一半的受訪專業人士對他們組織財務團隊在收集和報告環境、社會和治理(ESG)財務指標方面的能力感到信心充足。此民意調查結果出現在全球各組織正面臨需要遵守越來越嚴格的氣候和可持續性相關披露法規要求的時候,例如美國、歐盟和英國等多個司法管轄區。
ESG報告面臨的主要挑戰包括數據收集和人員短缺。此外,該調查還指出,儘管專門的ESG報告人員具有顯著的好處,但只有少數組織建立了這樣的崗位。

德勤風險與財務咨詢部門的董事總經理Dina Trainor對ESG報告信心不足表示擔憂,因為美國有關氣候披露報告要求的新監管指南即將出台。她強調,現在是仔細檢查組織現有ESG報告能力和規程並在需要時進行改進的時候。
根據調查,僅有45.7%的受訪者對他們組織的財務團隊在收集和報告ESG指標以達到法規合規要求的能力表示信心。然而,如果組織設有專門的ESG報告人員,或者財務團隊參與ESG事務,則對ESG報告能力的信心顯著提高。

儘管調查發現信心差距,但不到五分之一的受訪者表示他們的組織有ESG控制者,41.6%的人表示無計劃聘請ESG控制者,僅有7.2%的人表示計劃在明年增加這樣的職位。
調查還探討了控制團隊在ESG工作方面面臨的挑戰。26.3%的專業人士將數據收集列為最大的挑戰,其次是支持ESG控制問題儘管民調發現了信心差距,但不到五分之一的受訪者表示其組織擁有ESG負責人,而41.6%的人表示沒有招聘計劃,只有7.2%的人表示計劃在未來一年內增加這樣的職位。

該民調還探討了財務主管團隊在其ESG努力中面臨的挑戰。數據收集被26.3%的專業人士列為最大的挑戰,其次是17.6%的人認為缺乏適當技能的員工來支持ESG主管問題,17.0%的人認為需要改變組織流程做有效的ESG管控與報告。