ESG International Weekly News 5/1-5/7
ESG International Weekly News 5/1-5/7
May 09,2023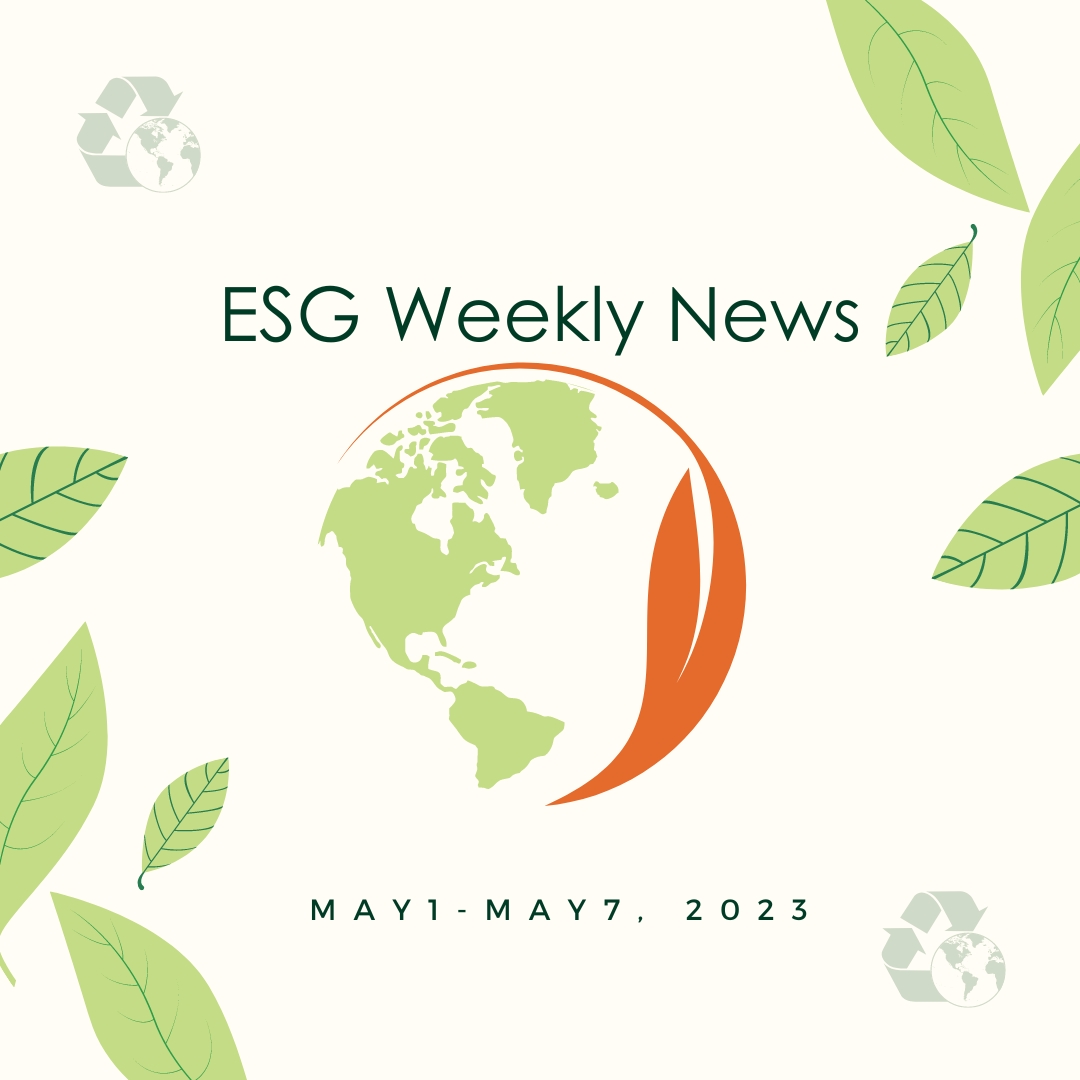 Resource:
ESG TODAY
1.New York becomes first state to ban fossil fuels in new buildings
紐約成為第一個禁止在新建築物使用化石燃料的州
New York has announced plans to ban the use of gas stoves and heating in new buildings as part of its efforts to reduce greenhouse gas emissions and combat climate change. The new rules, which are included in Governor Kathy Hochul's 2024 Budget, aim to decarbonize buildings and invest in new renewable energy projects. Buildings currently account for over 30% of the state's greenhouse gas emissions. New buildings up to seven stories high will be required to phase out fossil fuels by 2026, and all other new buildings by 2029, with some exceptions. The state's Climate Leadership and Community Protection Act commits New York to reducing economy-wide greenhouse gas emissions by 40% by 2030 and at least 85% by 2050, on a 1990 basis. The new budget also includes a "Cap-and-Invest" program to help fund emissions reduction initiatives and support vulnerable communities facing rising energy prices. The program requires large emitters to pay over $1 billion per year.
紐約宣布將禁止在新建築物中使用燃氣爐具和供暖系統,以減少溫室氣體排放並應對氣候變化。這項新規定包含在州長凱西·霍楚爾(Kathy Hochul)的2024年財政預算案中,旨在減少建築物的碳排放,並投資於新的可再生能源項目。目前,建築物排放的溫室氣體占到紐約州總排放量的30%以上。新建築物到2026年前將逐步淘汰燃化石燃料,高達七層樓,而所有其他新建築物則在2029年前實施,但有一些例外情況。紐約州的《氣候領導和社區保護法》承諾將在1990年的基礎上,在2030年之前將經濟全面的溫室氣體排放量減少40%,在2050年之前至少減少85%。新預算還包括一個"上限和投資"計劃,以幫助資助減排倡議和支持面臨不斷上漲的能源價格的弱勢社區。該計劃要求大型排放物支付超過每年10億美元的費用。
2.EU Lawmakers Propose Ban on Generic Environmental Claims to Protect Consumers from Greenwashing
歐盟立法者提出禁止一般環保宣稱以保護消費者免受漂綠
The European Council has announced its negotiating position on proposed new rules requiring companies to substantiate and verify their environmental claims and labels, with the aim of protecting consumers from greenwashing. The Council's position includes a ban on generic environmental claims, such as 'eco-friendly', 'green', or 'climate neutral', unless the claims can be substantiated by a publicly accessible certification scheme. It also proposes allowing only sustainability labels based on official certification schemes or established by public authorities. The Council's position also includes a proposal to create a harmonized graphic format to provide consumers with guarantees of durability for specific goods and a right of information obligations for products containing digital elements. The transposition period for member states to adopt the laws is proposed to be extended to 24 months, allowing sufficient time for states to adapt to the changes in legislation. The Council's stance will guide its negotiations on the rules with the EU Parliament, once Parliament adopts its own position.
歐洲理事會宣布其對於新的提案規則的談判立場,要求公司證明並驗證其環境聲明和標籤,旨在保護消費者免受綠色洗白,其中包括禁止一般性的環保聲明,如"環保"、"綠色"或"氣候中性",除非聲明可以通過公開可訪問的認證計劃進行證實。此外,提議僅允許基於官方認證計劃或由公共當局建立的可持續性標籤。該提議還包括創建一個統一的圖形格式,向消費者提供特定商品的耐久性保證以及對包含數字元素的產品進行信息披露義務等內容。成員國採用這些法律的移植期限被提議延長至24個月,以讓各國有足夠的時間適應立法的變化。歐洲理事會的立場將指導其與歐洲議會的談判,一旦議會采取自己的立場。
3.$10 Trillion Investor Group Urges Consumer Goods Companies, Retailers to Reduce Plastic Use
代表1萬億美元資產的投資者團體敦促消費品公司和零售商減少塑料使用
More than 180 investors, representing $10tn in assets under management, have signed a joint statement coordinated by Investors for Sustainable Development (VBDO) calling on companies to reduce their use of plastics and address the financial risks of plastic use. The statement is primarily targeted at intensive users of plastic packaging, particularly those in the fast-moving consumer goods and grocery retail sectors, such as Coca-Cola, Costco, P&G, Nestlé, Unilever, and Target. The investors' call comes as companies and investors face growing financial, physical, legal, technological, regulatory and reputational risks related to plastic pollution, such as governments requiring companies to cover waste management costs, and regulations on petrochemical and plastics investments. The investor statement outlines a series of expectations for companies, including committing to an absolute reduction of single-use plastic packaging, identifying and eliminating the use of hazardous substances in products and packaging, and supporting policies advocating for reductions in plastic.
超過180家投資者,代表管理資產總額為10萬億美元,簽署了由Investors for Sustainable Development(VBDO)協調的聯合聲明,呼籲企業減少塑料使用量,並解決塑料使用所帶來的財務風險。該聲明主要針對塑料包裝的高強度使用者,特別是快速消費品和雜貨零售行業,包括可口可樂、Costco、P&G、雀巢、聯合利華和Target等企業。投資者的呼籲出現在企業和投資者面臨與塑料污染有關的不斷增長的財務、物理、法律、技術、監管和聲譽風險,例如政府要求企業支付垃圾管理成本,以及對石化和塑料投資的監管越來越嚴格。投資者聲明概述了對企業的一系列期望,包括承諾絕對減少一次性塑料包裝的使用,實施再利用系統,確定和消除其產品和包裝中的有害物質的使用,並報告其進展情況。聲明還概述了對企業支持倡議減少塑料的政策的期望,包括努力協商新的全球塑料條約。
4. Mitsubishi Launches $1 Billion Climate Tech Growth Fund
三菱啟動10億美元氣候科技成長基金
Mitsubishi Corporation has launched a new fund, the Marunouchi Climate Tech Growth Fund, aimed at investing and commercializing climate tech-related startups, primarily those providing decarbonisation solutions. The fund has raised $400m of capital commitments from investors at its first close, with plans to reach up to $1bn by its final closing. The new fund will be managed by general partner Marunouchi Innovation Partners, established by Mitsubishi, Pavilion Private Equity and MUFG Bank. The company aims to help investee companies commercialize, scale and rollout their cutting-edge technologies, and leverage its industry and business networks to support decarbonization and the transition to a carbon-neutral society.
三菱商事公司今日宣布推出「氣候科技成長基金」,該新基金旨在投資並商業化正在開發的氣候科技相關初創企業,主要聚焦提供減碳解決方案的公司。
該基金首次閉鎖時籌集了4億美元的資本承諾,計劃在最終閉鎖時達到10億美元。
這個新基金將由一般合夥人丸之內創新夥伴管理,該公司由三菱建立,持有該公司90%的股權,韓國投資者Pavilion Private Equity和三菱日聯銀行各持約5%的股權。
三菱在宣布新基金推出的聲明中表示:
「氣候技術領域已引起人們對廣泛的零排放科技和解決方案的加速發展和應用的期望。隨著更多的資金對滿足這些期望至關重要,氣候技術投資的需求可能在中長期內增長。」
三菱表示,除了提高其氣候技術初創企業的估值外,公司還旨在幫助投資公司商業化、擴大和推出其尖端技術,利用贊助商的行業和商業網絡,支持減碳和過渡到碳中和社會。