ESG International Weekly News 10/30-11/5
ESG International Weekly News 10/30-11/5
November 06,2023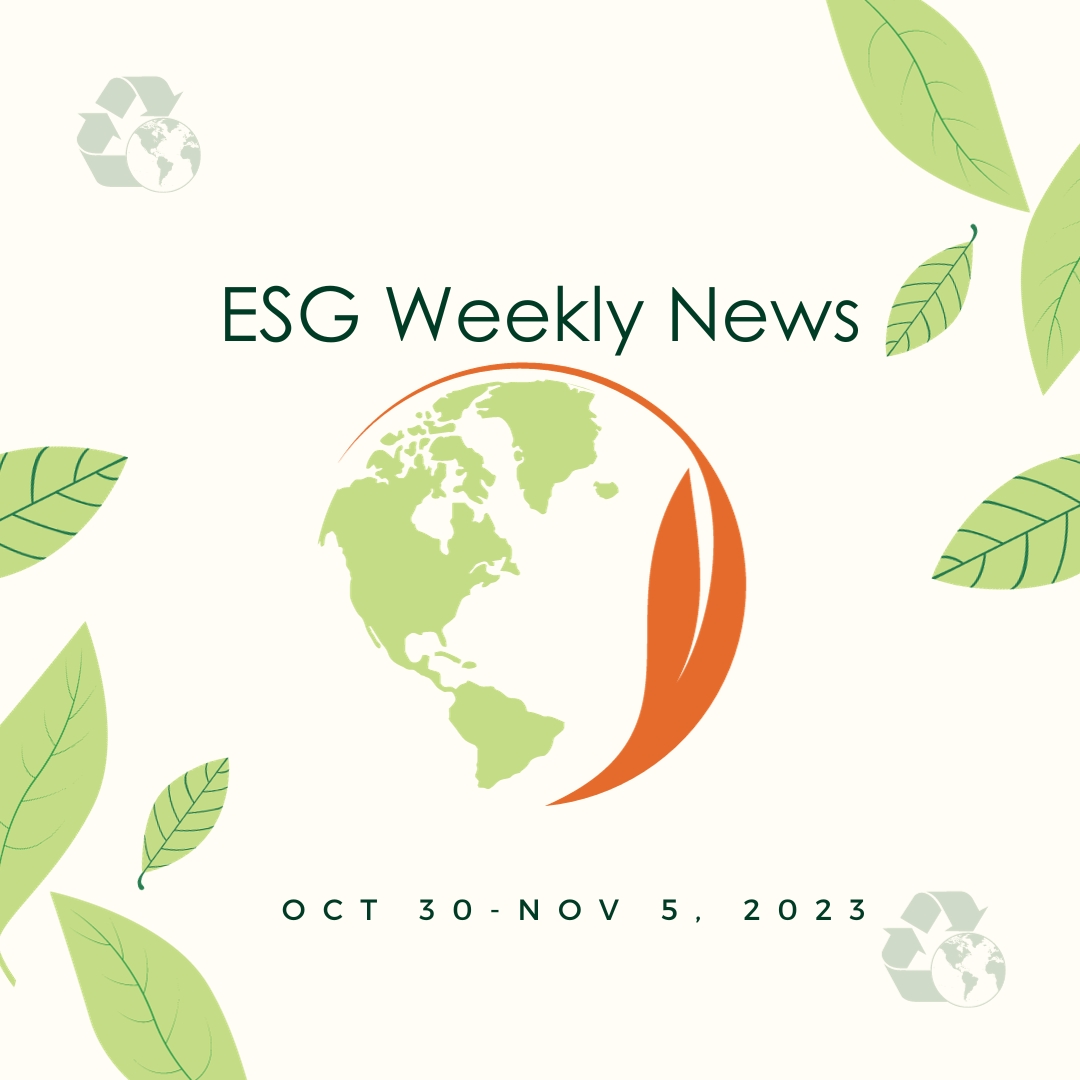 Resouce:
ESG TODAY
1.Apple, Nike, Launch Initiative to Accelerate Adoption of Clean Energy in Supply Chains
蘋果與耐克合作,推動供應鏈中清潔能源的採用
A consortium of major U.S. corporations, led by Apple and Nike, has inaugurated the Clean Energy Procurement Academy under the Clean Energy Buyers Institute (CEBI). The academy aims to mitigate supply chain emissions by imparting companies with the expertise to adopt clean energy solutions. Other founding members include Amazon, Meta, PepsiCo, and REI Co-op. Apple's initiative is an extension of its Supplier Clean Energy Program, which supports suppliers in transitioning to renewable energy. Over 250 suppliers have committed to renewable energy for Apple production by 2030. The academy's curriculum, developed by the founding organizations, is designed to help companies swiftly advance as clean energy consumers, fostering cross-industry collaboration to address systemic environmental challenges.
由蘋果和耐克領導的美國主要企業聯盟,已在清潔能源買家研究所 (CEBI) 下成立了清潔能源採購學院。該學院旨在通過為企業提供專業知識來採用清潔能源解決方案,從而減少供應鏈排放。其他創始成員包括亞馬遜、Meta、百事可樂和REI Co-op。蘋果的舉措是其供應商清潔能源計劃的延伸,該計劃支持供應商過渡到可再生能源。超過250家供應商承諾到2030年為蘋果生產使用可再生能源。該學院的課程由創始組織開發,旨在幫助企業快速成為清潔能源消費者,促進跨行業合作,以解決系統性環境挑戰。
2.SEC Chair: Investors Want Supply Chain Emissions Reporting to Manage Transition Risk
美國證券交易委員會主席:投資者要求供應鏈排放報告以管理過渡風險
SEC Chair Gary Gensler discussed investor support for Scope 3 emissions reporting in a U.S. Chamber of Commerce forum. This reporting, part of the SEC's proposed climate disclosure rules from March 2022, is crucial for investors to assess company risks. Despite concerns from companies and smaller entities about compliance costs and staying within the SEC's mandate, the SEC is considering feedback from over 16,000 comments. Gensler emphasized the need for consistency and comparability in disclosures. Although the final form of the rule is pending, U.S. companies might be compelled to provide Scope 3 disclosures under other regulations like California's new law and the EU's Corporate Sustainability Reporting Directive (CSRD). The SEC is yet to finalize the climate reporting rule.
證券交易委員會 (SEC) 主席加里·詹斯勒在美國商會論壇上討論了投資者對範疇3 (Scope 3) 排放報告的支持。這種報告是SEC 2022年3月提出的氣候披露規則的一部分,對於投資者評估公司風險至關重要。儘管公司和小型實體對遵守新規則的成本以及是否超出SEC職權範圍表示擔憂,但SEC正在考慮來自超過16,000條評論的反饋。詹斯勒強調披露中的一致性和可比性的必要性。雖然最終規則尚未確定,但美國公司可能會在加州的新法律和歐盟的企業可持續性報告指令 (CSRD) 等其他法規下被迫提供範疇3披露。SEC尚未最終確定氣候報告規則。


3.Sustainable Bond Issuance on Track to Grow to $950 Billion in 2023, Despite Q3 Pullback: Moody's
儘管第三季度出現回落,摩根大通預測2023年可持續債券發行量將達9500億美元

Moody's Investors Service reports that Q3 2023 saw a 26% year-over-year drop in the issuance of green, social, sustainability, and sustainability-linked (GSSS) bonds to $198 billion. This decline slightly underperformed the global bond market's 22% fall. Despite this, Moody's maintains a $950 billion forecast for GSSS issuance in 2023, a 4% growth over the previous year, anticipating a rebound in Q4, partly driven by COP28 initiatives. Although sovereign issuers saw a significant decline in Q3, GSSS bonds still account for 14% of global bond issuance year-to-date. Regionally, Europe leads with 19% of its total bond issuance in sustainable bonds, while North America has only 4.5%. Green bonds experienced the largest drop in Q3, but sustainability-linked bonds saw a 73% increase. The upcoming COP28 climate conference is expected to further boost sustainable debt issuance.
根據穆迪投資者服務公司的報告,2023年第三季度綠色、社會、可持續性和可持續性聯繫債券(GSSS)的發行量同比下降了26%,至1980億美元。這一下降幅度略低於全球債券市場22%的下滑。儘管如此,穆迪仍保持對2023年GSSS發行總額為9500億美元的預測,較前一年增長4%,預計第四季度將反彈,部分受COP28倡議的推動。儘管主權發行人在第三季度顯著下降,GSSS債券在迄今為止的全球債券發行中仍占14%。在地區上,歐洲以可持續債券占其總債券發行的19%領先,而北美僅為4.5%。綠色債券在第三季度經歷了最大幅度的下降,但可持續性聯繫債券卻增長了73%。即將到來的COP28氣候大會預計將進一步促進可持續債務的發行。


4.Over 80% of Companies to Increase Budgets for Environmental Sustainability Goals Over Next Year: Honeywell Survey
Honeywel調查顯示:逾八成企業計劃明年增加環保目標預

Honeywell, an industrial solutions company, released a survey showing that over 80% of companies plan to increase spending on environmental sustainability initiatives in the next 12 months. This reflects sustainability's status as a top corporate priority, with executives expressing increased confidence in meeting their goals. The survey involved over 750 professionals from various regions and sectors, all from companies with at least 1,000 employees. The focus on sustainability surpasses digital transformation, with Energy Evolution & Efficiency being the most prioritized area. Companies also show increased confidence in meeting their near-term and 2030 emissions reduction goals. Extreme weather events have impacted companies' environmental initiatives, prompting many to consider accelerating their sustainability efforts with a technology-driven approach.
Honeywell公司發布的一項調查顯示,超過80%的公司計劃在未來12個月內增加對環境可持續性倡議的投資。這反映了可持續性作為企業最優先事項的地位,執行官們對實現這些目標的信心也有所增強。該調查涉及來自不同地區和部門的750多名專業人士,所有人都來自至少有1000名員工的公司。對可持續性的關注超過了數字轉型,能源演變與效率是最優先的領域。公司對實現近期和2030年減排目標的信心也有所增加。極端天氣事件影響了公司的環境倡議,促使許多公司考慮加快以技術為驅動的可持續性努力。


5.Toyota Ramps U.S. EV Battery Investment to $14 Billion豐田將美國電動車電池投資增至140億美元


Toyota is significantly boosting its electric vehicle battery capacity in the U.S. with an additional $8 billion investment in its North Carolina battery production plant, bringing its total commitment to nearly $14 billion. This marks one of the largest-ever investments in U.S. EV battery capacity. Initially, Toyota invested $2.3 billion in this facility as part of a $5 billion initiative to enhance EV battery production in the U.S. and Japan. With the new funds, the plant will now have ten battery lines for electric vehicles and four for hybrid electric vehicles (HEVs), aiming for a total capacity of 30 GWh annually by 2030. This expansion is in line with President Biden's executive order and the Bipartisan Infrastructure Law, aiming to boost zero-emissions vehicles and the domestic battery supply chain. Toyota's investment is expected to create 3,000 new jobs at the site, totaling 5,000 jobs. North Carolina Governor Roy Cooper praised the strengthened partnership with Toyota and the state's move towards a clean energy economy.
豐田汽車宣布計劃在美國大幅增加其電動車電池產能,對其北卡羅來納州的電池生產廠進行額外80億美元投資。新公告使該公司對該設施的承諾增至近140億美元,標誌著美國電動車電池產能有史以來最大的投資之一。豐田去年宣布將對北卡羅來納州設施投資23億美元,作為在美國和日本增加其電動車電池生產能力的50億美元計劃的一部分,並在今年早些時候又分配了21億美元來增加該地點的計劃產能。新增的資本投資將使該設施現在擁有十條BEV/PHEV電池生產線,而不是之前宣布的兩條,另外還有四條用於混合動力電動車(HEVs)的電池線。該地點的總產能預計將達到每年30 GWh,並將隨著時間推移至2030年逐漸增加。這一擴張與拜登總統於2021年的行政命令和雙黨基礎設施法案相一致,旨在增加零排放車輛和國內電池供應鏈。豐田的投資預計將在該地點創造3,000個新工作崗位,使該設施的總就業創造達到5,000個。北卡羅來納州州長羅伊·庫珀(Roy Cooper)讚揚了與豐田的夥伴關係加強,以及該州邁向清潔能源經濟的舉措。