ESG International Weekly News 4/10-4/16
ESG International Weekly News 4/10-4/16
April 17,2023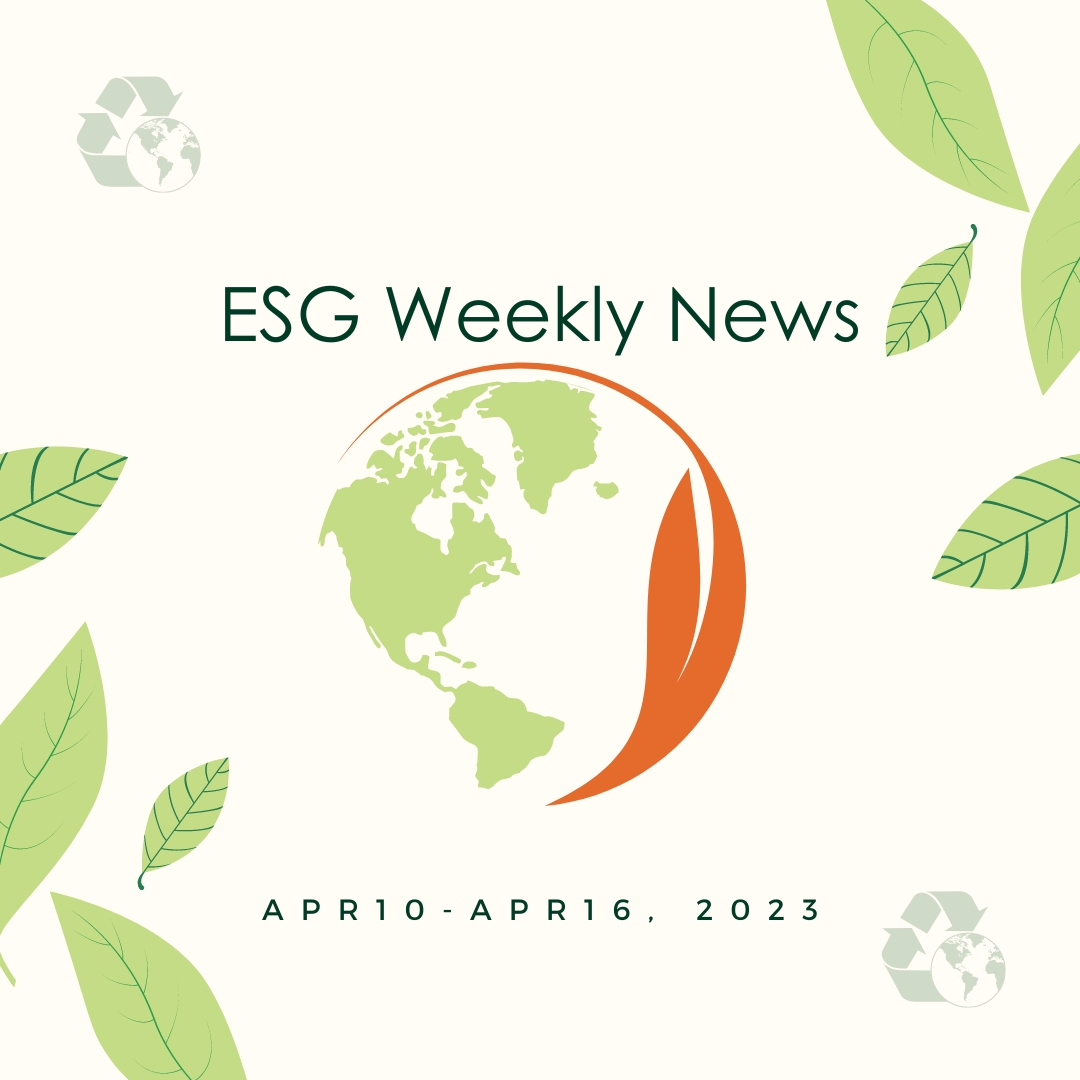 ESG NEWS-Resource:
ESG TODAY
1.Apple Increases Clean Energy Use in Supply Chain 30% in One Year
Apple has announced that its manufacturing partners have increased their use of renewable electricity by almost 30% in 2022. Additionally, dozens of suppliers have committed to using 100% renewable energy for all Apple production. The company has set a goal to become carbon neutral across its entire business, manufacturing supply chain, and product life cycle by 2030. Over 250 suppliers across 28 countries, representing over 85% of Apple's direct manufacturing spend, have now committed to using renewable energy for all Apple production by 2030. The use of clean energy in Apple's supply chain has grown rapidly, reaching over 13.7 GW, up around 30% from the prior year, and representing avoided carbon emissions of 17.4 million metric tons in 2022. Apple plans to facilitate the construction of large-scale solar and wind projects to address emissions from product use, which accounts for around 22% of its carbon footprint.
蘋果公司宣布,其制造合作伙伴在2022年增加了近30%的可再生電力使用。此外,數十家供應商已承諾為所有蘋果產品使用100%的可再生能源。該公司設定了一個目標,到2030年實現在整個業務、製造供應鏈和產品生命週期上的碳中和。超過250家來自28個國家的供應商已承諾到2030年為所有蘋果產品使用可再生能源,這些供應商代表了蘋果直接制造支出的超過85%。蘋果供應鏈中的清潔能源使用迅速增長,已經達到了超過13.7 GW,比去年增加了約30%,並且自2019年以來增長了5倍以上,去年避免了1740萬公噸碳排放。蘋果計劃促進大型太陽能和風能項目的建設,以應對產品使用造成的排放,這占其碳足跡的約22%。

2.Biden Unveils Strict Vehicle Emissions Standards to Drive Clean Transportation Transition

The Biden administration has announced new vehicle emissions standards that aim to reduce greenhouse gas emissions from the transport sector by billions of tons over the next few decades and to speed up the transition to electric vehicles. The US Environmental Protection Agency (EPA) has proposed more stringent greenhouse gas emissions standards for light- and medium-duty vehicles, with stringency increasing each year to reach a 56% reduction in light-duty fleet-wide GHG emissions in 2032 and a 44% reduction for medium-duty vehicles, as well as a separate set of heavy-duty truck emissions standards. The EPA estimates the rules will result in a reduction of almost 10 billion tons of CO2 emissions through 2055. Environmental groups praised the new proposals, but energy industry groups and Republican politicians criticized them.
拜登政府週三宣布了新的車輛排放標準,旨在在未來幾十年內減少交通運輸業的溫室氣體排放數十億噸,並加速向電動車的轉變。美國環境保護署(EPA)提出了更嚴格的輕型和中型車輛的溫室氣體排放標準,每年加強一次,以達到在2032年對輕型車全車隊的溫室氣體排放量減少56%和對中型車的44%減排,以及另一套重型卡車排放標準。EPA估計這些規則將在2055年前減少近100億噸二氧化碳排放量。環保組織稱讚了新提案,但能源行業團體和共和黨政治家批評了它們。

3.DWS Scores Largest Ever U.S. ETF Launch with new Climate Action Fund

DWS' Xtrackers has launched a new climate-focused ETF backed by a $2 billion investment from Finnish pension insurance company, Ilmarinen. The Xtrackers MSCI USA Climate Action Equity ETF aims to provide investors exposure to US large and mid-cap companies leading in their sectors on climate transition action. The index tracks the MSCI USA Climate Action Index, which uses ESG screens to select 50% of companies from each sector in the parent index. The ETF launch represents the largest ever in the US, and is part of DWS' efforts to expand its Xtrackers brand in the Americas.
資產管理公司DWS的交易所交易基金(ETF)業務Xtrackers通過新的ETF上市實現了美國有史以來最大的ETF發行,而芬蘭養老保險公司Ilmarinen投資了20億美元支持此舉。新基金Xtrackers MSCI USA Climate Action Equity ETF旨在為投資者提供在氣候轉型行動方面引領其所處行業的美國大型和中型企業的投資機會。該基金跟踪MSCI USA Climate Action Index,該指數對其母指數MSCI USA Index進行了一系列的ESG篩選。基金上市是DWS在擴大其Xtrackers品牌和推出專業產品以實現長期回報機會方面的努力之一,也是美國歷史上最大的ETF發行。

4.Mastercard to Eliminate First-Use Plastics from Cards

Global payment technology company Mastercard has announced that it plans to remove first-use PVC plastics from payment cards on its network and require all newly produced Mastercard plastic payment cards to be made from more sustainable materials, such as recycled or bio-sourced plastics, by 2028. The company will also support its global issuing partners in transitioning away from first-use plastics. All newly made cards on the network will have their composition and sustainability claims certified by Mastercard, with the certification then validated by an independent third-party auditor. This announcement is the latest in a series of sustainability-related initiatives at Mastercard, which has been expanding its initiatives to include environmental sustainability, financial inclusion, and gender pay parity.
全球支付技術公司萬事達卡宣布,計劃在其網絡上的支付卡中移除首次使用的PVC塑料,並要求所有新生產的萬事達卡塑料支付卡均使用更可持續的材料,如再生或生物來源塑料,在2028年前實現。該公司還將支持其全球發卡合作夥伴轉向不使用首次使用塑料。網絡上所有新製成的卡都將由萬事達卡認證其組成和可持續性聲明,並由獨立第三方審計師進行驗證。這一舉措是萬事達卡一系列可持續發展的倡議中的最新動向,該公司一直在擴大其倡議,包括環境可持續性、金融包容性和性別工資平等。