ESG International Weekly News
ESG International Weekly News
March 14,2023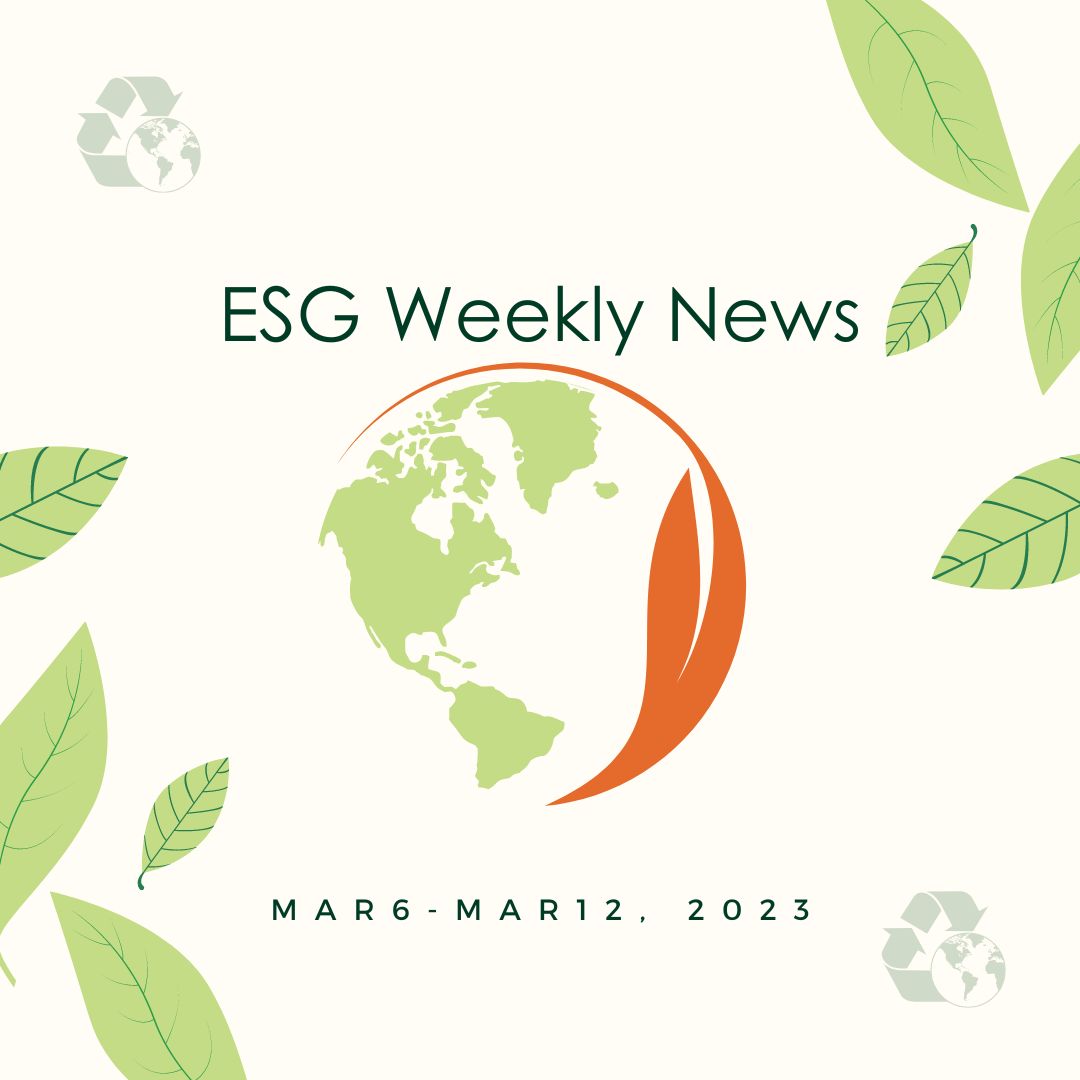 ESG International Weekly News
Resource:
ESG TODAY
1.EU Regulators to Conduct Financial System-Wide Climate Stress Test
The EU's financial regulators will conduct a one-off system-wide analysis to assess the financial sector's resilience to climate-related risks and its capacity to fund Europe's green transition under stress scenarios. The exercise will go beyond the usual climate stress tests and focus on modelling contagion and second-round effects across firms and sub-sectors of the financial system. The analysis will also examine other stress factors and the financial system's capacity to channel private capital to support the EU's climate goals. The results will inform future supervisory and monitoring programs, with policymakers using them to understand the potential impact of climate-related shocks.
2.Biden Announces $6 Billion Funding to Scale Industrial Decarbonization Projects
The Biden administration announced a $6 billion Industrial Demonstrations Program to reduce greenhouse gas emissions from the industrial sector. The program aims to accelerate decarbonization projects targeting hard-to-abate sectors, such as iron and steel, aluminum, cement and concrete, and will provide up to 50% of the cost of first-of-a-kind or early-stage decarbonization projects to bring them to scale this decade. The program is part of the administration's broader efforts to tackle climate change, with allocations of nearly $500 billion to climate-focused investments in areas including carbon-free energy, manufacturing, and clean technologies.
3.Kansas Anti-ESG Legislation Would Cost Pension Fund $3.6 Billion, According to State Budget Report
Kansas proposed legislation to prohibit ESG investing in the state's pension funds and block suppliers from integrating sustainability factors may cost the pension system up to $3.6 billion in returns, according to an analysis by the Kansas budget division. The "Kansas Protection of Pensions and Businesses Against Ideological Interference Act" would require divestment from companies engaging in "ideological boycotts." The proposal has faced challenges due to its potential impact on the state's investment portfolio. The anti-ESG movement has also faced challenges in other states, including Wyoming and North Dakota.
4.Canada Announces Climate Reporting Requirements for Banks, Insurers, Beginning 2024
Canada's Office of the Superintendent of Financial Institutions (OSFI) has released new guidelines on climate risk management, which will require banks and insurance companies to manage and disclose climate-related risks. Major banks and insurance companies will be expected to begin climate-related reporting for fiscal year 2024, with smaller institutions following suit the following year. The guidelines cover disclosure categories such as governance, strategy, risk management, and metrics and targets, including reporting on identified climate-related risks and opportunities and public commitments made as part of a Net Zero alliance. The guidance also includes OSFI's expectations for the governance of climate-related risks and opportunities.
5.EY, IBM Partner to Offer ESG Data and Sustainability Strategy Solutions
EY and IBM have announced an expanded collaboration to provide environmental, social, and governance (ESG) solutions to help companies accelerate, manage, and report on sustainability-related business transformations and initiatives. Solutions under the collaboration include greenhouse gas emissions accounting and management, ESG Managed Services, and EY's tool for carbon capture, analysis, and decision support. The collaboration aims to leverage EY's CCaSS practices and IBM's environmental intelligence suites to help companies operationalize decarbonization action plans at the asset level. Both companies are working to build their sustainability and climate-focused capabilities and solutions for clients.