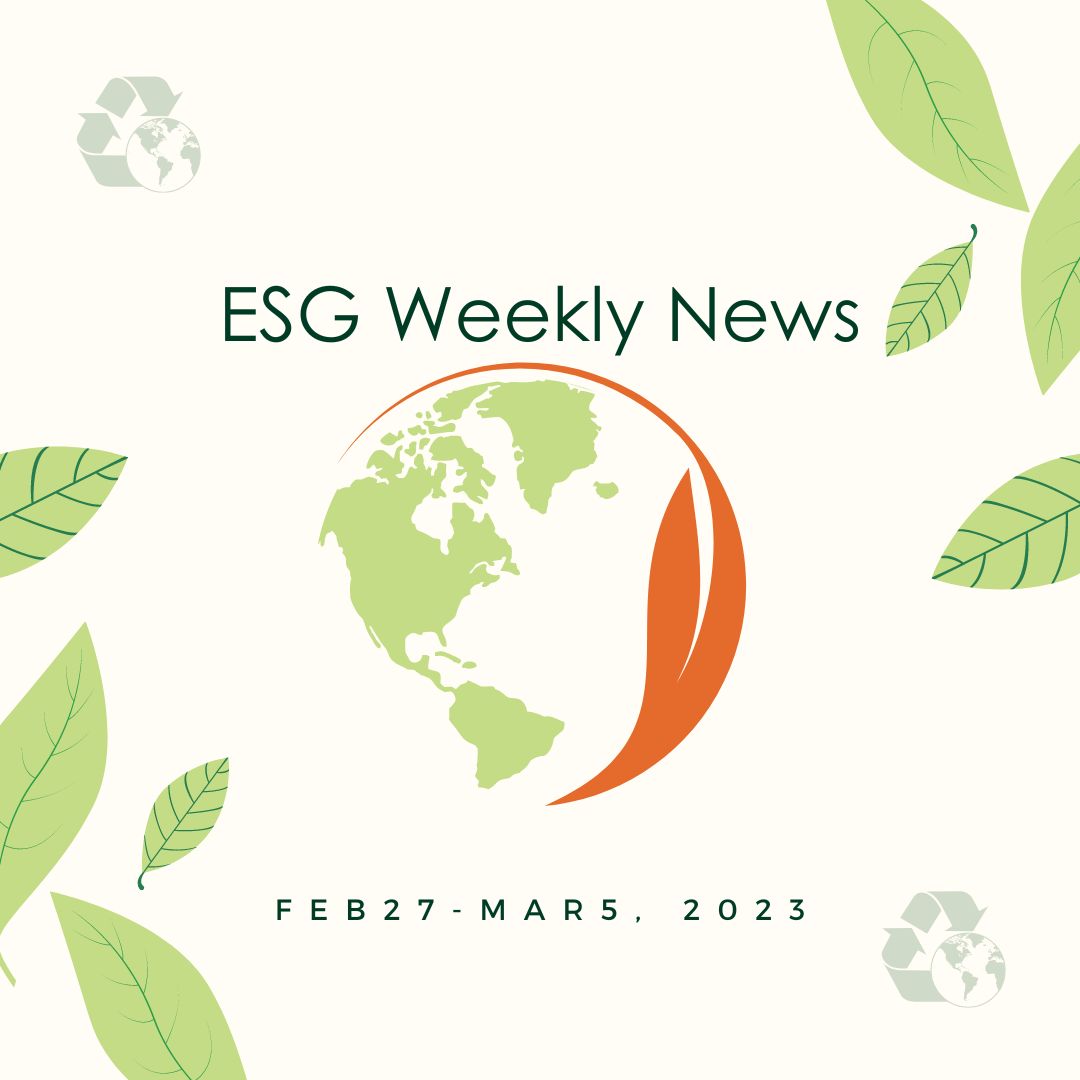 This week in ESG news: BCG launches sustainability and climate policy & regulation center; Congress votes down Biden ESG investing rule; Deutsche Bank eyes big sustainable finance opportunity; Canada government to require suppliers to disclose emissions, set targets; Citi sets climate goals for carbon-intensive sectors; EU lawmakers agree to new green bond market rules; Australia targets Mercer in greenwashing crackdown; IKEA switching to fossil fuel-free glue to address climate footprint; more states push back on anti-ESG initiatives; Pandora ties debt costs to climate & circularity goals; ERM acquires sustainable finance advisory; capital raises for building decarbonization tech, ESG data, sustainable transport, biogas , and more.

1.US House of Representatives approves Republican-sponsored legislation to block DOL rule allowing consideration of climate and ESG factors in retirement plan investments
The US House of Representatives has approved Republican-sponsored legislation aimed at blocking a Department of Labor (DOL) rule that permits retirement plan fiduciaries to consider climate and ESG factors in their investment decisions. The move to use the Congressional Review Act has received backing from Democratic Senator Joe Manchin, leading to doubts over whether President Biden's veto threat would succeed in stopping the legislation. The DOL's rule, which went into effect in January 2022, marked a reversal of a Trump-era decision to limit ESG investing in ERISA plans. The White House has said that Biden would veto the resolution if passed.

2.New Standards and Disclosure Guidelines Agreed for European Green Bonds to Prevent Greenwashing
The European Parliament and the European Council have agreed on new standards and disclosure guidelines for European Green Bonds (EuGB), aimed at preventing greenwashing in the sustainable bond market. The proposed regulations require issuers seeking to use the EuGB designation to follow strict investment and transparency criteria, including ensuring that all proceeds are invested in activities aligned with the EU Taxonomy. The agreement also establishes a registration system and supervisory framework for external reviewers of European green bonds, with the proposed rules now to be sent for confirmation by the Council and the European Parliament

3.Canada sets new standards for large government suppliers to disclose GHG emissions and set reduction targets
Starting April 1, 2023, large suppliers to the Government of Canada will be required to disclose their greenhouse gas (GHG) emissions and set targets to reduce them, according to the new "Standard on the Disclosure of Greenhouse Gas Emissions and the Setting of Reduction Targets." Federal procurements greater than $25 million will require suppliers to adopt a science-based target to reduce GHG emissions in line with the Paris Agreement. The government also announced a new "Standard on Embodied Carbon in Construction," requiring all new major government construction projects to report and reduce their embodied carbon footprint
4.Citi sets new targets to reduce emissions in key carbon-intensive sectors towards net-zero goal

Citi has announced new interim targets for financed emissions reductions in key carbon-intensive sectors, including auto manufacturing, commercial real estate, steel, and thermal coal mining, as part of the bank's plan to achieve its 2050 net-zero greenhouse gas financing goal. The new 2030 targets, which apply to Citi's loan portfolio, include cutting light-duty auto manufacturing Scope 1-3 emissions intensity by 31%, North American commercial real estate emissions intensity by 41%, and absolute emissions from thermal coal mining by 90%. In the TCFD report, Citi said that it intends to set targets for additional sectors, including Agriculture, Aluminum, Aviation, Cement, and Shipping, in 2023-2024.

5.IKEA to switch from fossil-based to bio-based glues to tackle greenhouse gas emissions

IKEA has announced its plan to reduce its greenhouse gas (GHG) emissions by switching from fossil-based to bio-based glues, primarily used for board production, which accounts for 5% of the company's total value chain climate footprint. The move is part of the company's efforts to become climate positive by reducing more emissions than the value chain generates by 2030. The company aims to reduce fossil-based glue usage by 40% and the climate footprint from glue by 30%, and to have most board-producing factories in its supply chain using glues with lower climate footprints by 2030. IKEA has also launched an accelerator program to pilot new glue solutions with external partners, to enable a transition to 100% bio-based glue use.