ESG International Weekly News 10/9-10/15
ESG International Weekly News 10/9-10/15
October 16,2023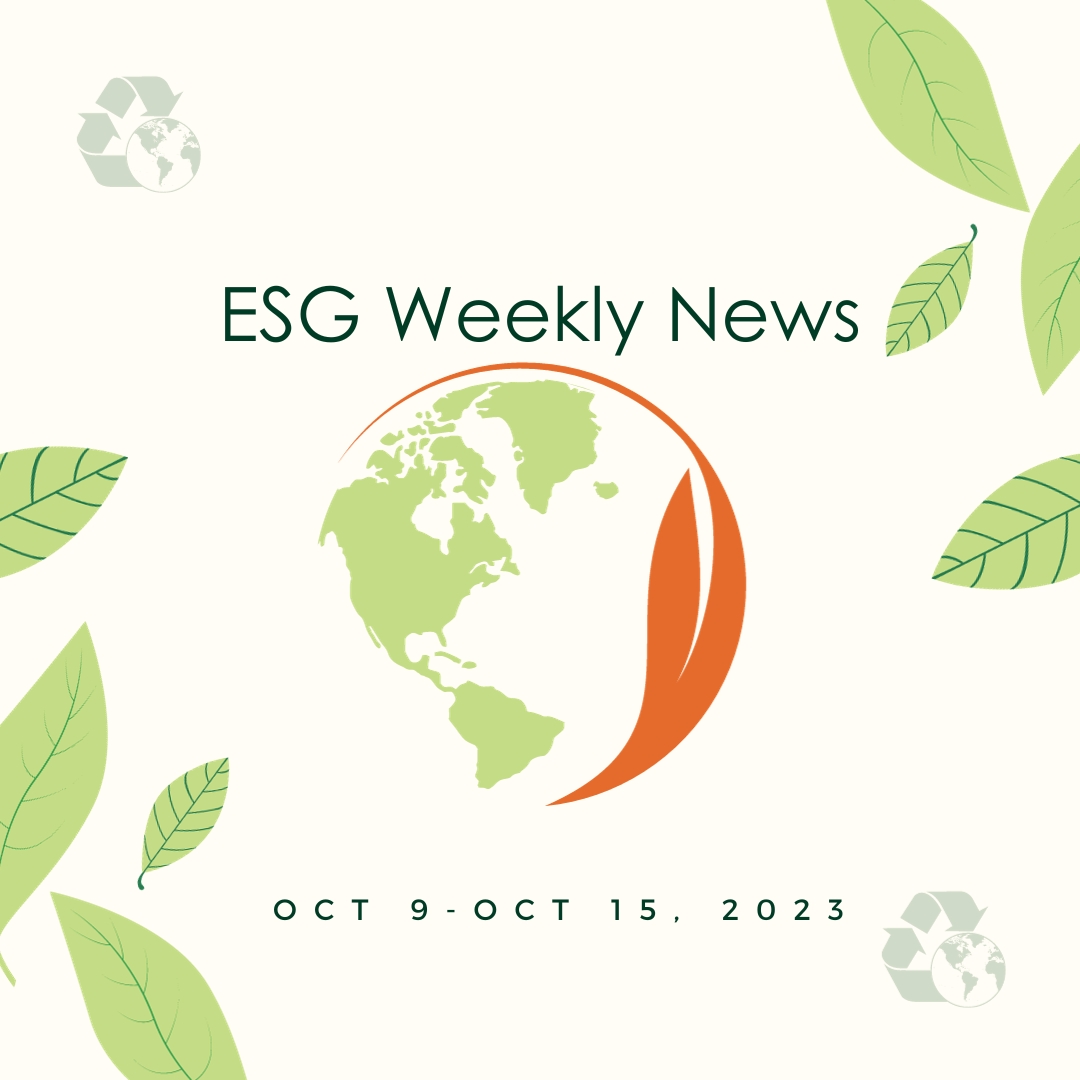 Resource:
ESG TODAY
1.Biden Announces $7 Billion Investment to Build National Network of Clean Hydrogen Hubs
美國拜登政府宣布投資70億美元,建設全國清潔氫能中心
The U.S. Biden administration has designated seven locations for the creation of clean hydrogen hubs with an investment of $7 billion. These hubs are set to produce up to three million metric tons of hydrogen every year, potentially cutting 25 million tons of industrial carbon emissions annually. Hydrogen is seen as an essential element in transitioning to a cleaner energy future, especially in sectors where renewables like wind or solar might not be feasible. The U.S. currently produces about 10 million metric tons of hydrogen, predominantly through fossil fuels, leading to pollution and GHG emissions. The recent announcement aligns with the U.S. National Clean Hydrogen Strategy, aiming to upscale U.S. clean hydrogen production to 10 million metric tons by 2030 and 50 million tons by 2050. The funding for these hubs will mainly come from the Bipartisan Infrastructure Law, which assigns $9.5 billion for clean hydrogen endeavors. The investment will also mobilize more than $40 billion in private investments, becoming one of the largest-ever investments in clean manufacturing.
美國拜登政府宣布將投資70億美元,在全國七個地點建立新的清潔氫氣中心。這些中心預計每年將生產高達300萬公噸的氫氣,可能每年減少2500萬噸的工業碳排放。氫被視為過渡到更清潔能源未來的關鍵元素,特別是在風能或太陽能可能不可行的部門。目前,美國主要通過化石燃料生產約1000萬公噸的氫,導致污染和溫室氣體排放。最近的公告與美國國家清潔氫策略相一致,目的是到2030年將美國清潔氫生產提高到1000萬公噸,到2050年達到5000萬噸。這些中心的資金主要來自兩黨基礎設施法,該法為清潔氫努力分配了95億美元。該投資還將動員超過400億美元的私人投資,成為有史以來最大的清潔製造投資之一。
2.California Governor Signs Climate Disclosure Bills, but Pushes Back on Timeline and Cost
加州州長簽署氣候披露法案,但對時程表和成本表示擔憂
California Governor Gavin Newsom has signed two major climate-focused disclosure bills, SB 253 and SB 261. SB 253 mandates businesses operating in California with revenues surpassing $1 billion to annually disclose their full spectrum of emissions, encompassing direct emissions, emissions related to electricity usage, and indirect emissions like supply chains, business travel, and waste. The initial implementation dates for these disclosures, set for 2026 and 2027, are seen by Newsom as potentially unfeasible, citing concerns about consistency and financial impacts on businesses. The governor intends to collaborate with the bill's authors to resolve these issues. Newsom has also instructed the California Air Resources Board to evaluate and recommend cost-efficiency measures for this initiative. Meanwhile, SB 261 requires U.S. companies doing business in California and with revenues over $500 million to disclose their climate-related financial risks, abiding by the TCFD framework. Despite being scheduled to commence in 2026 biennially, Newsom expressed concerns about feasibility and potential business costs.
加州州長Gavin Newsom已簽署兩項重大的氣候焦點揭露法案,SB 253和SB 261。SB 253要求在加州營業且年收入超過10億美元的企業每年揭露其所有範疇的排放,包括直接排放、與電力使用相關的排放以及與供應鏈、商務旅行和廢物相關的間接排放。Newsom認為這些揭露的初步實施日期(設定為2026年和2027年)可能是不切實際的,並表示對一致性和對企業的財務影響表示關切。州長打算與法案的作者合作以解決這些問題。Newsom還指示加州空氣資源委員會評估並為此舉措提供成本效益建議。與此同時,SB 261要求在加州做生意且年收入超過5億美元的美國公司根據TCFD框架揭露其與氣候相關的財務風險。儘管定於2026年開始每兩年進行一次,但Newsom表示對可行性和潛在的商業成本表示關切。
3.EU Adopts Laws to Double Renewable Energy Share, Decarbonize Aviation
歐盟採納法律,旨在到2030年將可再生能源佔比翻倍並對航空業進行脫碳
The European Council has passed two significant legislations: a directive to nearly double the renewable energy consumption in the EU by 2030 and a law focusing on decarbonizing the aviation sector through sustainable aviation fuel (SAF). These mark crucial steps in the European Commission's "Fit for 55" roadmap, targeting a 55% reduction in greenhouse gas emissions by 2030 compared to 1990. The Renewables Energy Directive mandates a 42.5% renewable energy consumption by 2030, an increase from the previous target of 32%. There are also specific targets for various sectors, such as buildings and transport. Additionally, the "ReFuelEU aviation" law focuses on increasing the demand and supply of SAF with various mandates for fuel suppliers, aircraft operators, and airports. With the Council's adoption, these laws will soon be in effect, highlighting the EU's commitment to a green transition.
歐洲理事會已通過兩項重要的法律:一項是到2030年幾乎將歐盟的可再生能源消費增加一倍的指令,另一項法律著重於通過可持續航空燃料(SAF)對航空部門進行脫碳。這些都是歐洲委員會"Fit for 55"路線圖的重要步驟,目標是到2030年比1990年減少55%的溫室氣體排放。可再生能源指令要求到2030年可再生能源消費占42.5%,高於之前的32%的目標。此外,"ReFuelEU航空"法律重點是增加SAF的需求和供應,並為燃料供應商、飛機運營商和機場設定了各種規定。隨著理事會的批准,這些法律將很快生效,彰顯歐盟致力於綠色轉型的承諾。
4.Costco Commits to Plastic Reduction Plan Following Shareholder Engagement
歐盟採納法律,旨在到2030年將可再生能源佔比翻倍並對航空業進行脫碳
Costco, the warehouse club retail giant, is set to provide more transparency about its plastic usage and has promised to launch a plastic reduction action plan. This development came about after discussions with Green Century, an environment and social-focused investor. Costco's new commitment involves disclosing the plastic footprint of its in-house brand, Kirkland Signature, by July 2024 and unveiling a 5-year action plan by December 2024 to minimize plastic in its Kirkland Signature Packaging. This is in addition to Costco's prior pledge to reveal its aggregate Scope 3 emissions and set related targets in 2023. However, Green Century emphasizes that Costco still has significant work ahead, especially in mitigating the risks and environmental impacts of single-use plastics.
零售巨頭Costco承諾提供更多有關其塑料使用的透明度,並答應推出減少塑料行動計劃。這一發展是在與環境和社會焦點投資者Green Century的討論之後實現的。Costco的新承諾包括在2024年7月揭示其自有品牌Kirkland Signature的塑料足跡,並在2024年12月公佈一個5年行動計劃,以減少其Kirkland Signature包裝中的塑料。此外,Costco還承諾在2023年揭示其總體Scope 3排放並設定相關目標。然而,Green Century強調,Costco仍然有很多工作要做,特別是在減少一次性塑料的風險和環境影響方面。


5.MSCI Acquires Carbon Markets Advisory Trove Research
MSCI收購碳市場諮詢公司Trove Research

MSCI, an investment data and research provider, has announced its acquisition of Trove Research, a firm specializing in data, analysis, and advice centered on corporate climate action, carbon markets, and energy transitions. This acquisition signifies MSCI's foray into the burgeoning carbon market ecosystem. MSCI intends to use this acquisition to expand its climate solutions offerings, providing deeper insights into company transition plans, carbon credit pricing projections, and enhancing transparency on carbon credit quality. As demand for carbon offset projects is anticipated to surge, MSCI aims to bolster its stance as a foremost provider of climate-centric investment solutions. Trove Research, established in 2015 and headquartered in London, has been focused since 2020 on monitoring corporate climate pledges and the voluntary carbon credit market.
投資數據和研究提供商MSCI今日宣布收購Trove Research,這是一家專門從事公司氣候行動、碳市場和能源轉型的數據、分析和諮詢公司。此次收購標誌著MSCI進入迅速發展的碳市場生態系統。MSCI計劃使用此次收購來擴展其氣候解決方案,為客戶提供更深入的公司轉型計劃見解,碳信用價格預測,並增強對碳信用質量的透明度。隨著對碳抵消項目的需求預期將激增,MSCI旨在加強其作為氣候中心投資解決方案的主要提供商的地位。成立於2015年、總部位於倫敦的Trove Research自2020年起專注於監測公司氣候承諾和自願性碳信用市場。