TYC Environmental Technology Development Circular Economy Cooperation Plan: Vegetable and Fruit Bag Recycling Project – Turning vegetable and fruit bags into recycled materials.
September 26,2023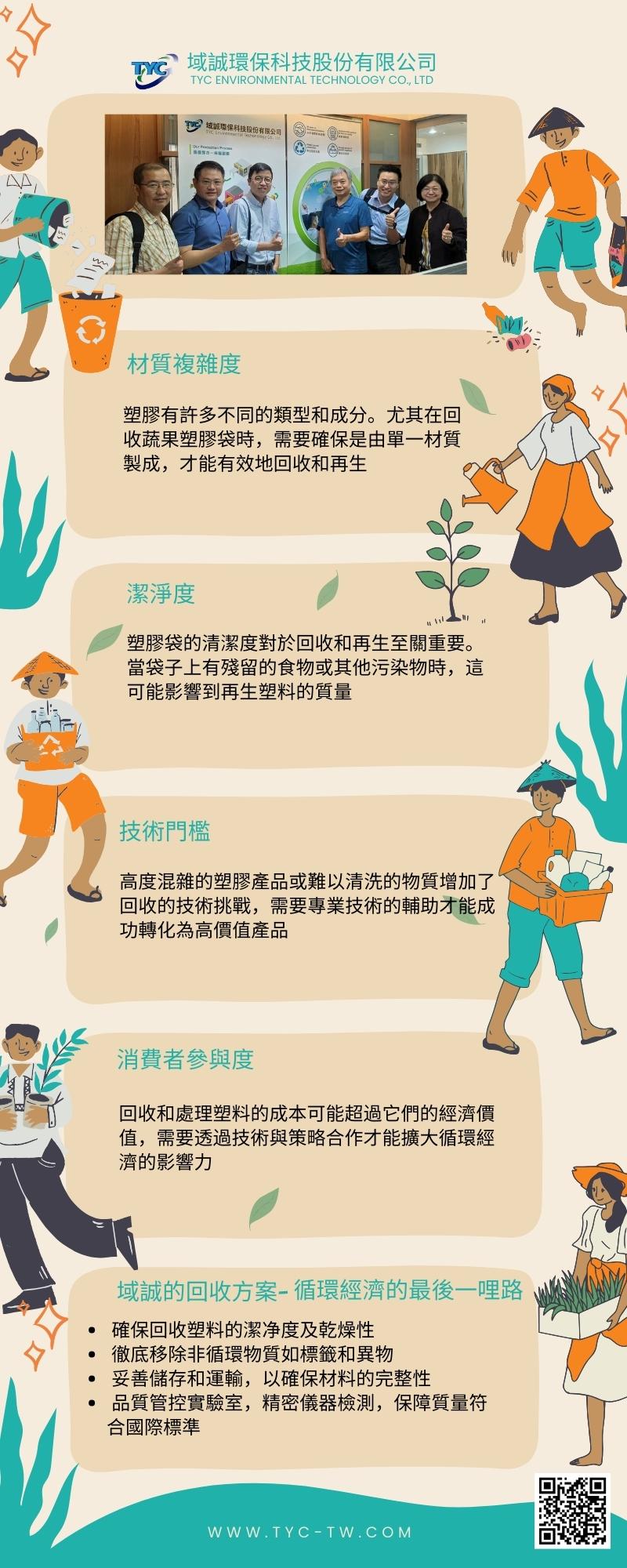 In the face of the increasingly severe global plastic pollution issue, enterprises and institutions pursuing sustainability are striving to develop effective solutions. At TYC Environmental Technology, we fully recognize the urgency of this problem and continue to research and develop advanced plastic recycling technologies.
We are honored to join hands with the Taiwan Homemakers' Union Consumers Co-op (referred to as the Homemakers' Union) and the Taiwan Plastic Industry Development Center ( referred to as the Plastic Center) to successfully transform a large number of vegetable and fruit PP film plastic bags into commercially valuable recycled materials.
Challenges faced in recycling plastics:
🚫Material Diversity: Different types of plastics, especially vegetable and fruit plastic bags, must ensure material purity before recycling to ensure proper reuse.
🚫Cleaning Issues: Recycled plastic bags must be kept clean, avoiding food residues or other contaminants that reduce the quality after recycling.
🚫Technical Barriers: Various technical challenges need to be overcome during the recycling process, especially when dealing with mixed or heavily contaminated materials.
🚫Consumer Participation: Another major challenge of effective recycling is guiding public proper participation to ensure proper plastic sorting and cleaning.
TYC not only values business development but also recognizes the crucial responsibility to society and the environment. We thank the Homemakers' Union and the Plastic Center for their collaboration and exchange, committed to fulfilling corporate responsibility and further protecting our precious earth.
♻️TYC's Recycling Plan: The Last Mile of the Circular Economy
Ensure the cleanliness and dryness of recycled plastics.
Thoroughly remove non-circular substances such as labels and foreign objects.
Proper storage and transportation to ensure material integrity.
Quality control laboratories, precision instrument detection, ensuring quality meets international standards.
♻️Sustainable Model for the Retail Industry
Our vision goes beyond mere recycling; we aspire to establish a new business model of a circular economy for the retail industry.
From collection, sorting to manufacturing, TYC Environmental Technology consistently ensures everything meets the highest quality standards. We believe that only through professional partnerships and continuous innovative strategies can the plastic recycling industry pave a new future. As our slogan says, "Transform with Your Creativity," we eagerly look forward to participating with all eco-conscious partners to set new milestones in environmental protection.
For detailed reports: 主婦聯盟