ESG International Weekly News 9/4-9/10
ESG International Weekly News 9/4-9/10
September 11,2023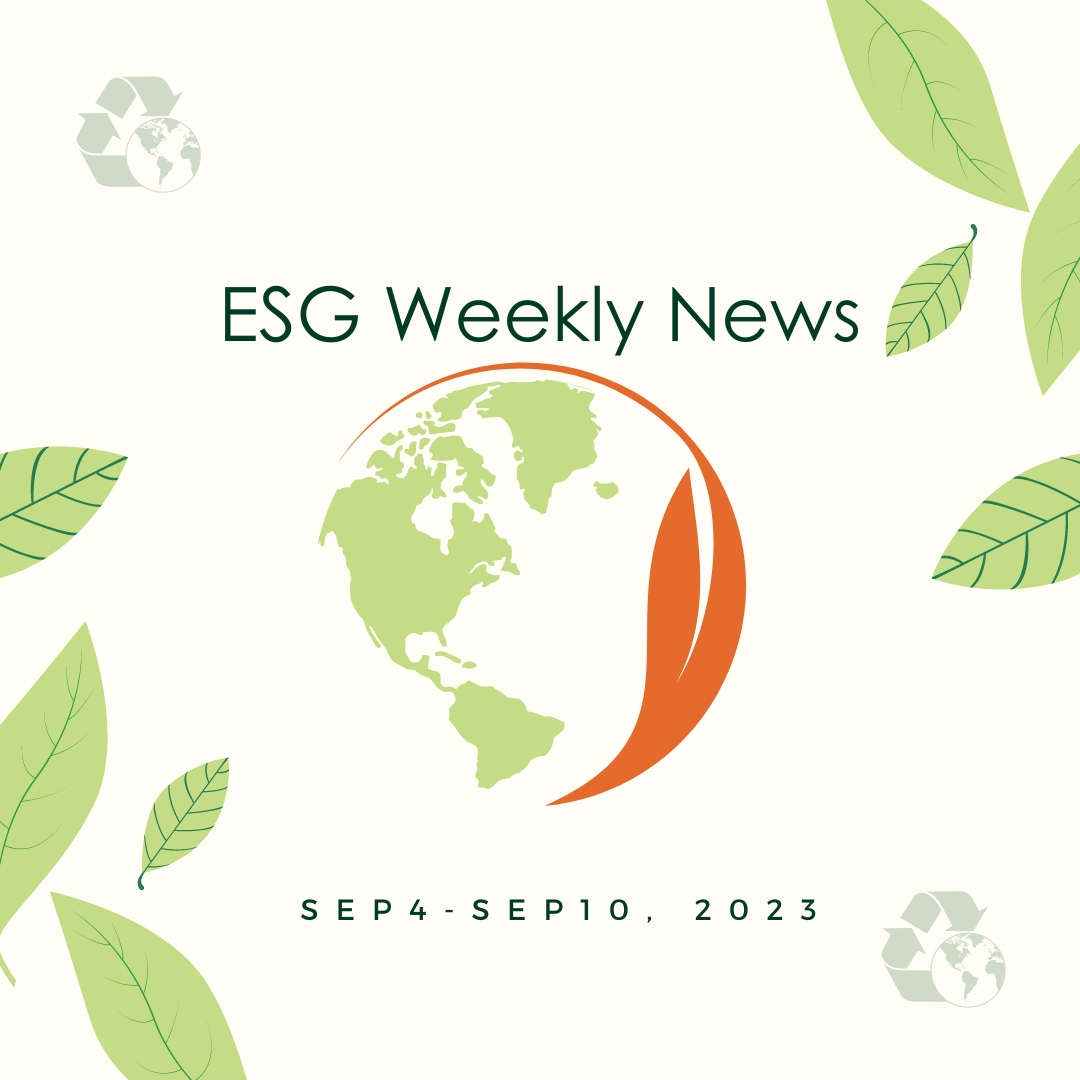 1.Microsoft Signs One of the Largest-Ever Permanent Carbon Removal Deals
微軟簽署迄今為止最大的碳移除協議
Microsoft has signed a significant multi-year contract with Heirloom, a Direct Air Capture (DAC) tech firm, to eliminate up to 315,000 metric tons of CO2. This stands as one of the biggest carbon removal contracts so far. The DAC technology, recognized by IEA, captures CO2 straight from the air. Heirloom, in collaboration with Battelle and Climeworks, is progressing on Project Cypress in Louisiana, aiming to annually capture over 1 million metric tons of CO2. This project recently secured a grant of up to $600 million from the U.S. Department of Energy. Microsoft's involvement helps provide innovative funding for Heirloom's initiatives. This is part of Microsoft's broader strategy to be carbon negative by 2030 and offset all its historical emissions by 2050.
微軟今天宣布與直接空氣捕獲技術公司Heirloom簽訂了一份多年協議,計劃移除多達315,000公噸的CO2,這是迄今為止最大的碳移除協議之一。IEA認可的DAC技術可以直接從大氣中提取CO2。Heirloom正與Battelle和Climeworks合作,在路易斯安那州的Project Cypress進行開發,該項目的目標是每年從大氣中捕獲超過1百萬公噸的CO2。該項目最近從美國能源部獲得了高達6億美元的資助。微軟的這次參與將為Heirloom提供創新資金。這是微軟實現2030年碳負及到2050年抵消其歷史排放的廣泛策略的一部分。


2.Biden Launches $12 Billion Finance Package for Automakers to Convert Factories to Produce EVs
拜登政府宣布超過150億美元的融資計劃,旨在支持汽車業轉向電動車的過渡


The Biden administration unveiled a financial package surpassing $15 billion to bolster the shift towards electric vehicles (EVs). This includes $10 billion as loans and $2 billion in grants to assist automakers in transitioning factories for EV production. For eligibility, the new scheme demands that job retention, wages, benefits in manufacturing facilities are maintained, and initiatives favoring underserved communities are supported. The U.S. Department of Energy (DOE) introduces these new financing plans, extending its efforts to promote clean transportation. President Biden's earlier directives target having EVs account for 50% of new vehicle sales in the U.S. by 2030. The DOE's loan program, worth $10 billion, is dedicated to automotive conversion projects that maintain quality jobs in existing manufacturing localities. The $2 billion grant, stemming from the Bipartisan Infrastructure Law (BIL), encourages the production of a range of electrified vehicles and components. Additionally, an investment of $3.5 billion is set to enhance the manufacturing of advanced batteries for EVs and energy storage. U.S. Secretary of Energy, Jennifer M. Granholm, expressed the commitment to supporting communities as the transition from conventional engines to EVs unfolds.
拜登政府周四宣布了一項超過150億美元的融資計劃,旨在支持向電動車的過渡。此計劃包括100億美元的貸款和20億美元的補助金,協助汽車製造商轉型生產電動車。新計劃的主要申請條件包括保留製造工廠的工作崗位、工資和福利,並支持拜登政府的方針,將投資導向弱勢社群。美國能源部推出的這些新融資計劃是政府一系列旨在加速轉向清潔交通的舉措之一。拜登總統早前已下令要求到2030年電動車在美國的新車銷售中占半數。能源部的新貸款計劃將為汽車製造轉型項目提供高達100億美元,這些項目將在當前的製造社群中保留高質量的工作崗位。由BIL資助的20億美元補助金計劃將支持輕型、中型和重型電動車及其組件的生產。此外,政府還宣布計劃投資35億美元以增加電動車和電網存儲的先進電池和電池材料的生產。美國能源部長詹妮弗·M·格蘭霍姆表示,拜登總統明白,建造未來的汽車也需要幫助那些因過渡而受到挑戰的社群。


3.Less than 5% of Banks Have Set Net Zero Commitments Across all Financing Categories: TPI Report
不到5%的銀行宣布了針對所有金融業務的全面淨零目標:TPI研究


According to a recent analysis by the Transition Pathway Initiative's (TPI) Global Climate Transition Centre, banks worldwide are becoming more dedicated to minimizing the climate impact of their financial operations. They have made strides in revealing financed emissions and handling climate risks. Nevertheless, fewer than 5% of banks have declared a comprehensive net zero goal for all their financing activities.

The TPI Centre's study involved 26 leading global banks, using their newly introduced Net Zero Banking Assessment Framework. This framework gauges various indicators, from net zero pledges of banks to their disclosure and financing for climate solutions. The research discovered that a significant majority of these banks have set targets for net zero financed emissions, and many have also initiated emission reduction objectives for sectors with high carbon footprints. Yet, not all these efforts align perfectly with global climate objectives. For instance, while 77% of these banks commit to achieving net zero financed emissions by 2050, just half specify the activities included under this commitment, and only one bank covers all on- and off-balance sheet activities.

Additionally, there's been a surge in banks determining mid-term decarbonization targets for high-emission industries. However, many of these targets are not in line with the global aim of capping temperature rise at 1.5°C. Also, banks haven't fully integrated these targets into their strategies, with only a few stipulating specific financing conditions related to emission reductions.

While banks have advanced their climate-related disclosure habits, gaps persist. The study highlighted that while many banks are now detailing financed emissions, only a few cover all high-emitting sectors. On a positive note, around 70% of banks have set goals to ramp up financing for climate solutions, although the specifics of these goals often remain vague.The TPI Centre's report concludes that banks have bettered their climate actions from the previous year, but there's still significant work to be done.

根據Transition Pathway Initiative的全球氣候轉型中心的最新分析,全球銀行正越來越致力於減少其金融業務的氣候影響。他們在披露融資排放和處理氣候風險方面取得了進展。然而,不到5%的銀行宣布了針對所有金融業務的全面淨零目標。

TPI中心的這項研究涉及26家全球領先的銀行,使用了他們最近推出的淨零銀行評估框架。這一框架衡量從銀行的淨零承諾到其披露和為氣候解決方案提供融資的各種指標。研究發現,這些銀行中的大多數已設定淨零融資排放目標,並且許多銀行也為碳足跡較大的部門制定了排放減少目標。然而,並非所有這些努力都與全球氣候目標完美對齊。

此外,許多銀行確定了中期脫碳目標,但其中許多目標與全球在1.5°C下的上升目標不符。同時,銀行尚未將這些目標完全整合到他們的策略中。
儘管銀行已提高其與氣候相關的披露習慣,但仍存在差距。該研究強調,雖然許多銀行現在都在詳述融資排放,但只有少數涵蓋所有高排放部門。值得欣慰的是,約70%的銀行已設定目標,以增加對氣候解決方案的融資,儘管這些目標的具體內容經常不清楚。TPI中心的報告得出結論,與去年相比,銀行改進了他們的氣候行動,但仍有大量工作要做。


4.Apple Backs California's Proposed Emissions Reporting Rules
蘋果公司支持加州提出的碳排放揭露報告法案
Apple has shown support for California's proposed Senate Bill 253 (SB 253), which seeks to mandate large U.S. companies to disclose their full value chain greenhouse gas emissions. Introduced by Senator Scott Wiener, the legislation would compel companies with over $1 billion in revenue operating in California to report on their annual emissions. This encompasses direct emissions (Scope 1), emissions from electricity usage (Scope 2), and indirect emissions including those from supply chains, business travel, employee commuting, procurement, waste, and water usage (Scope 3). Reporting for Scope 1 and 2 emissions would start in 2026, while Scope 3 would begin in 2027. These reports would adhere to the Greenhouse Gas Protocol standards.
Senator Wiener highlighted that the proposed rules would apply to most major U.S. companies, going further than the SEC's upcoming reporting guidelines by including comprehensive Scope 3 requirements and applying to all large companies rather than just public ones. The bill successfully passed the state Senate in May and is now progressing in the Assembly.
Apple has been a consistent advocate for obligatory climate disclosure and has already asked its suppliers to report on their carbon neutrality progress, especially concerning emissions associated with Apple products. Apple praised Senator Wiener's proposal, emphasizing the importance of Scope 3 disclosures and the need for external verification. The company also proposed a few modifications, such as accepting international reporting standards and reviewing the standards more regularly than the currently suggested five-year interval. Apple lauded California's leadership role in the climate change battle.

蘋果公司支持加利福尼亞州提出的253號參議院法案(SB 253),該法案要求大型美國公司披露其完整價值鏈的溫室氣體排放。參議員Scott Wiener提出的這項立法將迫使在加利福尼亞營業且收入超過10億美元的公司報告其每年的排放情況,包括直接排放(範疇1)、電力使用排放(範疇2)和間接排放,如供應鏈、商務旅行、員工通勤、採購、廢物和水使用(範疇3)。2026年開始報告範疇1和2的排放,而範疇3將於2027年開始。這些報告將遵循溫室氣體協議標準。

Wiener參議員強調,該提案的規定將適用於大多數主要的美國公司,這比證券交易委員會即將出台的報告指導方針更進一步,因為它包括全面的範疇3要求,並適用於所有大公司而不僅僅是上市公司。該法案於5月成功通過參議院,現在正在眾議院進行。
蘋果一直是強制氣候披露的倡導者,並已要求其供應商報告其碳中和進展,特別是與蘋果產品相關的排放。蘋果讚揚了Wiener參議員的建議,強調範疇3披露的重要性和需要外部驗證的必要性。該公司還提出了一些建議,如接受國際報告標準,並比目前建議的五年間隔更經常地審查標準。蘋果稱讚加利福尼亞在應對氣候變化上的先鋒地位。


5.UAE to Power Up African Carbon Credit Market with $450M Pledge
阿聯酋碳聯盟已承諾到2030年向非洲碳市場倡議(ACMI)購買價值4.5億美元的碳信用

The UAE Carbon Alliance has pledged to buy carbon credits worth $450 million from the African Carbon Markets Initiative (ACMI) by 2030. This commitment was announced at the first Africa Climate Summit held in Kenya. The deal represents the first major carbon credit agreement in Africa. The UAE Carbon Alliance, including key Emirati firms like Mubadala and First Abu Dhabi Bank, was formed to promote a green transition, aligned with UAE's Net Zero by 2050 strategy. ACMI, supported by global investors like the Bezos Earth Fund, focuses on reducing emissions in Africa through carbon offsets. The alliance seeks to link the supply of African carbon credits with Middle Eastern demand. Globally, the carbon offset market could grow to $250 billion by 2050. The UAE also plans a $54 billion investment in renewables by 2030. Other entities, like Dubai's Blue Carbon, are also keen on African carbon credits. The overarching aim is to position Africa as a center for climate investments rather than being perceived as a region afflicted by climate catastrophes.
阿聯酋碳聯盟已承諾到2030年向非洲碳市場倡議(ACMI)購買價值4.5億美元的碳信用。這一承諾在肯尼亞舉行的第一屆非洲氣候峰會上宣布。該協議代表非洲的首次重大碳信用協議。阿聯酋碳聯盟,包括像Mubadala和第一阿布扎比銀行這樣的關鍵阿聯酋公司,旨在促進綠色過渡,與阿聯酋的2050年淨零策略保持一致。由Bezos Earth Fund等全球投資者支持的ACMI,專注於通過碳抵消減少非洲的排放。聯盟尋求將非洲碳信用的供應與中東的需求相連接。全球碳抵消市場到2050年可能增長到2500億美元。阿聯酋還計劃到2030年投資540億美元於可再生能源。其他實體,如杜拜的Blue Carbon,也對非洲碳信用感興趣。其總體目標是將非洲定位為氣候投資的中心,而不是被認為是受氣候災難的地區。

Resource:ESG TODAY, CARBON CREDIT.COM