ESG International Weekly News 7/31 - 8/6
ESG International Weekly News 7/31 - 8/6
August 09,2023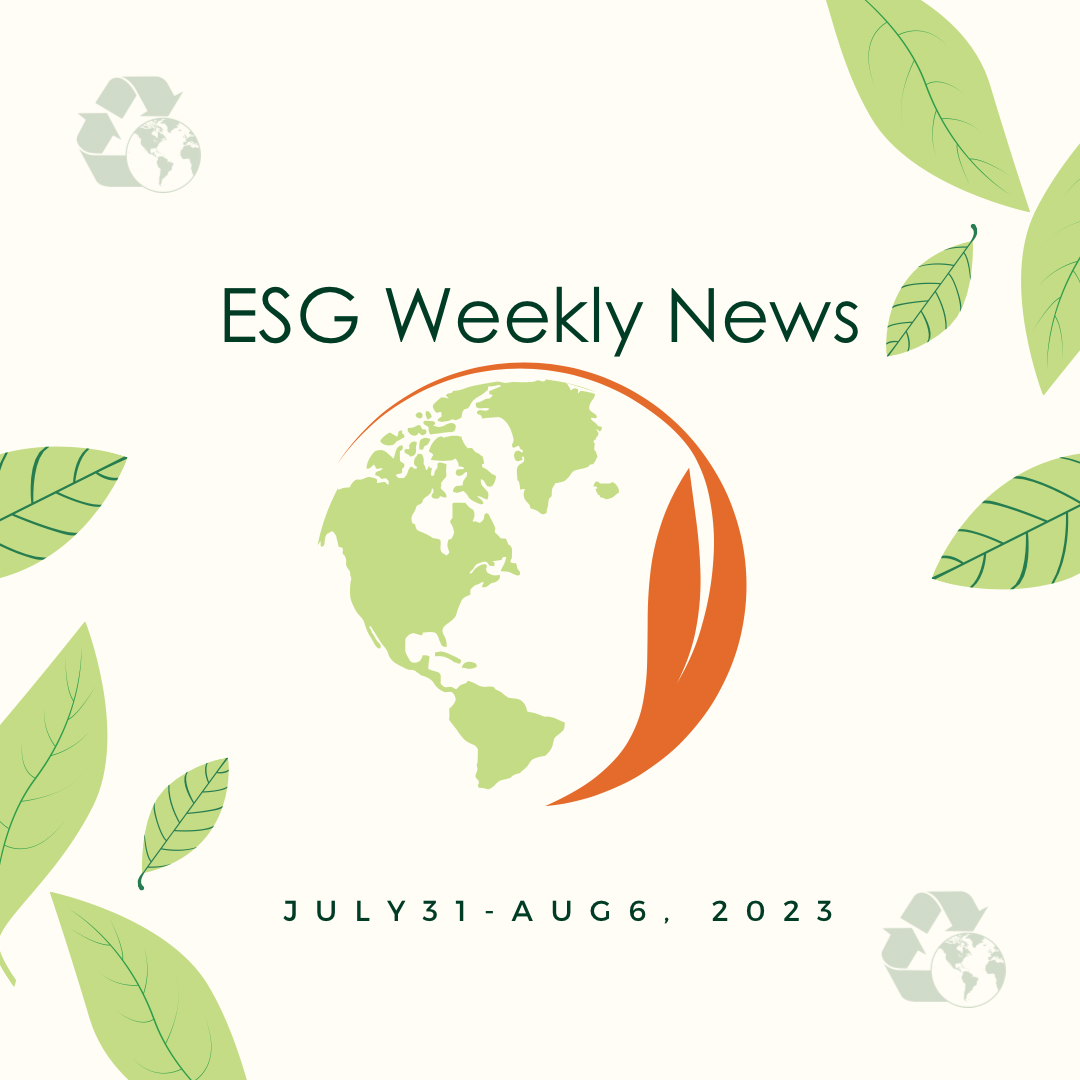 Resources:
ESG Today
1. EU Commission Adopts Final Sustainability Reporting Rules
歐盟委員會通過最終的可持續性報告規定
The European Commission has announced the adoption of the European Sustainability Reporting Standards (ESRS), a significant move towards implementing the upcoming Corporate Sustainable Reporting Directive (CSRD). These standards lay out the requirements for companies to report on sustainability-related impacts, opportunities, and risks. The CSRD, slated to take effect in 2024, expands the scope of companies required to provide sustainability disclosures, aiming to encompass over 50,000 companies compared to the current 12,000. The new rules emphasize detailed reporting on environmental impact, human rights, social standards, and sustainability-related risk. However, concerns have arisen about the EU Commission's decision to make some sustainability disclosures non-mandatory, as this could impact investors' access to vital information for their investment decisions. The ESRS will be subject to scrutiny by the EU Parliament and Council before implementation, and its adoption aims to strike a balance between reducing reporting burdens on companies and promoting their alignment with sustainable finance goals.
歐洲委員會宣布採納了歐洲可持續性報告標準(ESRS),這是實施即將推出的企業可持續報告指令(CSRD)的重要舉措。這些標準明確了公司報告可持續相關影響、機會和風險的要求。預計從2024年開始實施的CSRD將擴大需要提供可持續性披露的公司範圍,目標是將參與公司數量從目前的12,000家擴大到超過50,000家。新規定強調對環境影響、人權、社會標準和可持續相關風險進行詳細報告。然而,對於歐洲委員會決定使部分可持續性披露內容成為非強制性的做法,引發了關切,因為這可能影響投資者獲取對投資決策至關重要的信息。ESRS將在實施前經歐洲議會和理事會審查,其採納旨在在減輕企業報告負擔與促進其與可持續金融目標的協調之間取得平衡。
2. Kraft Heinz to Eliminate 100 Million Pounds of Plastic from Packaging
卡夫亨氏將從包裝中減少1億磅塑料
Kraft Heinz, a global food and beverage company, has announced a commitment to reduce virgin plastic usage by 20% in its global packaging portfolio, aligning with its efforts to decrease fossil fuel dependency and adopt more sustainable packaging options. This move is projected to cut around 100 million pounds of virgin plastic. Building on its existing sustainability commitments from 2020, Kraft Heinz aims to achieve packaging that is fully recyclable, reusable, or compostable by 2025, while also targeting a 50% reduction in greenhouse gas emissions by 2030 and net-zero emissions by 2050. The company's initiatives encompass reduced plastic use, higher recycled content, and exploration of plastic alternatives, exemplified by recent launches like an eco-friendly paperboard sleeve and collaborations for wood pulp-based packaging.
卡夫亨氏是一家全球性的食品和飲料公司,宣布承諾將其全球包裝組合中的原生塑料使用量減少20%,以配合其減少對化石燃料的依賴並採用更可持續包裝選項的努力。這一舉措預計將減少約1億磅的原生塑料使用量。在2020年的可持續發展承諾基礎上,卡夫亨氏旨在在2025年實現全面可回收、可重複使用或可堆肥的包裝,同時目標在2030年將溫室氣體排放減少50%,並在2050年實現零排放。該公司的戰略包括減少塑料使用量、增加回收材料的含量以及探索替代方案,例如推出環保紙板套和與木漿為基礎的包裝合作。
3. Biden Administration Announces New Sustainable Procurement Rules for Federal Government
拜登政府宣布聯邦政府的新可持續採購規則
The Biden administration has introduced a new procurement rule emphasizing Sustainable Products and Services. This requires federal government buyers to prioritize sustainability and expands the range of Environmental Protection Agency (EPA) Ecolabel standards for federal purchases. This aligns with President Biden's Federal Sustainability Plan to achieve net zero emissions for the U.S. federal government by 2050, including emissions from federal procurement. The rule aims to cut emissions in the supply chain, in line with Biden's Buy American directive for green products and domestic manufacturing. It updates acquisition regulations to emphasize sustainability and encourages agencies to prioritize sustainable products. The EPA's Recommendations of Specifications, Standards, and Ecolabels for Federal Purchasing will guide agencies toward private sector standards that meet sustainability goals. The proposal also seeks to avoid purchasing products with PFAS (per- and polyfluoroalkyl substances), known as "forever chemicals," due to their persistent and potentially harmful nature. EPA Administrator Michael Regan highlights the rule's contribution to responsible, sustainable trade and pollution reduction in the Biden-Harris Administration's efforts.
拜登政府引入了一項強調永續產品與服務的新採購規則。此規則要求聯邦政府的購買人員優先考慮可持續性,並擴大了環境保護署(EPA)的生態標籤標準適用於聯邦採購的範圍。這與拜登總統的聯邦永續計劃相吻合,該計劃旨在到2050年使美國聯邦政府實現淨零排放,包括聯邦採購所產生的排放。該規則的目標是減少供應鏈的排放,與拜登的「購美國貨」指令以推動綠色產品和國內製造相一致。該規則更新了採購法規,強調了可持續性,並鼓勵機構優先考慮可持續性產品。EPA的「聯邦採購建議規格、標準和生態標籤」將指導機構選擇符合可持續目標的私營部門標準。該提案還旨在避免購買含有PFAS(全氟烷基物質)的產品,該物質被稱為「永久化學物質」,因其具有持久性和潛在的有害性。EPA行政主管邁克爾·雷根強調,該規則有助於拜登-哈里斯政府優先考慮負責任、可持續的貿易,以及減少污染。
4. UK to Create IFRS-Based Sustainability Disclosure Standards
英國將創建基於國際財務報導準則(IFRS)的永續性披露標準
The UK government has revealed its intention to establish UK Sustainability Disclosure Standards (SDS) for companies to report on sustainability and climate-related risks. These standards, announced by the Department for Business and Trade (DBT), will serve as the foundation for potential future sustainability reporting legislation or regulation. The DBT plans to base the UK SDS on the International Sustainability Standards issued by the IFRS Foundation's International Sustainability Standards Board (ISSB). These standards were developed to create a globally consistent understanding of the impact of sustainability risks and opportunities on companies' prospects, in response to demand from investors, companies, governments, and regulators. The DBT aims to ensure that the UK SDS aligns with IFRS standards to provide globally comparable and useful information for investors. The plan comes in line with the UK's commitment to assess new IFRS sustainability and climate-related reporting standards. Decisions on mandatory disclosures will be made by the UK government and the Financial Conduct Authority (FCA), with potential implementation of UK SDS by July 2024.
英國政府已公開其意圖,將建立英國可持續性披露標準(SDS),供公司報告可持續性和與氣候相關的風險。這些標準由商業和貿易部(DBT)宣布,將成為未來潛在的可持續性報告立法或法規的基礎。DBT計劃將英國SDS建立在國際財務報導準則基金會的國際可持續性標準委員會(ISSB)發布的國際可持續性標準上。這些標準旨在為投資者、公司、政府和監管機構提供對可持續性風險和機會對公司前景的全球一致理解,以滿足需求。DBT的目標是確保英國SDS與國際財務報導準則(IFRS)標準保持一致,為投資者提供全球可比且有用的信息。這項計劃與英國承諾評估新的IFRS可持續性和與氣候相關的報告標準保持一致。英國政府和金融行為監管局(FCA)將決定強制性披露的事項,可能於2024年7月實施英國SDS。
5. IAASB Launches Sustainability Reporting Assurance Standard
IAASB(國際審計和保證標準委員會)推出永續性報告保證標準
The International Auditing and Assurance Standards Board (IAASB) has introduced the International Standard on Sustainability Assurance (ISSA) 5000, a new proposed standard focused on providing assurance for sustainability reporting. This comes amid global efforts by companies to report on sustainability and climate-related aspects. The ISSA 5000 aligns with emerging sustainability disclosure standards and regulatory requirements such as the EU's CSRD rules and the IFRS climate reporting standards by the ISSB. The IAASB aims to gather stakeholder input through roundtables and events during the consultation period, with comments invited until December 1, 2023. The new standard is designed as a global baseline adaptable to various sustainability reporting frameworks.
國際審計和保證標準委員會(IAASB)引入了國際可持續性保證標準(ISSA)5000,這是一項新提議的標準,專注於為可持續性報告提供保證。此舉是在全球企業努力報告可持續性和與氣候相關的方面之際進行的。ISSA 5000與新興的可持續性披露標準和法規要求相吻合,例如歐盟的CSRD規則以及國際可持續性標準委員會(ISSB)制定的IFRS氣候報告標準。IAASB旨在通過圓桌會議和活動在諮詢期內收集利益相關者的意見,意見將於2023年12月1日之前接受。這項新標準被設計為一個適應各種可持續性報告框架的全球基準。
6. Sustainable Bond Volumes Outperforming Market in all Regions Except North America: Moody's
摩迪公司表示,除北美地區外,可持續債券發行量在所有地區的市場表現均超越市場
Moody's Investors Service's new report reveals that issuance volumes of green, social, sustainability, and sustainability-linked (GSSS) bonds experienced a strong rebound in the first half of 2023, increasing by 7% year-over-year to reach $526 billion. This growth occurred even as overall bond market issuance volumes fell by 7% during the same period. Green bonds reached record levels, with European issuers dominating GSSS bond issuance and a significant regional divergence. While most regions showed growth, North America experienced declines, with GSSS bond volumes reaching their lowest in the region since Q2 2020. Green bonds remained dominant, accounting for over 60% of volumes in the second quarter. Social bonds rebounded by 24%, and sustainability bond issuances grew by 2%. Sustainability-linked bonds had a volatile performance. Despite strong performance in the first half of 2023, the GSSS bond market has the potential to surpass Moody's full-year issuance forecast of $950 billion. Challenges to growth include a drop in first-time issuers, heightened greenwashing scrutiny, complex ESG regulations, and broader issuance conditions.
摩迪投資者服務公司最新報告顯示,綠色、社會、可持續性和可持續性相關聯(GSSS)債券的發行量在2023年上半年出現強勁反彈,同比增長7%,達到5260億美元。即使在同一時期,整體債券市場的發行量下降了7%。綠色債券達到歷史高位,歐洲發行商主導了GSSS債券的發行,並出現了顯著的區域差異。雖然大多數地區都呈現增長,但北美地區出現下滑,GSSS債券的發行量自2020年第二季度以來降至最低。綠色債券仍然佔主導地位,在第二季度的發行量中超過60%。社會債券反彈24%,可持續性債券的發行增長了2%。可持續性相關聯債券表現不穩定。儘管2023年上半年表現強勁,但GSSS債券市場有望超越摩迪對全年發行額9500億美元的預測。成長面臨的挑戰包括首次發行人數下降,強化的洗綠現象監督,複雜的ESG法規,以及更廣泛的發行條件。