ESG International Weekly News 5/29-6/4
ESG International Weekly News 5/29-6/4
June 06,2023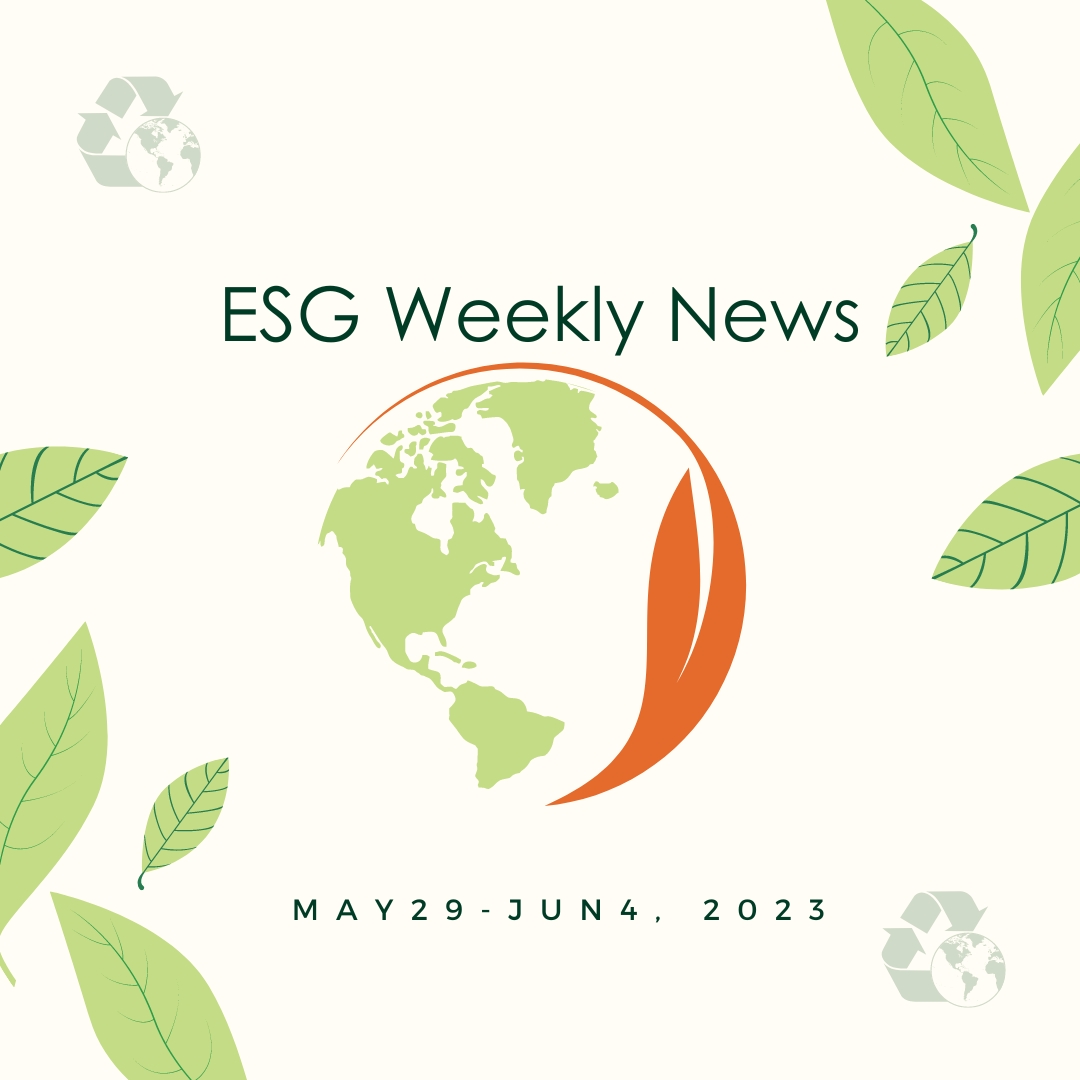 Resource:ESG TODAY

1.Toyota Scales US EV Plans with New $2 Billion Battery Plant Investment
豐田擴大美國電動車計劃,投資20億美元建設新電池工廠


Toyota has announced plans to significantly increase its electric vehicle (EV) operations in the U.S. by investing an additional $2.1 billion in its North Carolina battery plant, nearly doubling its initial investment. The plant will produce lithium-ion batteries for Toyota's growing lineup of electrified vehicles, with production expected to start in 2025. This move follows Hyundai's recent announcement to invest over $5.5 billion in its first U.S. EV and battery plant. Several other automotive leaders, including GM, Ford, BMW, Honda, and Stellantis, have also announced significant investments in EV and battery capacity recently. These investments align with President Joe Biden's executive order mandating that half of new vehicle sales in the U.S. be zero-emission vehicles by 2030.

汽車製造巨頭豐田公布計劃,將大幅擴大其在美國的電動汽車(EV)業務,並宣布將在北卡羅來納州的電池工廠投資額外的21億美元,這幾乎是其初步投資額的兩倍。該工廠將為豐田日益增長的電氣化汽車陣容生產鋰離子電池,預計將於2025年開始生產。此舉緊隨現代汽車最近宣布在其首家美國全電動汽車和電池工廠投資逾55億美元之後。包括通用汽車、福特、寶馬、本田和斯特拉提斯在內的幾家汽車行業領導者,近幾個月也宣布了在電動汽車和電池產能上的重大投資。這些投資與美國總統喬·拜登的行政命令相符,該命令要求到2030年,美國新車銷售量的一半為零排放汽車。

2.Hyundai, LG Energy Launching $4.3 Billion EV Battery Plant to Meet "Soaring" U.S. Demand
現代汽車與LG能源投資43億美元建設電動車電池工廠,以滿足美國"飆升"的需求

Hyundai Motor Group and LG Energy Solution have announced a joint venture to build a $4.3 billion EV battery plant in Bryan County, Georgia. The facility, which will have the capacity to support the production of 300,000 vehicles per year, will be adjacent to Hyundai's first full-electric vehicle facility in the U.S. This investment is part of a series of major automotive industry announcements intended to boost EV and battery capacity in response to President Joe Biden's 2021 executive order, which mandates that half of new vehicle sales in the U.S. should be zero-emission vehicles by 2030. LGES, now focusing most of its resources on expanding battery production capacity in the U.S., has seven battery plants in operation or under construction, including a $4.4 billion joint venture with Honda launched earlier this year.
現代汽車集團和LG能源解決方案宣布建立新的合資企業,計劃在喬治亞州的布賴恩縣建立一個43億美元的EV電池工廠。該設施將有能力支持每年生產30萬輛汽車,並將鄰接現代在美國的首個全電動車輛設施。這項投資是一系列旨在提高EV和電池產能的汽車行業重大公告的一部分,以回應美國總統喬·拜登在2021年的行政命令,該命令要求到2030年美國新車銷售的一半應為零排放汽車。LGES現在將大部分資源集中在美國擴大電池生產產能上,包括今年早些時候與本田啟動的44億美元合資企業,目前在運營或在建的電池工廠共有七家。

3.Delta Hit with Greenwashing Lawsuit over Carbon Neutrality Claims
達美航空因碳中和聲明被指控綠色洗劑而受到訴訟

Delta Air Lines faces a class-action lawsuit alleging that the company falsely claimed to be "carbon neutral" in its advertising and promotional activities. The plaintiff, a Delta passenger, argues that the airline's use of the voluntary carbon market to offset its emissions undermines its claim of carbon neutrality, due to concerns over the market's credibility. The suit asserts that the plaintiff paid a premium for Delta's services based on a misrepresentation of the company's ecological impact. Delta responded that it has committed to carbon neutrality and is transitioning its efforts toward decarbonization rather than relying on carbon offsets. This lawsuit comes amidst increasing scrutiny of corporations' environmental sustainability claims and concerns over "greenwashing."

達美航空正面臨集體訴訟,因其在廣告和促銷活動中宣稱自己是"碳中和"的說法被認為對其環境影響產生了誤導。該投訴者,一位達美的乘客,認為該航空公司依賴自願性碳市場來抵消其排放量,這使得其碳中和的聲明存在問題,因為市場的可信度存在問題。該訴訟聲稱,該投訴者因為對公司的生態影響的誤解而為達美的服務支付了額外的費用。對此,達美回應說,該公司已經承諾碳中和,並正在將其努力轉向碳排放減少,而不是依賴碳抵消。此訴訟發生在全球公司的環境可持續性聲明受到越來越多審查的情況下,消費者和監管機構越來越關注漂綠。

4.$29 Trillion Investor Group Urges High Impact Companies to Disclose on Environmental Impact
資產達29萬億美元的投資者群體敦促具有高影響力的公司公開環境影響資訊

Nearly 300 financial institutions, representing nearly $29 trillion in assets, are urging some of the world's most environmentally impactful companies, including Exxon, Chevron, and Caterpillar, to disclose environmental data. The disclosure request, coordinated by CDP, targets companies that have previously failed to respond to such requests. CDP's environmental disclosure system allows stakeholders to measure and track organizational performance in key areas such as climate change, deforestation, and water security. The current campaign has attracted a record 288 financial institutions, targeting over 1,600 companies across 51 countries. According to CDP, more investors are joining the campaign as mandatory disclosure regulations approach in various regions.
近300家代表近29萬億美元資產的金融機構正在敦促一些對環境影響最大的公司,包括埃克森美孚,雪佛龍和卡特彼勒,透過CDP環保披露平台披露環保數據。該要求由CDP協調,目標是在過去未能回應披露要求的高影響力公司。CDP的環保披露系統讓利害關係人可以衡量和追蹤組織在包括氣候變化,森林砍伐和水安全等關鍵環保領域的表現。目前的活動已經吸引了創紀錄的288家金融機構,直接與超過1600家公司接洽,要求其披露環保數據。根據CDP的說法,隨著多個地區接近強制披露法規的生效,更多的投資者正在加入這場活動。


5.EU Parliament Votes to Require Companies to Introduce Climate Transition Plans
歐洲議會投票要求公司引入氣候過渡計劃

The European Parliament has voted in favor of new rules requiring companies to identify and address their impacts on human rights and the environment. These rules form part of the EU Commission's proposed corporate sustainability due diligence directive (CSDDD), and they apply to company operations, subsidiaries, and value chains. The legislation initially targets companies with over 500 employees and more than €150 million in revenue. One key change is the requirement for companies to implement climate transition plans in line with the Paris Agreement goal of limiting global warming to 1.5°C, and to perform due diligence on climate impacts. The rules also call for sanctions and supervisory mechanisms for non-compliance.
歐洲議會的立法者已投票通過新規定,要求公司識別並處理其對人權和環境的影響。這些規定是歐盟委員會提議的企業可持續性審查指導方針(CSDDD)的一部分,它們適用於公司運營、子公司和價值鏈。該法案最初針對的是員工超過500人並且收入超過1.5億歐元的公司。其中一個重要的變化是要求公司實施與《巴黎協定》目標一致的氣候轉型計劃,該目標是將全球變暖限制在1.5°C以內,並對氣候影響進行審慎審查。規定還要求對不遵守規定的公司進行處罰和監管機制。