Join Us at Chinaplas 2023: Discover Our Latest Products and Solutions!
Join Us at Chinaplas 2023: Discover Our Latest Products and Solutions!
March 31,2023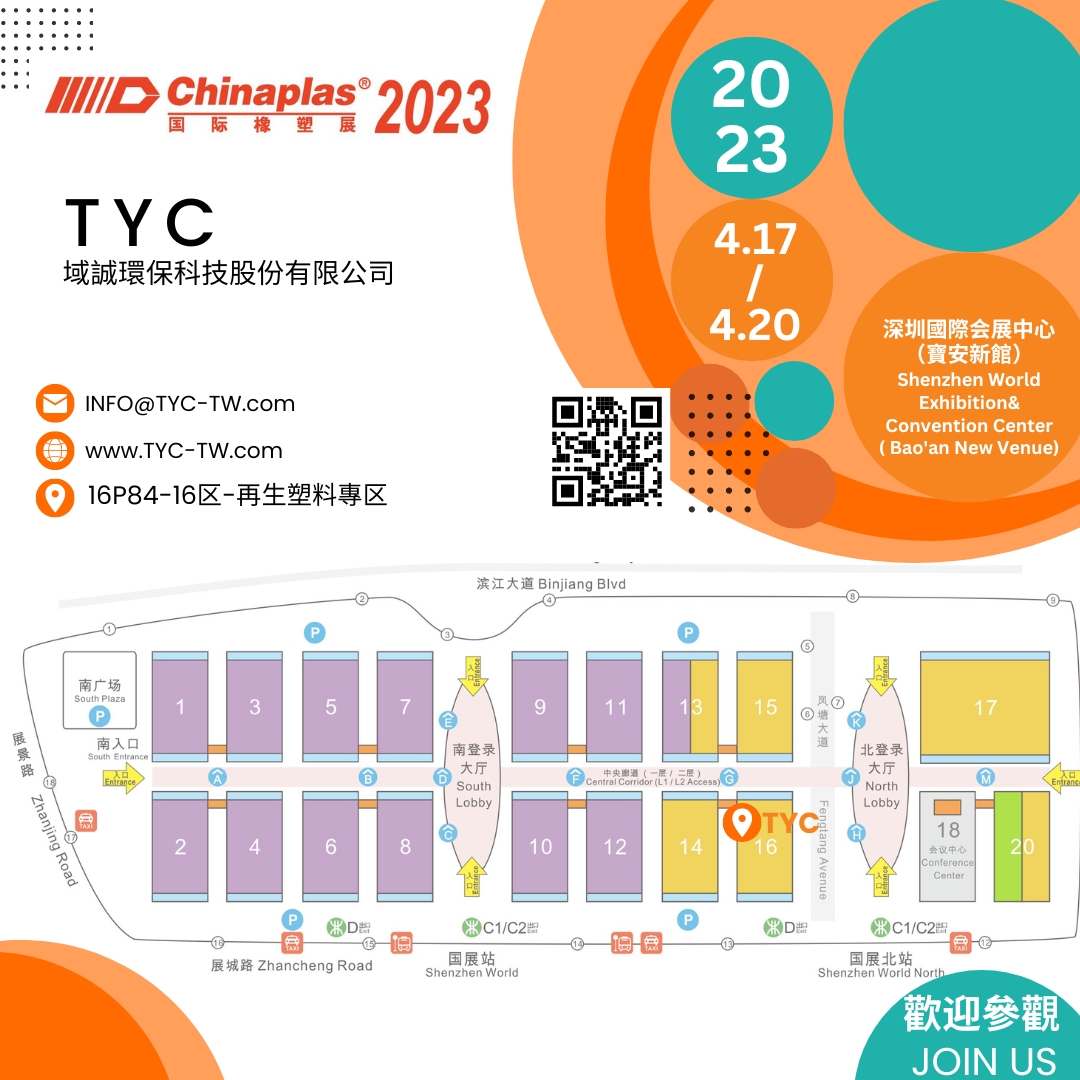 We are honored to invite you to join us at the live showcase of our latest innovative solutions at the 2023 Chinaplas International Rubber and Plastics Exhibition.
TYC stands for 'Transform Your Choice,' aiming to encourage everyone to make sustainable choices that can change the future.
By choosing sustainable and environmentally friendly recycled plastic pellets, you can bring new opportunities to your business.
Here are the three highlights of TYC:
♻️ Carbon footprint certification: Our TYC recycled plastic pellets have obtained the international carbon footprint certification ISO 14067:2018, providing a more transparent production history for you to better understand our production process and help you reduce your carbon footprint.

♻️ Customizaton: We pay more attention to deatails, providing recycled plastic solutions that meet your specific industry needs.

♻️ Quaulity Assurance: We invest heavily in improving our manufacturing and quality inspection processes, including database analysis and precision inspection equipment, to ensure the best quality assurance.
TYC has been committed to providing the best environmental solutions and has earned the trust and recognition of international brands in the circular economy.
At our booth, we will showcase examples of recycled plastic pellet applications, such as outdoor furniture and artificial flowers. Our team of experts will demonstrate the use of recycled plastic on-site, answer any questions you may have, and provide valuable industry insights.
We sincerely invite you to visit our booth 16P84-16 to meet our experts and discover more about the applications of recycled plastics.
♻️ Let us work together to transform your choice into a sustainable future. ♻️ Thank you for your support, and we look forward to seeing you at the Chinaplas exhibition."