ESG 國際新聞週報 11/13-11/19
November 20,2023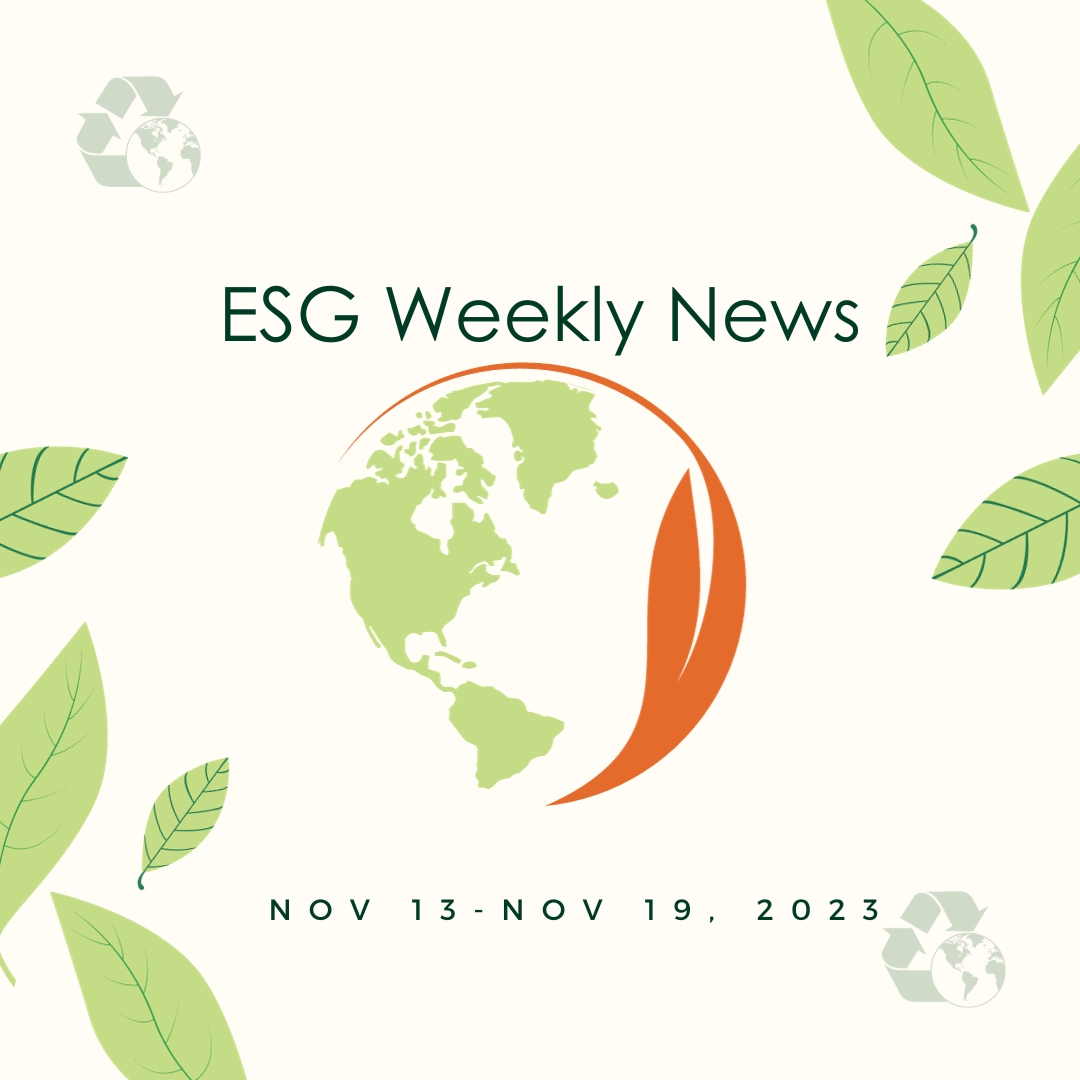 Resource:
ESG TODAY
,
Carbon Credit.com
,
ESG News
1.Biden Announces Over $6 Billion in New Climate Investments
拜登總統宣布將投資超過60億美元,以加強美國的氣候韌性

President Biden has announced over $6 billion in investments to enhance climate resilience in the U.S., focusing on the electric grid, flood risk reduction, drought resistance, and promoting community-level clean energy and climate justice. These initiatives build upon the Biden Administration's efforts in climate change mitigation, which have included rejoining the Paris Agreement and passing significant legislation like the Inflation Reduction Act and Bipartisan Infrastructure Law. Key areas of the new investment include approximately $4 billion for U.S. electric grid modernization under the Grid Resilience and Innovation Partnerships program, $2 billion from the EPA for the Environmental and Climate Justice Community Change Grants, and additional funds from FEMA and the DOI for flood resilience and drought-resistant water infrastructure. These investments coincide with the release of the U.S.' Fifth National Climate Assessment, highlighting the urgency of climate action.
拜登總統宣布將投資超過60億美元,以加強美國的氣候韌性,重點包括電網基礎設施、降低洪水風險、增強抗旱能力,以及推動社區層面的清潔能源和氣候正義工作。這些舉措建立在拜登政府針對氣候變化減緩的努力之上,包括重新加入巴黎協定和通過諸如通貨膨脹減輕法案和雙黨基礎設施法案等重要立法。新投資的重點領域包括約40億美元用於電網現代化,這是格網韌性和創新夥伴關係計劃的一部分,以及環保署撥款20億美元用於環境和氣候正義社區變革補助計劃,另外還有來自聯邦緊急事務管理署和內政部的資金,用於洪水韌性和抗旱水資源基礎設施。這些投資與美國第五次國家氣候評估的發布同步,凸顯了氣候行動的緊迫性。
2.Decoding the Climate Giants: Top Carbon Emitters Race to Net Zero and Renewable Future
解碼全球三大碳排放國:淨零排放與可再生能源的未來
The global efforts to tackle climate change are largely influenced by the actions of the top three carbon emitters: China, the United States, and India, collectively responsible for over half of the world's carbon emissions. Their approaches and challenges in achieving net-zero emissions significantly impact global climate goals.
China: As the leading carbon polluter, accounting for nearly 31% of global emissions, China has set a net-zero target for 2060. Despite its ambitious goal, achieving it requires a massive $17 trillion investment, focusing on green technologies and infrastructure, particularly in the power and transport sectors. China's carbon emissions continue to rise, with a 4% increase in Q1 2023, indicating challenges in balancing economic growth and environmental sustainability.

United States: Ranking high in per capita carbon emissions, the U.S. has aligned its net-zero target with the Paris Agreement's 2050 deadline. Demonstrating commitment to decarbonization, the U.S. has seen significant clean energy investments, indicating progress towards its climate goals. The U.S. invests heavily in clean technologies and infrastructure to reduce its carbon footprint, a positive indicator of its commitment to achieving net-zero emissions.

India: Aiming for net zero by 2070, India's strategy includes a focus on electric vehicles and tripling its nuclear capacity by 2032. However, as India develops, its carbon emissions are projected to grow, potentially reaching 10% of global emissions by 2030. India faces the challenge of balancing development with its climate commitments.
Comparative Analysis: All three countries face unique challenges in their journey to net-zero emissions. China's and India's growing energy needs and reliance on fossil fuels, coupled with the high cost of transitioning to green technologies, contrast with the U.S.'s significant investment in clean energy infrastructure. Each country's approach reflects its economic and environmental priorities, highlighting the diverse paths to achieving global climate goals.
在全球應對氣候變化的努力中,三大碳排放國——中國、美國和印度的行動對達成淨零排放目標具有重大影響。
中國:作為全球最大的碳排放國,佔全球排放量近31%,中國設定了2060年達成淨零排放的目標。儘管目標宏大,但實現這一目標需要17萬億美元的投資,尤其是在綠色技術和基礎設施方面。中國的碳排放持續上升,2023年第一季度增長4%,顯示出在經濟增長與環境可持續性之間取得平衡的挑戰。

美國:佔全球排放量近13.5%,在人均碳排放量方面位居世界前列,美國將其淨零排放目標與巴黎協定的2050年期限保持一致。美國通過大量投資清潔技術和基礎設施來減少碳足跡,顯示了其致力於實現淨零排放的承諾。

印度:佔全球排放量近7.3%,目標在2070年實現淨零排放,印度的策略包括專注於電動車和到2032年將核能產能提高三倍。然而,隨著印度的發展,其碳排放預計將增長,到2030年可能佔全球排放量的10%。印度面臨著在發展與氣候承諾之間取得平衡的挑戰。
比較分析:三個國家在實現淨零排放的道路上面臨著各自獨特的挑戰。中國和印度日益增長的能源需求和對化石燃料的依賴,以及轉向綠色技術的高成本,與美國在清潔能源基礎設施方面的大量投資形成了對比。每個國家的方法反映了其經濟和環境優先順序,突顯了實現全球氣候目標的多元化途徑。
3.EU Lawmakers Agree on New Nature Restoration Law
The European Parliament and Council have provisionally agreed on new legislation for restoring and protecting natural habitats and ecosystems. This includes a mandate for EU countries to implement measures to restore at least 20% of the EU's land and sea areas by 2030 and all ecosystems requiring restoration by 2050. The Nature Restoration Law, a key part of the European Green Deal and the EU Biodiversity strategy, addresses concerns about the poor condition of over 80% of European habitats. The agreement sets specific restoration targets and measures for various ecosystems, including wetlands, grasslands, forests, and marine environments. It also focuses on reversing pollinator population declines, restoring organic soils, and preventing deterioration in areas already restored. An emergency brake allows suspension of agricultural ecosystem targets for up to one year under certain conditions. The law is awaiting formal adoption by the Council and Parliament.
歐洲議會和理事會已就新立法達成暫定協議,旨在恢復和保護自然棲息地和生態系統。該立法要求歐盟國家到2030年至少恢復其陸地和海域20%的區域,並到2050年恢復所有需要恢復的生態系統。這項自然恢復法案是歐洲綠色協議和歐盟生物多樣性戰略的關鍵部分,旨在應對超過80%歐洲棲息地狀況不佳的問題。該協議為各類型生態系統設定了具體的恢復目標和措施,包括濕地、草原、森林和海洋環境。同時重點關注逆轉傳粉昆蟲數量減少,恢復有機土壤,以及防止已恢復區域的進一步惡化。在特定條件下,為應對緊急情況,可暫停農業生態系統目標最多一年。該法案正等待議會和理事會的正式批准。


4.US and China Climate Agreement Ahead of COP 28
隨著COP 28峰會臨近,美國和中國達成重要協議


With COP 28 approaching, the US and China have reached a significant agreement to jointly combat climate change, reaffirming their commitment to the Paris Agreement goals. Climate envoys John Kerry and Xie Zhenhua met in California to revive a bilateral climate working group and establish pre-COP agreements. The US-China agreement focuses on forestry, circular economy, plastic pollution, air pollution, and notably, a commitment to triple renewable energy capacity this decade and reduce methane emissions. This agreement is seen as a positive step in improving diplomatic relations and presenting a united front at COP 28. The EU has also pledged a significant contribution to the "loss and damage fund" at COP 28, aiming to support developing nations affected by climate disasters. However, concerns remain about the lack of progress on fossil fuel reduction, specifically coal usage. Recent reports highlight that current decarbonization efforts are insufficient to meet the Paris Agreement's goals, emphasizing the need for more significant action at COP 28.
隨著COP 28峰會臨近,美國和中國達成了一項重要協議,共同對抗氣候變化,並重申致力於巴黎協議目標。氣候特使約翰·克里和解振華在加州會面,重啟雙邊氣候工作小組並達成峰會前協議。美中協議關注於森林、循環經濟、塑料污染、空氣污染,特別是承諾本十年內將可再生能源容量增加三倍並減少甲烷排放。此協議被視為改善外交關係和在COP 28展現團結一致前景的積極步驟。歐盟也承諾在COP 28為首個"損失和損害基金"作出重大貢獻,旨在支持受氣候災害影響的發展中國家。然而,對於減少化石燃料使用,特別是煤炭的進展緩慢,仍存在擔憂。最近的報告強調,目前的脫碳努力不足以達到巴黎協議的目標,強調COP 28需要採取更大的行動。
5.Circular Economy Startup SuperCircle Raises $7 Million for Textile Recycling Solution
循環經濟新創公司SuperCircle,成功籌集了700萬美元,以加強紡織品回收解決方案
SuperCircle, a startup specializing in circular technology and logistics, has successfully raised $7 million to enhance its textile recycling solutions for brands and retailers. This funding comes at a crucial time when the environmental impact of textile consumption and disposal is increasingly significant. The EU Commission has reported that textile consumption is the fourth largest contributor to climate change and environmental degradation, following food, housing, and mobility.
Founded in 2022 by Chloe Songer and Stuart Ahlum, SuperCircle operates from New York and offers a technology and reverse logistics infrastructure platform. This platform is designed to facilitate effective recycling solutions for textiles and clothing. It provides a connection between waste management and recycling processes tailored to different types of fibers. Additionally, SuperCircle assists brands and retailers with their brand-owned recycling programs and manages bulk inventory offloading.
SuperCircle's services are comprehensive, including the development of trade-in programs that allow consumers to exchange worn clothing for brand credit. They also handle excess inventory solutions and provide real-time data and reporting for transparency in program performance.
The recent funding will be used to expand SuperCircle's infrastructure, linking various services like shipping, consolidation, sorting, grading, and recycling. This expansion aims to service both domestic and international brands and retailers. It will also boost partnerships across brand-owned recycling programs and bulk inventory solutions, as well as enable strategic hiring.
Chloe Songer, CEO and Co-Founder, highlighted SuperCircle's role in bridging the gap between retail brands and the recycling industry. The company's end-to-end platform facilitates the collection, sorting, and processing of pre-consumer and post-consumer apparel and footwear. It also provides garment-level tracking and tracing for responsible end-of-life management.
The funding round was co-led by Radicle Impact and Ulu Ventures, with contributions from several other investors. Ami Naik, Partner at Radicle Impact, emphasized the importance of SuperCircle's mission in addressing the growing issue of textile waste, particularly in the U.S., where 11.3 million tons of textile waste end up in landfills annually.
SuperCircle,一家專注於循環技術和物流的初創公司,成功籌集了700萬美元,以加強其面向品牌和零售商的紡織品回收解決方案。這筆資金的籌集正值紡織品消費和處置對環境影響日益嚴重的關鍵時刻。歐盟委員會報告指出,紡織品消費是對氣候變化和環境破壞的第四大貢獻者,僅次於食品、住房和移動。由Chloe Songer和Stuart Ahlum於2022年創立的SuperCircle總部位於紐約,提供技術和逆向物流基礎設施平台。該平台旨在促進紡織品和服裝的有效回收解決方案。它為廢物管理與根據不同類型纖維的回收過程之間提供連接。此外,SuperCircle協助品牌和零售商管理品牌擁有的回收計劃和大量庫存。
SuperCircle的服務全面,包括開發允許消費者將磨損的服裝換成品牌信用的換購計劃。他們還處理多餘庫存解決方案,並提供實時數據和報告,以確保計劃執行的透明度。最近的資金將用於擴大SuperCircle的基礎設施,連接各種服務,如運輸、整合、分類、分級和回收。這項擴張旨在為國內外的品牌和零售商提供服務。它還將促進品牌擁有的回收計劃和大量庫存解決方案的合作,以及實現戰略性招聘。
Chloe Songer,首席執行官兼聯合創辦人,強調了SuperCircle在連接零售品牌和回收行業之間的作用。該公司的端到端平台促進了對消費前和消費後服裝和鞋履的收集、分類和處理。它還提供了服裝級別的追蹤和追溯,以負責任地管理產品壽命終結。這輪資金由Radicle Impact和Ulu Ventures共同領投,並得到多家其他投資者的參與。Radicle Impact的合夥人Ami Naik強調了SuperCircle使命的重要性,旨在解決每年在美國填埋場中產生的1130萬噸紡織廢物的日益增長問題。