ESG 國際新聞週報 3/20-3/26
March 28,2023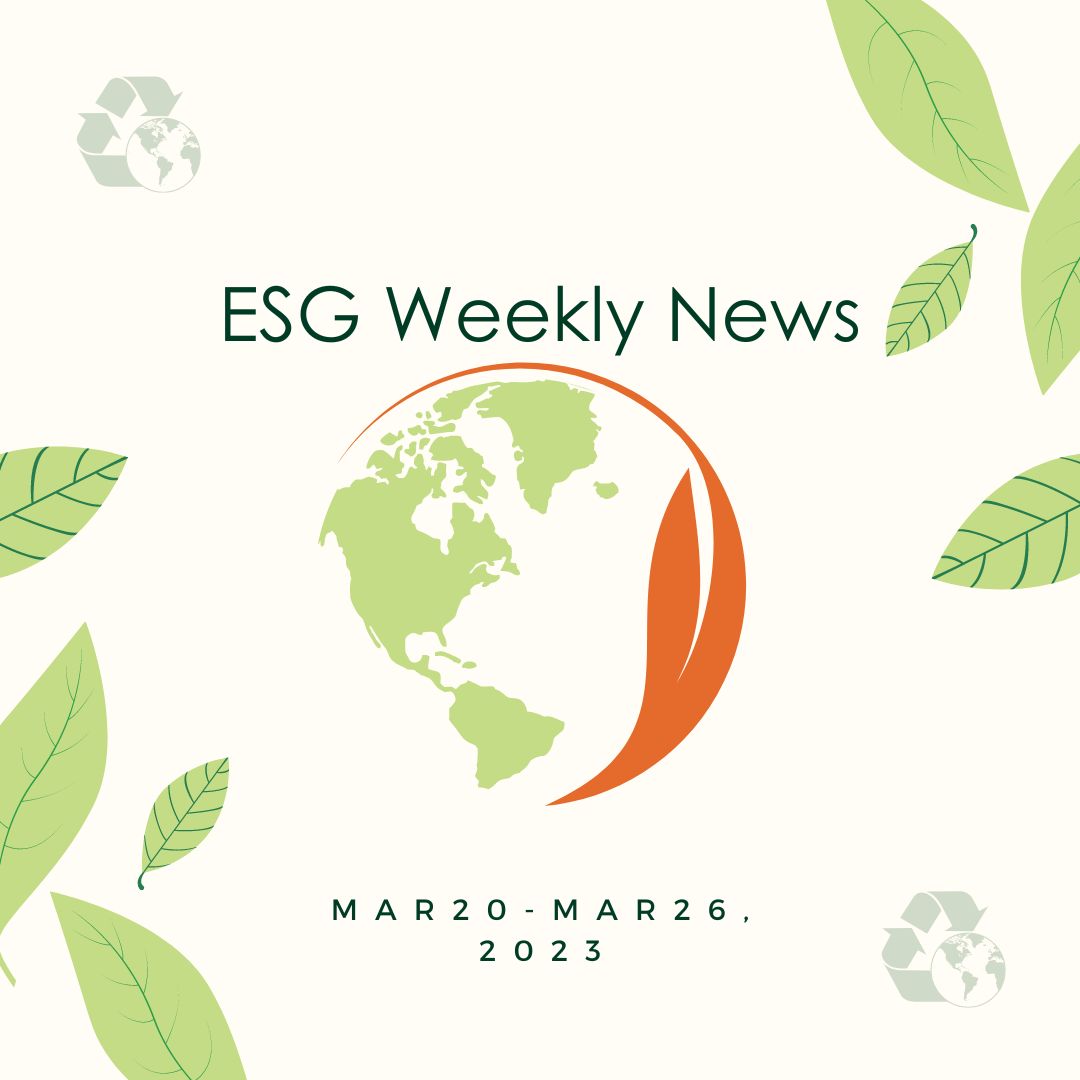 Resource:ESG TODAY

1.拜登否決反ESG決議
Biden Vetoes Anti-ESG Resolution
周一,美國總統拜登否決了一項由共和黨領導的決議,該決議試圖推翻美國勞動部(DOL)允許ERISA計劃基金經理在投資過程中考慮ESG因素的規定。該規定自1月30日生效,允許在履行受託人職責的決策和行使股東權利時考慮氣候和ESG因素。共和黨領導的決議認為,這可能導致以政治議程為代價犧牲金融回報。拜登的否決維護了勞動部的規定,並引用了證據表明ESG因素會對市場和企業產生實質影響。總統的這一決定標誌著與特朗普時代限制ERISA計劃中ESG投資的政策的重大轉變。
President Biden has vetoed a Republican-led resolution attempting to overturn a Department of Labor (DOL) rule that allows fund managers for ERISA plans to consider ESG factors in the investment process. The rule, which took effect on January 30, permits climate and ESG factors to be considered in fiduciary decision-making and exercises of shareholder rights. The Republican-led resolution argued that this could lead to the pursuit of a political agenda at the expense of financial returns. Biden's veto defends the DOL rule, citing evidence that ESG factors can materially impact markets and businesses. The President's decision marks a significant shift from Trump-era policies that limited ESG investing in ERISA plans.
2.拜登宣布2.5億美元資金用於降低聯邦建築碳排放
Biden Announces $250 Million Funding to Decarbonize Federal Buildings
拜登政府已經為協助聯邦設施節能技術(AFFECT)計劃分配2.5億美元資金,以支持聯邦機構實現淨零建築項目。這是繼2021年12月簽署的一項行政命令之後的舉措,該命令為美國聯邦政府設定了到2050年實現淨零排放的目標,以及到2045年實現淨零建築組合的目標。美國聯邦政府包括了300,000座建築物,能源部管理的AFFECT計劃將為聯邦建築提供資金,用於能源和水效率升級、節能改進、電氣化、現場清潔能源發電和可持續設計。該計劃的資金來自拜登政府的兩黨基礎設施法案,旨在創造就業機會、降低能源成本並建立更健康的社區,同時實現氣候目標。
The Biden administration has allocated $250 million to the Assisting Federal Facilities with Energy Conservation Technologies (AFFECT) program to support federal agencies in achieving net zero building projects. This follows an executive order signed in December 2021, which set a goal for the U.S. federal government to reach net zero emissions by 2050 and a net zero building portfolio by 2045.The U.S. federal government's portfolio spans 300,000 buildings. The AFFECT program, managed by the Department of Energy, will fund energy and water efficiency upgrades, conservation improvements, electrification, on-site clean energy generation, and sustainable design in federal buildings. Funding comes from the Bipartisan Infrastructure Law, and the initiative aims to create jobs, reduce energy costs, and build healthier communities while working towards climate goals.

3.Allbirds 揭示首款零碳足跡鞋
Allbirds Unveils First-Ever Zero Carbon Footprint Shoe

Allbirds已經開發出世界上第一款淨零碳鞋子「M0.0NSHOT」,其碳足跡為0 kg CO2e,相比行業平均水平的14kg。這一成就是多年努力的結果,包括在2018年創造碳負材料SweetFoam以及在2021年與Adidas合作開發低碳鞋子。 M0.0NSHOT的特點包括碳負再生美麗諾羊毛鞋面、80%生物含量的超輕泡沫、生物塑料鞋孔以及碳負綠色PE包裝。為了鼓勵整個行業的創新,Allbirds將開放其鞋子的工具包。該公司計劃在2023年6月正式揭示M0.0NSHOT,並在2024年春季上市。

Allbirds has developed the world's first net zero carbon shoe, "M0.0NSHOT," with a 0 kg CO2e footprint, compared to the industry average of 14kg. The achievement is the result of years of work, including creating the carbon-negative material SweetFoam in 2018 and partnering with Adidas for a low-carbon shoe in 2021. M0.0NSHOT features a carbon-negative regenerative merino wool upper, a superlight foam with 80% bio content, bioplastic eyelets, and carbon-negative Green PE packaging. To encourage industry-wide innovation, Allbirds will open-source its toolkit for the shoe. The company plans to officially reveal M0.0NSHOT in June 2023, with availability in spring 2024.

4.歐洲中央銀行披露 3,850 億歐元公司債券投資組合的碳排放減少進展
ECB Discloses Decarbonization Progress of €385 Billion Corporate Bond Portfolio
歐洲中央銀行(ECB)已公布其公司和非貨幣政策投資組合的首份氣候相關財務披露,顯示歐元系統中 3,850 億歐元公司證券持有的碳排放正在減少。這種透明度的提高是 ECB 氣候行動計劃的一部分,該計劃旨在將氣候變化考慮納入貨幣政策並加強氣候相關風險的風險評估工具。
ECB 主席克里斯汀·拉加德(Christine Lagarde)強調,這些披露將幫助銀行追踪碳排放減少進度並努力實現巴黎協定的目標。報告顯示,歐元系統投資組合的碳排放強度在 2018 年至 2022 年間下降了 30%。ECB 還致力於將其公司債券投資組合轉向氣候表現較好的發行人。
ECB 計劃每年提供氣候相關更新並擴大披露範圍。管理委員會還將考慮為公司部門投資組合設定碳排放減少目標。
The European Central Bank (ECB) has released its first climate-related financial disclosures for corporate and non-monetary policy portfolios, showing progress in decarbonizing the Eurosystem's €385 billion in corporate securities holdings. The increased transparency is part of the ECB's climate action plan, which aims to incorporate climate change considerations into monetary policy and enhance risk assessment tools for climate-related risks.
ECB President Christine Lagarde emphasized that these disclosures will help the bank track decarbonization progress and work towards the goals of the Paris Agreement. The reports reveal that the carbon intensity of the Eurosystem portfolio has declined by 30% between 2018 and 2022. The ECB is also working to tilt its corporate bond portfolio towards issuers with better climate performance.
The ECB plans to provide annual climate-related updates and expand the scope of disclosures. The governing council will also consider setting decarbonization targets for corporate sector portfolios.