ESG 國際新聞週報 8/28 - 9/3
September 05,2023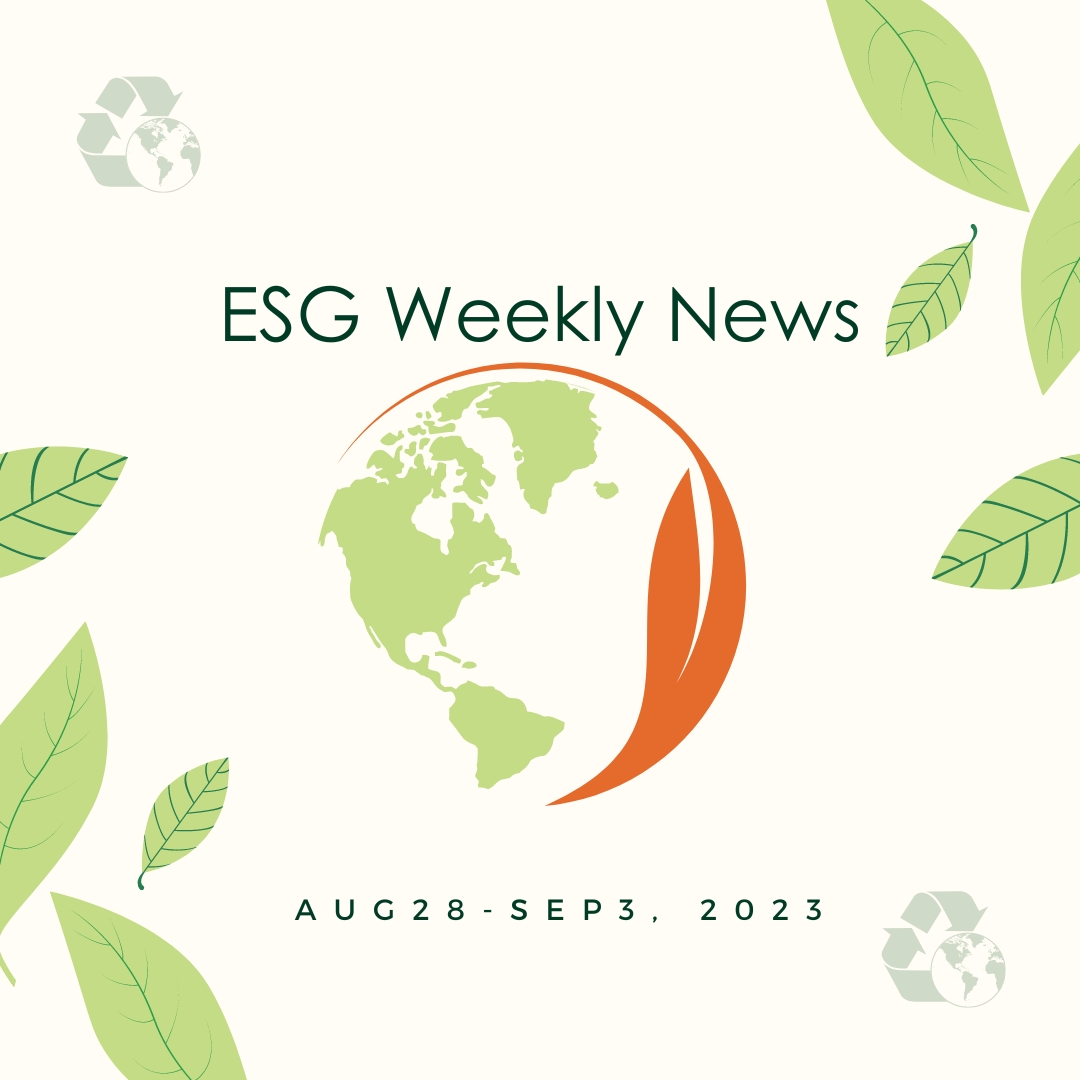 Resources:
ESG Today
1. Biden Launches $12 Billion Finance Package for Automakers to Convert Factories to Produce EVs
拜登啟動了一項價值120億美元的融資計劃,以協助汽車製造商將工廠改建為生產電動汽車(EV)的設施
The Biden administration has unveiled a substantial financing package exceeding $15 billion to support the electric vehicle (EV) transition. This includes $10 billion in loans and $2 billion in grants for automakers to convert their factories for EV production. Key factors for applicants include retaining jobs, wages, and benefits at manufacturing facilities, along with initiatives to direct investments to disadvantaged communities. President Biden emphasized that building a clean energy economy should benefit both auto companies and unionized workers. These funds are part of the "Investing in America" agenda, aiming to create domestic auto manufacturing jobs and prevent plant closures. The U.S. Department of Energy (DOE) is administering these programs, aligning with the administration's goal to accelerate the shift to clean mobility, as mandated by an executive order signed in 2021. Additionally, the administration plans to invest $3.5 billion in advanced battery production for EVs and grid storage, recognizing the need to support communities during the transition away from internal combustion engines.
拜登政府宣布了一項超過150億美元的大規模融資計劃,旨在支持電動汽車(EV)的過渡。這包括100億美元的貸款和20億美元的補助金,以幫助汽車製造商將其工廠轉型為EV生產。申請者的關鍵因素包括在製造工廠保留工作崗位、工資和福利,以及將投資引導到弱勢社區的計劃。拜登總統強調,建立清潔能源經濟應該使汽車公司和工會工人雙贏。這些資金是"投資美國"議程的一部分,旨在創造國內汽車製造就業機會並防止工廠關閉。美國能源部(DOE)負責管理這些計劃,與政府旨在按照2021年簽署的行政命令要求加速向清潔出行的轉變的目標一致。此外,政府還計劃投資35億美元用於EV和電網存儲的先進電池生產,以認識到在擺脫內燃機時需要支持社區的需求。
2. Google Signs 189 MW Renewable Energy Purchase Agreement in North Carolina
Google在北卡羅來納州簽署了一項189兆瓦可再生能源購買協議
Apex Clean Energy has signed a 189 MW power purchase agreement (PPA) with Google for renewable energy from the Timbermill Wind project in North Carolina, marking their first PPA collaboration. This agreement aligns with Google's goal to power its operations with 24/7 carbon-free energy by 2030. The Timbermill wind farm, set to operate in 2024-2025, will play a key role in this transition. Google's commitment to clean electricity and its partnership with Apex reflect their shared values in advancing renewable energy and supporting local communities.
Apex Clean Energy與Google簽署了一份189兆瓦的電力購買協議(PPA),用於來自北卡羅來納州Timbermill Wind項目的可再生能源,標誌著它們首次合作簽署PPA。此協議符合Google的目標,即到2030年將其運營活動全部使用24/7碳無害能源供電。預計2024-2025年,Timbermill風電場將在這一過渡中發揮關鍵作用。Google對清潔電力的承諾以及與Apex的合作反映了它們在推動可再生能源和支持當地社區方面的共同價值觀。
3. AI-Based Metals Recycling Startup Sortera Raises $30 Million
以人工智慧為基礎的金屬回收初創公司Sortera籌集了3,000萬美元
Material sorting startup Sortera Technologies has secured $30.5 million in a Series C funding round to further its growth and fully operationalize its first large-scale upcycling facility. Established in 2020 and based in Indiana, Sortera employs artificial intelligence, image/data analytics, and advanced sensors in industrial scrap metal recycling. Their first full-scale facility in Markle, Indiana, set to be fully operational this year, will process 220 million pounds of mixed metals annually. This sorting process significantly enhances recycled material utilization in manufacturing, reduces metal production costs, bolsters local manufacturers' metal supply, and mitigates pollution and greenhouse gas emissions associated with virgin metals. The funding round was led by RA Capital Management-Planetary Health, with participation from T. Rowe Price, Mitsubishi Corporation's Mineral Resources Group, and Macquarie GIG Energy Transition Solutions, reflecting the importance of Sortera's role in advancing sustainability and supporting the metal industry's transition to cleaner practices.
物料分類初創公司Sortera Technologies 宣布在C輪融資中籌集了3,050萬美元,以支持公司的成長並完全商業化其首個大規模升級設施。成立於2020年,總部位於印地安納州的Sortera 在工業廢金屬回收中運用人工智慧、圖像/數據分析和先進感應器。位於印地安納州Markle的首個全尺寸設施預計將於今年全面運營,每年可處理2.2億磅的混合金屬。這種分類過程顯著提高了在製造業中回收材料的利用率,降低了金屬生產成本,加強了當地製造商的金屬供應,並減少了新金屬生產所帶來的污染和溫室氣體排放。此次融資由RA Capital Management-Planetary Health領投,T. Rowe Price、三菱公司礦產資源集團以及Macquarie GIG Energy Transition Solutions等公司參與,凸顯了Sortera 在推動可持續發展並支持金屬行業向更清潔實踐轉變方面的重要作用。
4. Hong Kong Central Bank Directs Banks to Integrate Net Zero Transition Planning
香港中央銀行指示銀行整合淨零過渡規劃
The Hong Kong Monetary Authority (HKMA) has issued a set of principles for banks to guide their transition to a net-zero economy. These principles emphasize the importance of setting clear objectives aligned with a net-zero transition and incorporating transition considerations into internal processes, including governance, risk management, and business strategies. The HKMA's goal is to assist banks in maintaining safety and soundness during this transition. The principles also encourage engagement with clients on their transition pathways, enhancing transparency in planning processes, and regular reviews and updates as climate scenarios evolve. This move by the HKMA reflects the growing global focus on sustainable finance and aligning financial institutions with climate goals, such as those outlined in the Paris Agreement.
香港金融管理局(HKMA)已發布一套原則,指導銀行實現向淨零經濟的過渡。這些原則強調設定與淨零過渡一致的明確目標的重要性,並將過渡考慮納入內部流程,包括治理、風險管理和業務策略。HKMA的目標是幫助銀行在這個過渡期間保持安全和穩健。這些原則還鼓勵與客戶就其過渡途徑進行互動,提高規劃過程的透明度,以及隨著氣候情景的演變定期審查和更新。HKMA的舉措反映了全球對可持續金融的不斷關注,以及使金融機構與巴黎協議等氣候目標保持一致的趨勢。
5. Mizuho Issues €750 Million Green Bond to Help Finance Low Carbon Transition
瑞穗銀行發行7.5億歐元綠色債券,以支持低碳過渡的融資
Tokyo-based banking and financial services company Mizuho has issued a €750 million (USD$820 million) green bond to finance projects supporting the transition to a low-carbon society. This issuance aligns with Mizuho's goal of facilitating JPY 100 trillion ($USD 700 billion) in sustainable finance by 2030, including JPY 50 trillion in environment and climate change-related finance. The green bond is part of Mizuho's commitment to sustainability and its medium-term business plan focused on personal well-being and achieving a sustainable society and economy. The proceeds from the bond will be used by Mizuho Bank to finance green projects, reflecting the company's dedication to sustainable finance and addressing environmental and social issues.
東京總部的金融服務公司瑞穗銀行宣布發行了7.5億歐元(約820億美元)的綠色債券,用於資助支持轉向低碳社會的專案。此發行與瑞穗的目標一致,即在2030年之前促進100萬億日元(約7000億美元)的可持續金融,其中包括5萬億日元用於環境和氣候變化相關的金融。該綠色債券是瑞穗致力於可持續發展的一部分,也是其以個人幸福為中心、實現可持續社會和經濟的中期業務計劃的一部分。債券的收益將提供給瑞穗銀行,用於資助綠色專案,體現了該公司致力於可持續金融並應對環境和社會問題的承諾。