ESG 國際新聞週報 8/14 - 8/20
August 22,2023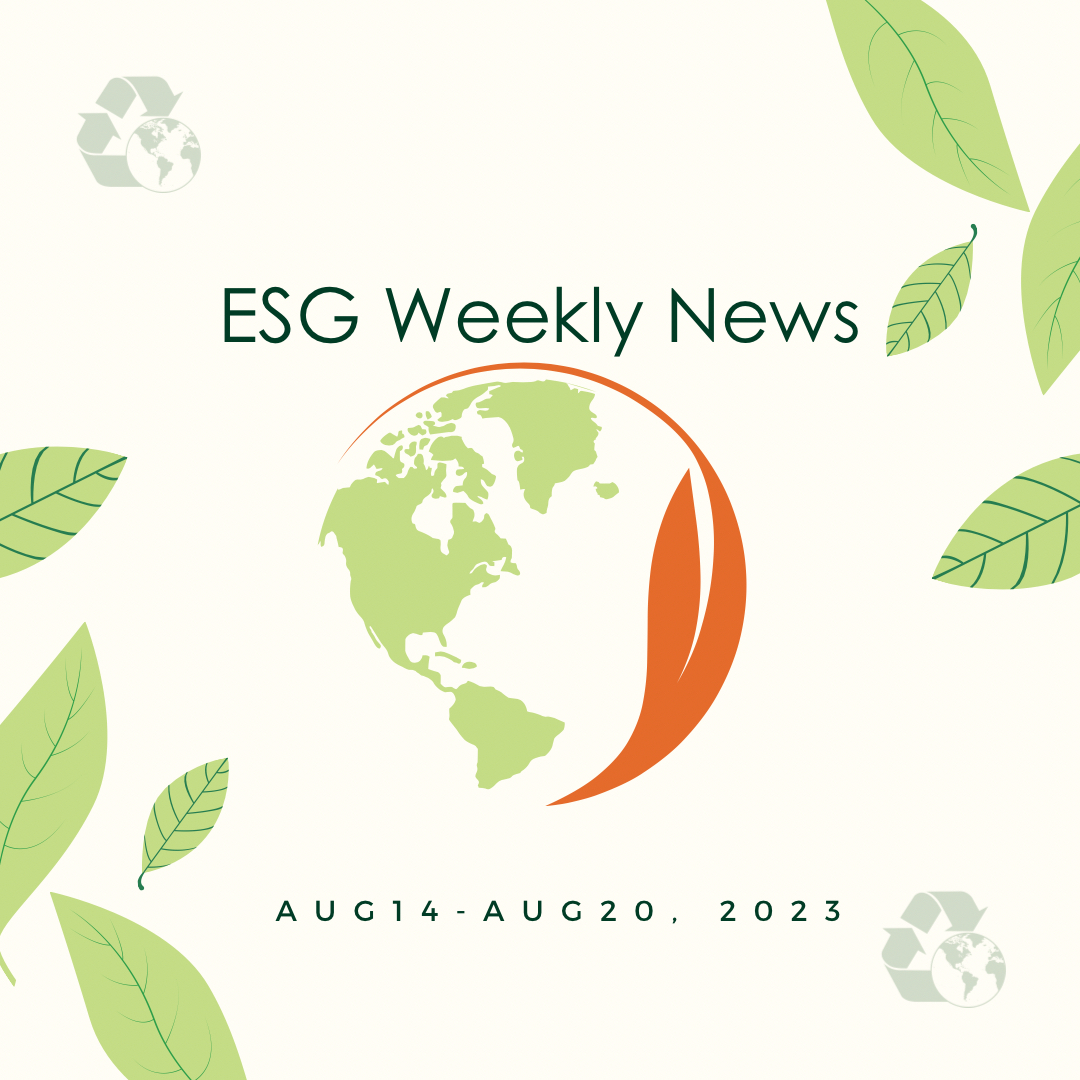 Resources:
ESG Today
1. Google to Address Business Travel Emissions with Sustainable Aviation Fuel Purchases
Google將通過購買可持續航空燃料來應對商務旅行排放
Google has joined American Express Global Business Travel (Amex GBT) and Shell Aviation in their sustainable aviation fuel (SAF) program, which allows businesses to offset their travel emissions through SAF purchases. This initiative, launched with 1 million gallons of SAF on the blockchain-powered Avelia platform, uses a book-and-claim model. It enables business travelers to pay for SAF and claim the associated environmental benefits, even if SAF isn't available at their departure airport. SAF is seen as a crucial tool in decarbonizing the aviation industry, which currently contributes 2-3% of global greenhouse gas emissions. Google's involvement highlights its commitment to a carbon-free future and supports the aviation sector's sustainability goals.
Google已加入美國運通環球商旅(Amex GBT)和Shell航空的可持續航空燃料(SAF)計劃,該計劃允許企業通過購買SAF來抵消其出差排放。這個計劃是在Avelia平台上推出的,該平台使用區塊鏈技術,並採用"預訂和索賠"模式,使商務旅客可以支付SAF的費用並索賠相應的環境效益,即使在他們出發的機場沒有提供SAF。SAF被視為實現航空業脫碳的關鍵工具,該業務目前佔全球溫室氣體排放的2-3%。Google的參與凸顯了其對無碳未來的承諾,並支持航空業實現可持續發展目標。
2. Oxy Acquires DAC Carbon Removal Provider Carbon Engineering for $1.1 Billion
Oxy以11億美元收購DAC碳移除供應商Carbon Engineering
Occidental (Oxy) has acquired Carbon Engineering, a Canadian provider of Direct Air Capture (DAC) technology for $1.1 billion. DAC technology extracts CO2 from the atmosphere and can use it to create clean fuels or store it permanently. This acquisition follows the recent announcement that Oxy's 1PointFive carbon capture project, in partnership with Carbon Engineering, received up to $1.2 billion in grants from the U.S. Department of Energy. DAC is recognized as a key carbon removal solution in the transition to a net-zero energy system, and it plays a crucial role in limiting global warming to 1.5°C. Carbon Engineering's technology involves pulling in atmospheric air and extracting CO2 through chemical reactions, which can be stored or utilized, including for the production of sustainable aviation fuels. This acquisition is expected to enhance cost efficiencies, create new revenue streams, and accelerate the deployment of DAC technology.
Occidental(Oxy)以11億美元收購加拿大的Carbon Engineering,後者提供直接空氣捕獲(DAC)技術,可從大氣中提取CO2,並將其用於創建清潔燃料或永久儲存。此次收購跟隨了Oxy的1PointFive碳捕獲項目最近宣布獲得美國能源部多達12億美元的補助金的消息。DAC技術被認為是在過渡到淨零能源系統中的關鍵碳去除解決方案,對於限制全球升溫至1.5°C起到了至關重要的作用。Carbon Engineering的技術涉及吸收大氣中的空氣,通過化學反應提取CO2,可以進行儲存或利用,包括生產可持續航空燃料。預計此次收購將增強成本效益,創造新的收入來源,並加速DAC技術的部署。
3. EU Adopts Rules Requiring Product Emissions Reporting for New Import Carbon Tax
歐盟採納了新的進口碳稅規則,要求產品進行排放報告
The European Commission has adopted reporting rules for importers under the Carbon Border Adjustment Mechanism (CBAM), the EU's new carbon tax on imported goods. These rules require companies to start collecting data on the embedded emissions of imported products in October 2023, with reporting beginning by January 2024. CBAM aims to equalize the carbon price paid by European producers with those outside the EU to prevent carbon leakage. It will initially apply to specific products from carbon-intensive sectors, with importers reporting on product emissions. The goal is to encourage global decarbonization and tackle climate change while ensuring fair competition.
歐洲委員會已通過碳邊境調整機制(CBAM)的進口商報告規則,這是歐盟對進口商品徵收的新碳稅。這些規則要求公司從2023年10月開始收集有關進口產品的嵌入式排放數據,報告工作將於2024年1月開始。CBAM的目標是將歐洲生產商支付的碳價格與歐盟以外的生產商相等,以防止碳洩漏。最初,CBAM將適用於來自碳密集型行業的特定產品,進口商將需要報告產品的排放數據。這一措施的目標是在確保公平競爭的同時,鼓勵全球減碳並應對氣候變化。
4. KKR Launches New Leadership Team for Global Climate Strategy
KKR成立全球氣候戰略新領導團隊
Private equity firm KKR has expanded its climate-focused leadership team with the appointment of Charlie Gailliot as Co-Head of Global Climate Strategy. Gailliot, previously with Goldman Sachs, joins existing Co-Heads Emmanuel Lagarrigue and Neil Arora. KKR has a substantial history of investing in climate and environmental sustainability, with over $30 billion committed since 2010. This appointment reflects KKR's intention to increase its emphasis on climate investing as part of the transition to a low-carbon economy, aiming to bridge the significant funding gap required for such a transformation.
私募股權公司KKR通過任命查理·蓋洛特(Charlie Gailliot)為全球氣候戰略聯席負責人,擴展了其以氣候為中心的領導團隊。蓋洛特此前在高盛工作了20多年,在高盛的商業銀行部門擔任私人投資者,最近負責能源過渡和多元化工業投資團隊的領導。蓋洛特將在紐約工作,與全球氣候聯席負責人拉加里格(Emmanuel Lagarrigue)和亞洲戰略負責人阿羅拉(Neil Arora)共事。KKR表示,氣候領導團隊的成立標誌著該公司將重點關注氣候投資。自2010年以來,該公司已投資超過300億美元用於氣候和環境可持續性項目。此次任命反映了KKR要加強氣候投資的意向,作為向低碳經濟轉型的一部分,旨在填補所需的大規模資金缺口。
5. HSBC's New Energy Transition Platform Makes First Investment in Solar Developer Tekoma Energy
匯豐銀行的新能源轉型平台首次對太陽能開發商Tekoma Energy進行投資
HSBC Asset Management's Energy Transition Infrastructure (ETI) team has made its inaugural investment in Tokyo-based solar company Tekoma Energy. This marks the first investment by HSBC's ETI platform, which was established following the addition of an energy transition infrastructure-focused team in Asia. Tekoma Energy specializes in PV solar projects across Northern Asia, with over 700 MW of capacity developed to date. The investment aims to help Tekoma expand its footprint and grow its portfolio to 500 MW of solar PV projects by 2027, aligning with a lower carbon future.
滙豐資產管理的能源過渡基礎設施(ETI)團隊首次投資於位於東京的太陽能公司Tekoma Energy。這標誌著滙豐的ETI平台的首次投資,該平台在早些時候在亞洲增加了一支專注於能源過渡基礎設施的團隊。Tekoma Energy專門從事北亞地區的光伏太陽能項目,迄今已開發了超過700兆瓦的容量。此次投資旨在幫助Tekoma擴大業務版圖,並在2027年前將其太陽能光伏項目組合擴展到500兆瓦,以實現更低碳的未來。