ESG 國際新聞週報 5/8-5/14
May 16,2023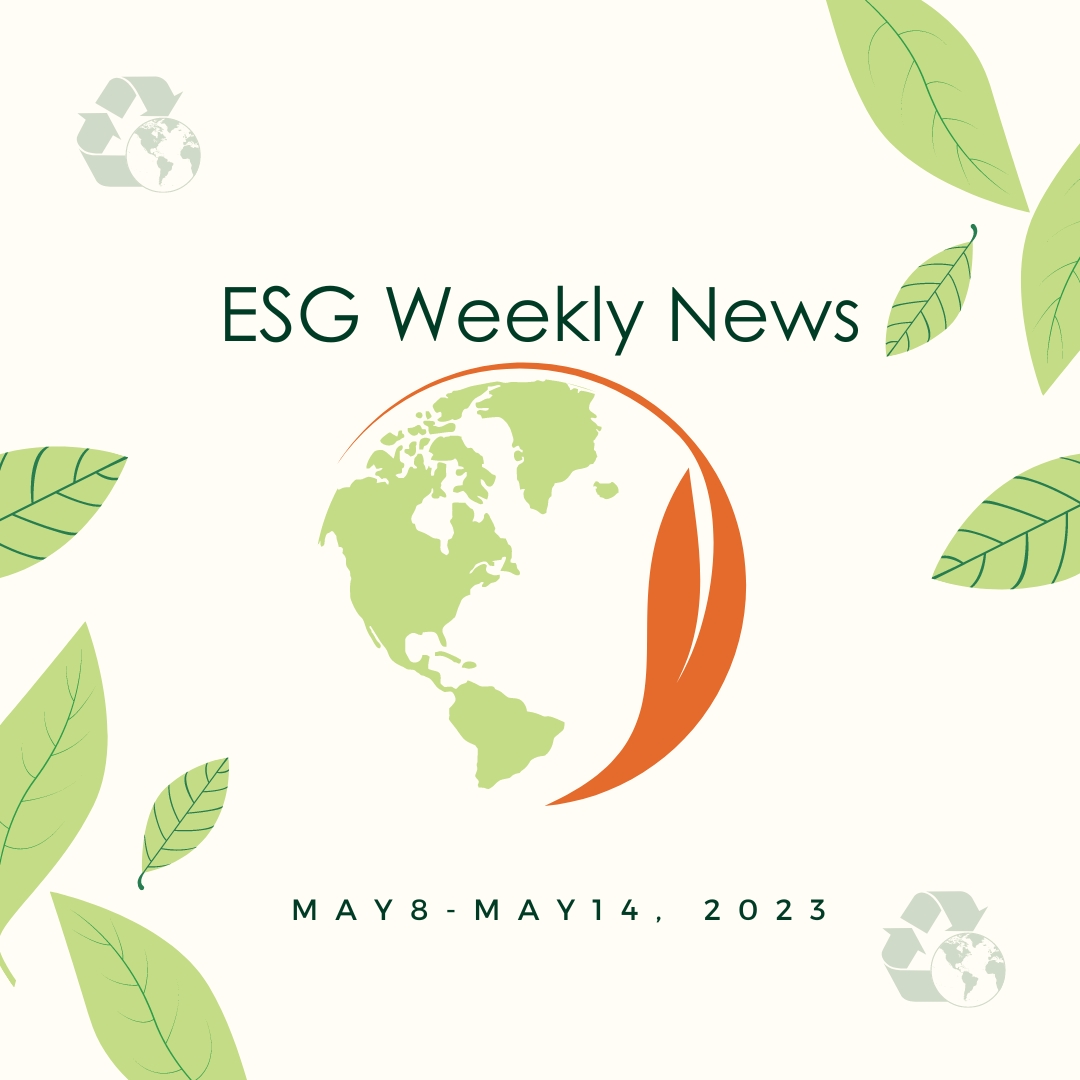 Resource:
ESG TODAY
1.Biden Administration Announces Rules to Slash Power Plant Emissions
拜登政府提案新標準降低電力部門碳排放量
The Biden administration has proposed measures to greatly reduce greenhouse gas emissions from the power sector, a major contributor to the US's carbon footprint. The Environmental Protection Agency (EPA) has outlined new standards for coal and natural gas power plants, expected to reduce CO2 pollution by over 600 million metric tons through 2042, equivalent to taking half of US cars off the road. The rules, projected to have a minor impact on electricity prices, would help the US reach its goal of net zero emissions by 2050 and a carbon pollution-free power sector by 2035. These measures include the use of carbon capture and storage technologies and low-GHG hydrogen co-firing at natural gas plants. However, the proposals could face political and legal challenges, with critics such as Republican Senator John Barrasso and Democratic Senator Joe Manchin opposing what they see as overreach by the EPA.
拜登政府於周四公布一系列提案,旨在大幅減少電力部門的溫室氣體排放,該部門是美國碳足跡的主要來源之一。
根據美國環保署(EPA)的說法,這些提案包括對燃煤和天然氣發電廠設立新的標準,預計將在2042年前減少超過6億噸的二氧化碳污染,相當於將美國約一半的汽車從道路上移除,並將帶來850億美元的氣候和健康利益。
環保署補充說,這些規定對電價的影響"微乎其微",並為公司和公用事業提供了足夠的時間來進行投資和規劃決策。
這些提案將顯著有助於實現美國的氣候目標,這些目標由拜登政府設定,包括承諾在2050年實現淨零排放經濟,以及在2030年前將經濟全面排放減少50-52%的中期目標。該政府還設定了在2035年前實現無碳污染電力部門的目標。電力部門大約占美國溫室氣體排放的25%。然而,這些提案可能面臨政治反彈和法律挑戰,批評者如共和黨參議員約翰·巴拉索和民主黨參議員喬·曼欽反對他們認為環保署的權力過分擴大。

2.EU Lawmakers Push for Stronger Methane Emissions Reduction Rules
歐盟推動新法降低甲烷排放量,目標在2023年減少55 %

The European Parliament has adopted a stance on new legislation aimed at reducing methane emissions, particularly in sectors such as oil, fossil gas, coal, and biomethane. The law, which passed with a 499-73 vote, is the first EU-wide mandate for reducing methane emissions. Methane is an extremely potent greenhouse gas, up to 80 times more warming than CO2, but it has a much shorter atmospheric lifespan, making near-term reductions particularly impactful. The law aligns with the EU's "Fit for 55" roadmap to reduce greenhouse gas emissions by 55% by 2030, and includes measures like requiring oil, gas, and coal sectors to measure, report, and verify methane emissions. The proposed law also has stricter standards for leak detection and repair, bans on venting and flaring methane, and obligations for importers of fossil energy to comply with regulations.

歐洲議會的立法者今天宣布采納其對一項旨在削減甲烷排放的新法律的立場,重點關注石油、化石燃氣和煤炭以及生物甲烷等領域,並以499-73的投票結果通過。該新法將是首個要求減少甲烷排放的全歐盟立法。迅速減少甲烷排放被視為一種可以幫助實現全球氣候目標,限制升溫到1.5°C的最有效的近期行動。這項新法將成為歐洲委員會"適合55"的路線圖的一部分,該路線圖是歐盟提出的策略,旨在將溫室氣體排放量與1990年相比在2030年前減少55%。議會的立場還比委員會的提案在甲烷洩漏檢測和修理方面採取了更強硬的立場,包括更頻繁的洩漏和檢測調查以及更嚴格的修理義務。這些規則也禁止在2025年前從排水站排放甲烷,在2027年前從通風井排放甲烷。

3.Venture Capital Investors Launch Net Zero Alliance to Align Startup Portfolios with Climate Goals
風險投資公司成立淨零聯盟鼓勵和幫助啟動公司實現淨零排放

A group of 23 venture capital firms from the U.S. and Europe, including Prelude Ventures, Capricorn Investment Group, DCVC, Energy Impact Partners, Galvanize Climate Solutions, S2G Ventures, Union Square Ventures, Tiger Global, World Fund, 2150, Obvious Ventures, Congruent Ventures, Valo Ventures, Clean Energy Ventures, Fifth Wall, Overture Ventures, Blackhorn Ventures, Spring Lane Capital, Azolla Ventures, Systemiq Capital, The Westly Group, Innovation Endeavors, and ReGen Ventures, have formed the Venture Climate Alliance (VCA). The VCA aims to support global climate goals by promoting net zero pathways for startups and funding climate solutions. The VCA will join the Glasgow Financial Alliance for Net Zero (GFANZ), a UN-supported, climate-focused coalition of financial institutions. Members of the VCA commit to encouraging portfolio companies to aim for net zero alignment by 2050 or earlier and to achieve net zero emissions in their own operations by 2030. The VCA also plans to develop tools and best practices for the VC industry to collect and report on carbon emissions and climate impact data.

來自美國和歐洲的23家風險投資公司,包括Prelude Ventures、Capricorn Investment Group、DCVC、Energy Impact Partners、Galvanize Climate Solutions、S2G Ventures、Union Square Ventures、Tiger Global、World Fund、2150、Obvious Ventures、Congruent Ventures、Valo Ventures、Clean Energy Ventures、Fifth Wall、Overture Ventures、Blackhorn Ventures、Spring Lane Capital、Azolla Ventures、Systemiq Capital、The Westly Group、Innovation Endeavors和ReGen Ventures,組成了"風險投資氣候聯盟"(VCA)。該聯盟旨在通過鼓勵和幫助啟動公司實現淨零排放,並資助氣候解決方案,以支持全球氣候目標。VCA將成為格拉斯哥金融淨零聯盟(GFANZ)的一部分,該聯盟是由聯合國支持的、專注於氣候的金融機構聯盟。加入VCA的成員同意一系列承諾,包括鼓勵投資組合公司設定在2050年或更早之前實現淨零排放的目標,並在他們的營運中實現2030年的淨零排放。VCA還將開發工具和最佳實踐,供風投行業收集和報告碳排放和氣候影響數據。

4.CBRE to Invest in, Roll Out Real Estate Sustainability Platform Deepki
CBRE集團投資房地產可持續性數據解決方案提供商Deepki

CBRE Group, a commercial real estate services and investment firm, announced a global strategic partnership with Deepki, a real estate sustainability data solutions provider. The partnership includes plans to deploy Deepki Ready, a data-intelligence platform focused on landlords, worldwide. Deepki Ready enables real estate players to collect data on energy, water, and waste consumption, and use this data intelligence to improve assets' environmental performance, support net zero efforts, and measure results. CBRE also announced a strategic minority share investment in Deepki. The new partnership will see Deepki deployed across CBRE-managed properties in Continental Europe, with further plans to expand to the Americas and the Pacific region.

商業房地產服務和投資公司CBRE集團宣布與房地產可持續性數據解決方案提供商Deepki達成全球戰略夥伴關係,包括全球部署其專注於房東的房地產可持續性數據智能平台Deepki Ready。Deepki提供一個平台,使房地產參與者能夠收集能源、水和廢物消耗數據,並使用數據智能提高資產的環境效能,支持淨零努力並衡量結果。CBRE還宣布將對Deepki進行戰略性的少數股權投資。在新的合作關係下,Deepki將在歐洲大陸的CBRE管理的物業中部署,並計劃在美洲和亞太地區推出。

5.EY Launches Blockchain-based Carbon Tracking Solution
EY 推出以太坊區塊鏈上開發的碳排放追蹤方案
EY, the global professional services firm, has announced the launch of EY OpsChain ESG, a new solution developed on the Ethereum blockchain. The new solution is designed to help companies accurately measure and track their carbon footprint while providing transparency and traceability for carbon credits. It allows enterprises to achieve and report a verifiable view of their current CO2 positions by tokenizing products' emissions. The platform is built to the standards of the InterWork Alliance for Carbon Emissions Tokens, an industry certification program for tokenizing emissions. In addition to tracking enterprise emissions, the platform aims to build trust in the use of voluntary carbon credits to offset emissions.
全球專業服務公司EY今天宣布推出EY OpsChain ESG,這是一種在以太坊區塊鏈上開發的新解決方案,旨在使公司能夠準確地衡量和追蹤他們的碳足跡,並為碳信用提供透明度和可追溯性。EY表示,這個新解決方案將通過將產品的排放量代幣化,幫助企業實現並報告他們當前的CO2狀況的可驗證視圖。該平台是根據InterWork Alliance for Carbon Emissions Tokens的標準建造的,該標準是一種為排放量代幣化的行業認證計劃。除了追蹤企業排放量外,該平台還旨在建立對使用自願碳信用來抵消排放的信任。